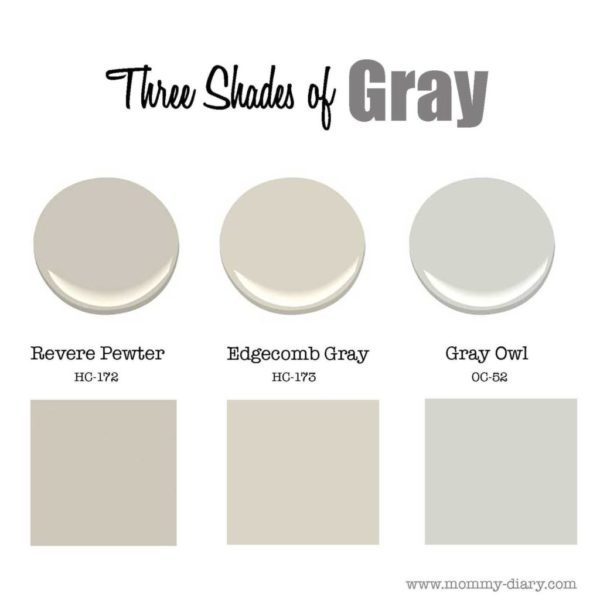 Benjamin Moore Greige: Revere Pewter, Edgecomb Gray, Gray Owl
Before I begin the story about how I chose the perfect gray paint for my walls, I want to share some of my inspirations.
The inspo below really came in handy as I was deciding on what color to go with, and it might come in handy for you as well. In the photos below, you will see how a good-quality gray paint can tie a whole room together. It amazes me just how dynamic gray can be, depending on the surrounding environmental factors, like windows, bulbs, lighting, lamps, etc.
Even the other objects/furniture in the room can have an affect on the look of your gray color. Whether you're accenting with a bold color like black, or meshing together several different shades of white, gray can be a safe, go-to color. Which is why I chose it for this round of interior decorating.
Revere Pewter Edgecomb Gray Greige Inspirations
Neutral Gray Walls in Various Settings
Fancy hallway with black accents
Here the gray perfectly balances the white ceiling and trim and also the black details on the door, staircase, light fixture, and artwork.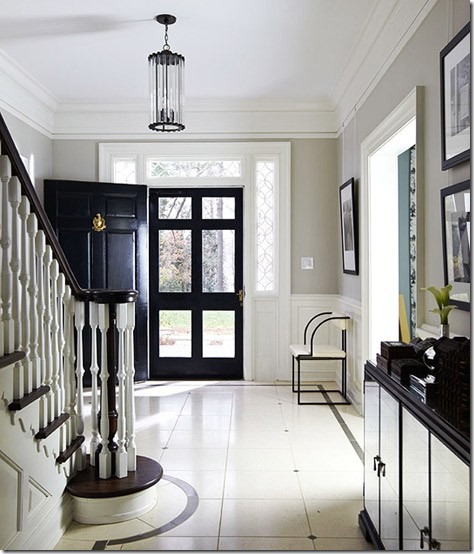 Serene and dreamy bedroom
How cozy and comfortable does this bedroom look? Here the gray does a great job of balancing all the different neutral whites, grays, tans, and beiges to make a complete look.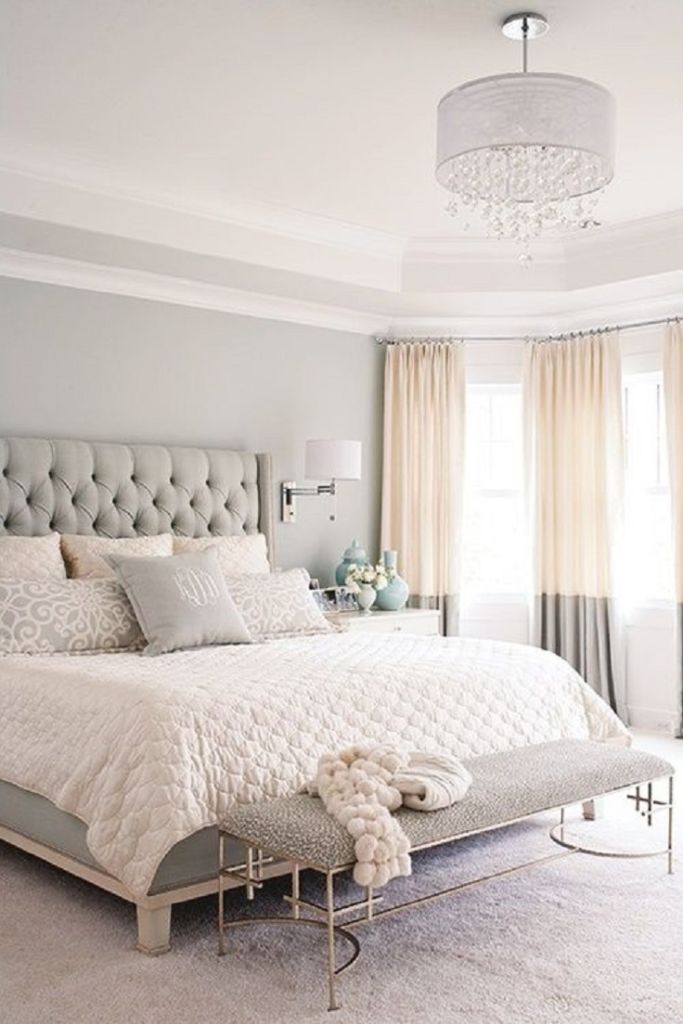 Gray in casual livingroom
Matching gray and hardwood floors can be a little challenging. Here, however, the gray seamlessly ties into the floors and really highlights the character of the hardwood.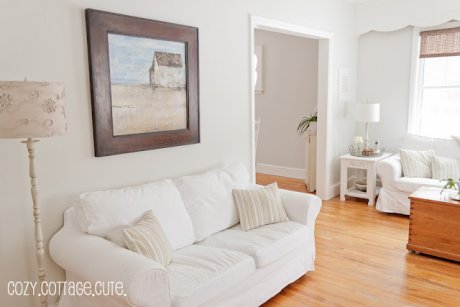 Soft Gray in Bathroom
The bathroom should be a warm and welcoming place. And usually, you will find plenty of white throughout your bathroom already, making gray the perfect color to tie everything together.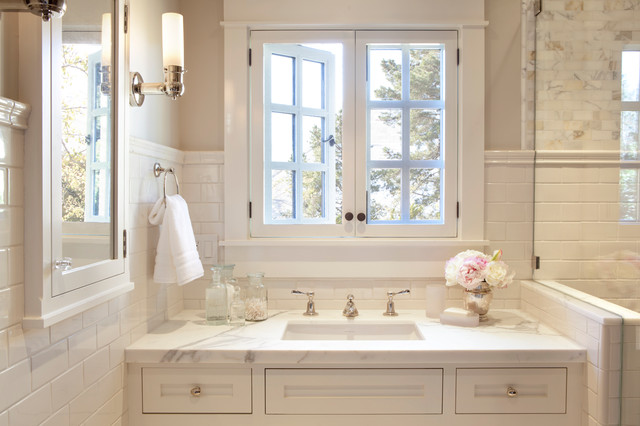 I probably should've done a better job documenting the first time I chose a Gray (or Greige) wall color for my home but I never got around to it, so here is a belated post about how I ended up choosing Benjamin Moore Edgecomb Gray as an all-over color for the home I was living in back in 2015.
What Benjamin Moore Colors Are Greige
There is a wealth of information floating around the web about hundreds of different shades of grays and greige (gray+ beige) so instead of repeating all that I've learned and found to be true (and untrue), I'll just cut to the chase for the sake of this post.
According to Benjamin Moore, their best greige paint colors include: Revere Pewter, Edgecomb Gray, Classic Gray, Natural Cream, Balboa Mist, and Pashmina. And all of these colors come highly recommended.
After days of research, I was down to two colors: Benjamin Moore's Revere Pewter and Edgecomb Gray.
I knew I wanted a "warm gray" not a "cool gray" and these two seemed to be the most popular, tried-and-true colors recommended by bloggers and designers. And I also knew I did not walk a gray with green undertones.
So here is how Benjamin Moore's Revere Pewter looks against white trim. Elegant, modern, not too dark, not too light.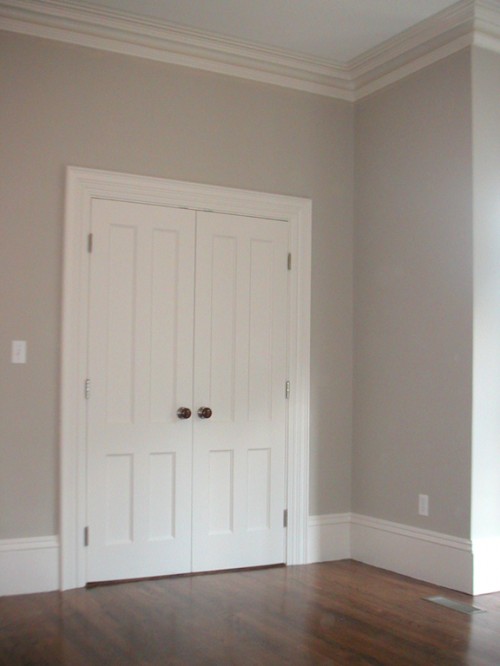 However when I sampled the paint in my own home, it came out too dark. It was even darker than the color of the paint swatch. Even my painter suggested going lighter because it would be too dark for an all-over color. Weird, I know.
Benjamin Moore Gray Owl was nice but too "cool"- and it didn't look right with our dark cherry wood staircase and cabinets.
After more research and confusion, I ended up using Benjamin Moore Edgecomb Gray throughout the entire home except my children's rooms and I'm 100% happy with this choice. This is a complex and multifaceted color as it looks different in different parts of the home.
In some parts it looks darker gray, in some areas it's light gray, in some areas it's light taupe and I love how I can get various colors with a single color. This is exactly what I was looking for when choosing all-over color and I'm very happy with this choice.
Here is how it looks in my home today. I'm preparing for Open House so I removed all photos and personal touches.
Benjamin Moore Greige: Revere Pewter, Edgecomb Gray, Gray Owl
Here it looks greige
With the natural light through the window, this room takes on a more beige color. Here, the softness of the Edgecomb Gray gives off relaxing vibes and sets the perfect stage to showcase your unique artwork or family photos. Rather than giving off a bold or obtrusive hue that might be distracting and take away from your wall hangings, the greige simply highlights any decor you might want to hang up.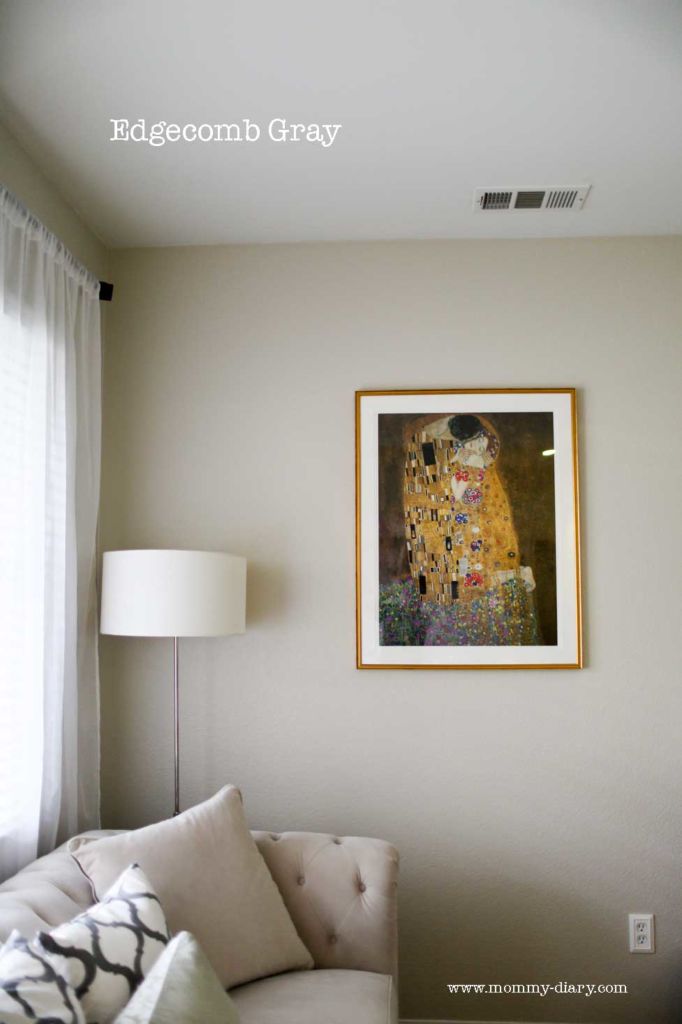 Here it looks light "cooler" gray
The way the light hits this room makes the Edgecomb Gray take on a completely gray color. To the unknowing eye, one might even call this white or gray/white. The white undertones lighten and brighten the room and make it feel clean, tidy, and welcoming.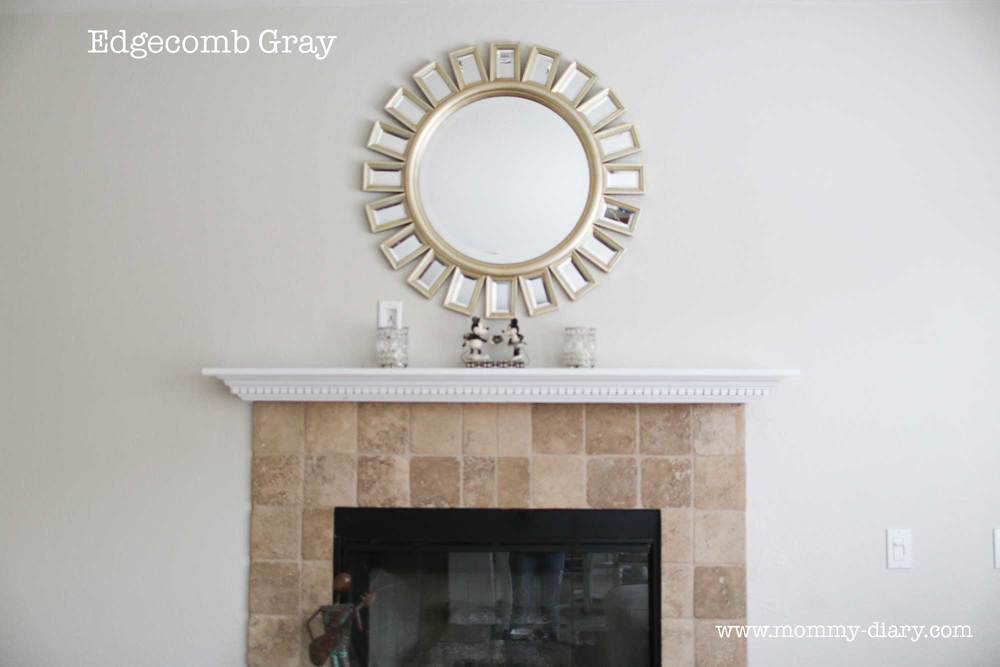 Here it looks more creamy and beige
I was very surprised by the versatility of the Edgecomb Gray. Here in this room, you can see that it takes on a more creamy color. Rather than full-on beige or full-on gray, we have a nice, soft mix. I don't know about you, but this color gives me all the cozy, warm, and welcoming feelings.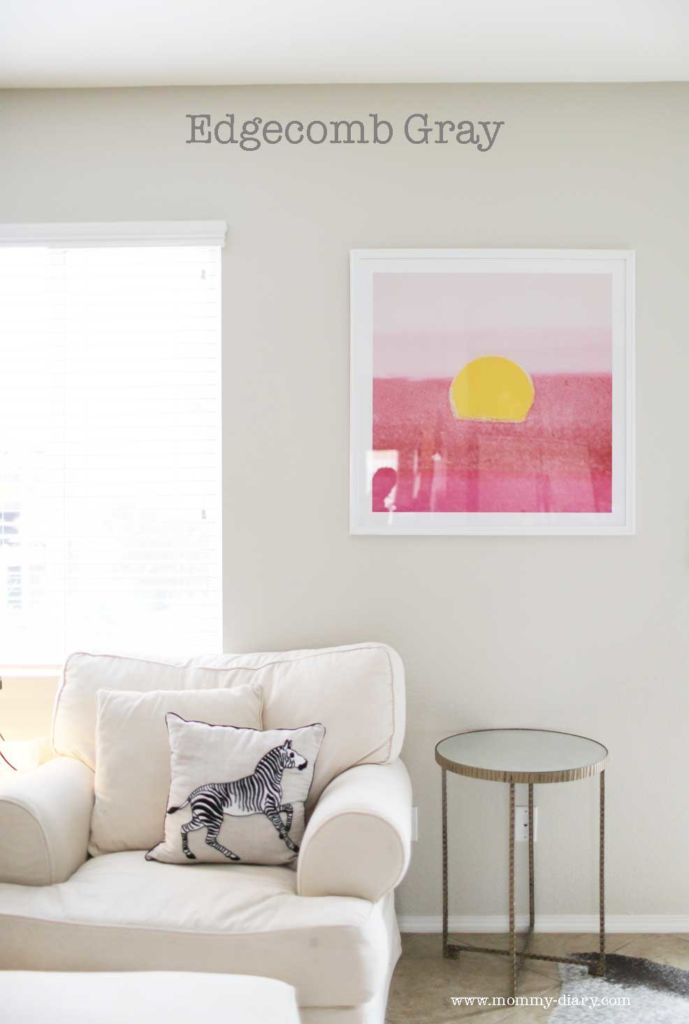 As you can see, the same Benjamin Moore Edgecomb Gray color can look different in various rooms under different lighting situations. It can look dark gray, light gray and even taupe. It's like several colors in one. And I am a big fan of this level of versatility, especially since I like to switch things up every now and again.
What do you think? What's your favorite shade of gray or greige color? Feel free to share your ideas, ask questions and leave comments.
Picking the right colors for your home isn't as easy as it looks. You've got the paint brands (Benjamin Moore, Sherwin Williams, etc.), paint samples, paint stores, and the actual paint colors. You've got the brands within brands, like Benjamin Moore's Regal Select, Benjamin Moore's AURA, etc. Then, you've got the matte finish or the semi-gloss finish, or anything in between. And, you've also got the professional painters and/or painting companies. Whew – that's why I'm here to help!
I've used multiple colors in my home before and found that I always get tired of my color choices after some time, so this is the perfect alternative to using multiple colors. Not to mention, you can save $$$ by using less colors and instead, invest in better quality paint. (I found Benjamin Moore to be superior than most paints sold at Home Depot or Lowe's. Although I did use Sherwin Williams paints on a bathroom remodel.) I am also a fan of Benjamin Moore because they offer low-VOT (volatile organic compounds) paint options, which is healthier for everyone – you, your family, the painter, and the environment.
You can also check out my review of various white paint for walls.