After giving birth, you certainly don't feel your best. You are most likely tired, swollen, and sore. When it's time to change out of the hospital gown, it's important that you have something comfortable to change into. In this post, I'll share some of my favorite postpartum wardrobe essentials.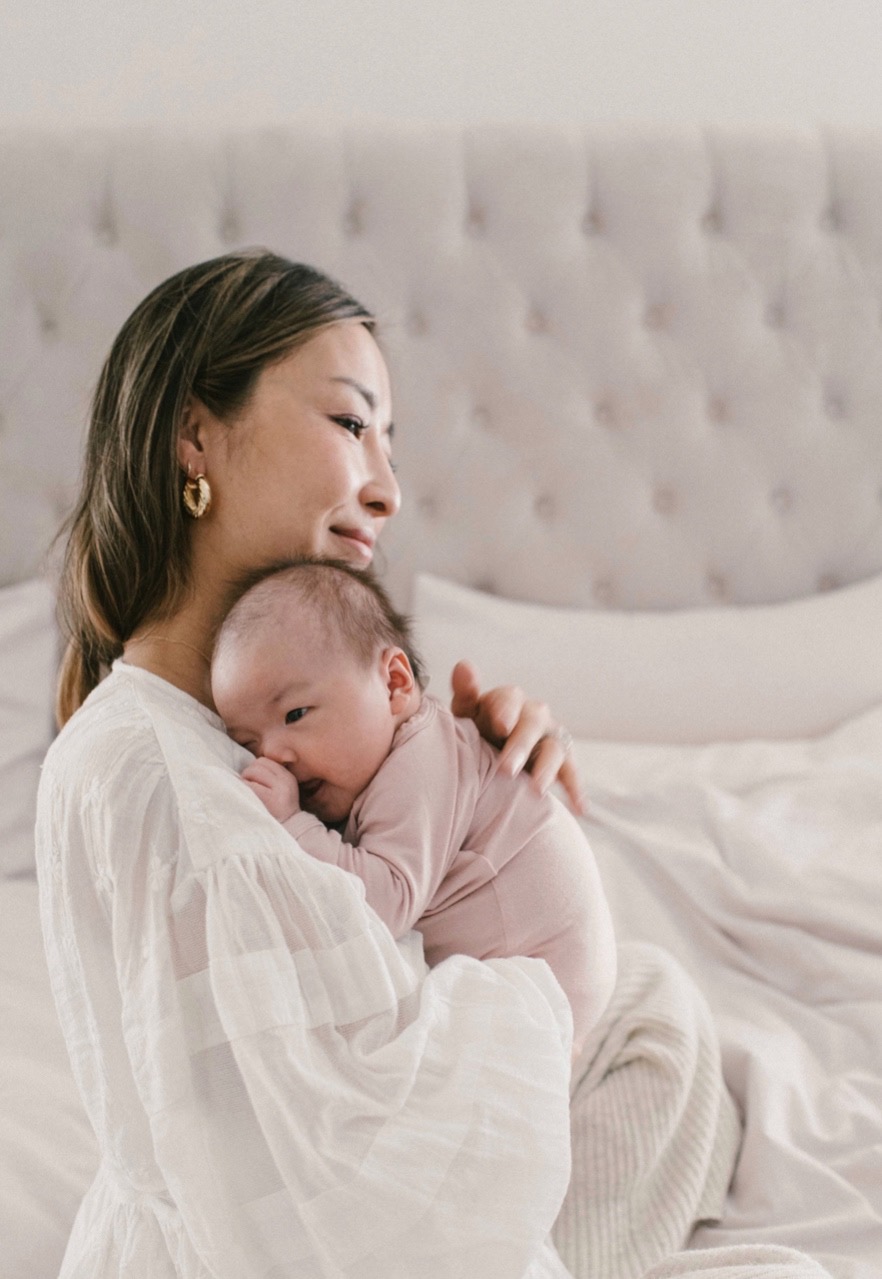 Postpartum Wardrobe Essentials
Before you give birth, it's a good idea to create a postpartum capsule wardrobe. A capsule wardrobe is a collection of 12-20 clothing items that can be worn interchangeably. New moms should include tank tops, t-shirts, shirt dresses, sweat pants, comfy socks, and more.
When putting together your postpartum specific wardrobe, I recommend prioritizing quality and durability. And of course, I also recommend prioritizing items that make you truly feel comfortable. Here are some other tips to keep in mind when choosing postpartum clothing:
To make creating postpartum outfits easy, choose an array of neutral colors.
If the clothing item has hooks or clips (like in the case of a nursing bra), ensure the hooks and clips are make of a high-quality material.
For optimal comfort, choose items made with breathable, dry-wicking fabrics that are soft to the touch.
Plan for the season. If you will be postpartum in the summer, be sure to include some loose-fitting shorts. If you will be postpartum in the winter, ensure you have a few pairs of sweatpants nearby.
Don't forget that your favorite maternity clothes may still come in handy. Comfortable maternity shirts, dresses, and pants will now be more loose fitting and can help make up your postpartum wardrobe.
Nursing bra:
Nursing bras are a postpartum wardrobe essential because they offer you support while having easy access for nursing or pumping. Investing in a few well-made nursing bras will be one of your best postpartum purchases. 
ThirdLove 24/7™ Classic Nursing Bra
Nursing tank:
For the ultimate comfy nursing wardrobe, pair your nursing bra with a nursing tank. The good news is, nursing tanks have really come a long way. Today, new moms can find stylish nursing tanks that not only perform well, but that also look great under sweaters, cardigans, jean jackets, shackets, and more. 
Stretchy basic tees:
I love basic tees even when I'm not postpartum. After having a baby, the looser the shirt, the better. Basic tees can be paired with any outfit…sweatpants, shorts, or jeans. The ability to pull a stretchy tee up or down also makes them a nursing friendly option. Consider grabbing a couple different styles and colors to increase the versatility of your wardrobe. 
Loose tops:
During the postpartum phase, comfort promotes healing. Having a collection of comfortable loose tops is smart because you can dress them up or down, while maintaining that comfort. You can also wear them during both the postpartum phase as well as when you are back into your pre-baby clothes. 
Maternity jeans:
Some women go right back to their regular jeans after giving birth. For most, that's not the case. Even after your baby comes out, you will still have a tummy…you did just grow a human for 9 months after all! Don't feel bad for continuing to wear your maternity jeans during your postpartum period. 
Button down shirts:
There are many brands that create clothing specifically for nursing. However, there are also many styles of shirts that you can purchase from your favorite stores that can still be nursing friendly. Button down shirts are a perfect example. Button downs make for quick and easy nursing on the go. 
Sweatpants:
One of the biggest surprises I had after my first baby was how long I bled for. While you're wearing pads, jeans aren't the most comfortable choice, even if they are maternity jeans. I highly recommend having a few pairs of cozy sweatpants to get you through those first few weeks. 

Other Postpartum Essentials
There are several other things you'll want to stock up on other than just postpartum clothes.If you are a soon-to-be mom, just know that your hospital should provide you with many essential supplies to help with your pain and postpartum period. However, I recommended having a stash of supplies ready at your house in case you run out.
I always choose diaper bags that have a neutral color so that I will feel good wearing it with anything. It's equally as important to be sure it's functional. A cute diaper bag means nothing if it doesn't have important features such as several pockets, individualized compartments, and comfortable straps. I find that backpack diaper bags are the easiest to travel with. As opposed to a single strap that is more likely slip off the shoulder. 
These ice packs made by FRIDA mom are incredible. They are an ice pack and maxi pad all in one. Using these postpartum will help with pain and swelling, as well as absorption. 
I know, these are not the most attractive pair of underwear. However, disposable cotton underpants are definitely a postpartum wardrobe essential. They act as another layer of leak protection, and are created to allow air to circulate. This is important for your comfort and your health. Postpartum underwear come in all shapes and sizes. To ensure maximum protection, opt for a high-waisted version.
This is another essential for your postpartum body that you may not know about until after you give birth. You will be instructed to use a spray bottle to clean your vaginal area and/or incisions without pressure. This spray bottle by FRIDA Mom has a brilliant upside down design so that you don't have to put your hand in the toilet while using it!
A reusable water bottle:
During the postpartum period and especially if you are breastfeeding, it's essential for new moms to stay hydrated. According to The American College of Obstetrics and Gynecology, pregnant women should consume 64 to 96 ounces (1.9 to 2.8 liters) of water each day. However, when breastfeeding it is recommended that women consume upwards of 16 cups of water per day! To help ensure you're drinking enough water to support your healing body, as well as the needs of your new little one, I recommend keeping a high-quality reusable water bottle nearby at all times. One that is easy to refill, easy to drink from, and easy to tow during outings.
Comfortable socks:
No self-care day is complete without a pair of the softest, coziest socks ever. Since comfort is key during the postpartum period, I recommend setting aside your softest socks to make sure you feel warm and fuzzy at all times.

I hope this gave you some great ideas for your postpartum wardrobe essentials. Most importantly, remember to take care of and love your post baby body. This time is often referred to as "the fourth trimester" and for good reason. Your physical and mental health can be affected. Check out my posts on my postpartum experiences here and here.