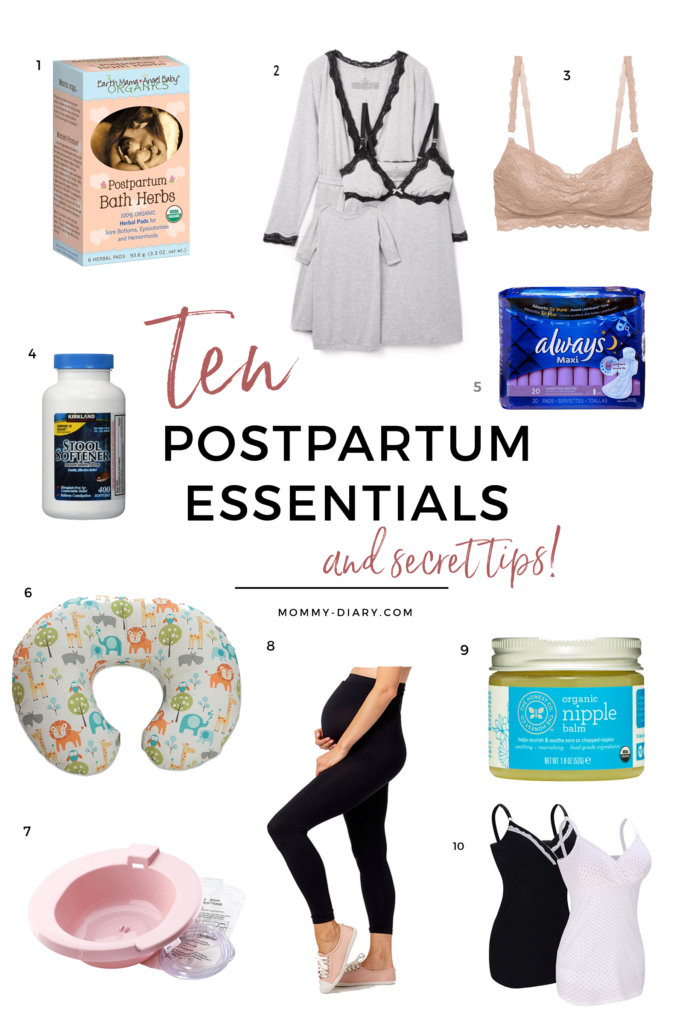 After three kids, I know very well how difficult postpartum recovery can be. Even though I've gone through three pregnancies, labor & delivery, this process of becoming a mom never truly gets easier. With every baby comes different challenges and experiences but I'm now equipped with better understanding of what to expect during the postpartum period and what items I must have ready when I return from the hospital.
Here is my list of tried and true products that can make your postpartum recovery easier and smoother. I also included a few tips on what to expect during the postpartum recovery period.
1. Postpartum Herbal Pads
These pads will help to soothe your vaginal and rectal areas. Sorry for the TMI but you will be bleeding, swollen and in pain, and using these herbal and medicated pads can help to lessen irritations and speed up the healing process.
*Tip: I know it's hard to believe, but your body will heal.
2. Nursing Gowns
Nursing gowns are a must as soon as you get back from the hospital. Be sure they are comfortable, warm and wearable because you'll want to wear them all the time. I lived in my nursing gowns the first few weeks during the recovery period and every night thereafter for months. I would recommend you own at least two or three because you may be leaking breastmilk those early weeks and may need to wash them more often.
I personally like simple neutrals and pretty florals for its versatility and wearability. It also makes me feel pretty, which can help you when you are feeling not so great during those early weeks.
*Tip: Be sure to wear warm socks. Asian wisdom tells us socks are crucial during the postpartum period because your bones and joints are still open and you need to keep your body warm for optimal maternal health.

3. Nursing Bras
You will need the support of nursing bras right away as your breast milk begins to come in during the first week of postpartum. I liked the ones without underwires at the beginning for comfort and wearability but you may decide you want that extra support. You may not be able to sleep without a bra as your breasts adjust to how much milk your baby needs, so choose ones that are comfortable.
My favorite Cosabella nursing bras can be found below.
*Tip: You can also wear nursing tank tops for nighttime feeding as noted on #10.

4. Stool Softener or Prune Juice
Kirkland Signature 100 Mg Stool Softener
The first bowel movement after giving birth can be difficult and very painful. Plus all the pain medications used during and after labor can worsen constipation. This is something I did not expect and wish someone had told me about it before. Be sure you take stool softeners as directed or drink prune juice to make your first bowel movement easier.
*Tip: Drink plenty of water, take pain meds if you need to and know every woman before you went through it too. :/
5. Extra Large Pads
Rael 100% Organic Cotton Overnight Pads
Prepare extra large, overnight pads for postpartum bleeding. Think heavier than your heaviest period for at least one week, then continuous bleeding for weeks thereafter. Sorry, but be prepared.
*Tip: Place towels or absorbent pads on the bed to avoid soiling sheets and having to do more laundry.
6. Nursing Pillow
My Breast Friend Breastfeeding Pillow, Organic
Nursing pillow are a must during postpartum period. Eventually you will be able to breastfeed without this but when your body isn't fully recovered from childbirth, you will benefit from the support this can give you while nursing. You simply put this around your stomach area and adjust as needed so you can nurse your baby without straining your back and hurting your arms.
*Tip: Use support behind your back and around your arms to make nursing easier.
7. Sitz Bath
A sitz bath is a warm, shallow bath that cleanses your bottom and soothes the area. I heard about this but didn't use it the first time, which made my recovery a lot more painful and longer. When I realized the importance of the sitz bath, I used it regularly with my next two kids to relieve pain. You'll also feel cleaner and much more refreshed after a painful childbirth when you can't take regular baths.
*Tip: Even if it feels silly, do it. It will speed up healing.
8. Postpartum leggings
I personally never used postpartum belly belts because they were too uncomfortable and constricting. I also dealt with itchy and sensitive skin around the belly so the belly belts were out of question. But I did wear maternity/postpartum leggings which I loved. These postpartum leggings provide support without constricting any part of my body and also provide coverage for my not-so-sightly stomach when I'm breastfeeding. I wore these frequently in those early months whether I'm running quick errands or going to the doctor's office. I also like that these leggings are super versatile and can be worn with pretty much anything.
*Tip: Focus on comfort without sacrificing style. Feeling like a frumpy grandma during those early weeks doesn't help with postpartum depression. Focus on the baby, but focus on yourself too.

9. Nipple Balm
The Honest Company Nipple Balm, 1.8 oz
Earth Mama Angel Baby Non GMO Natural Nipple Butter Nursing Cream, Lanolin Free, 2 Ounce
You may experience some soreness, redness and pain on your nipples as your baby learns to latch properly and your nipples get adjusted to the baby. So be sure you have some nipple ointment on hand because you will need them.
*Tip: Even though it's hard, try not to give up. These early weeks are crucial to continue breastfeeding.


10. Nursing Tank Tops For Nighttime Nursing
Women's Nursing Tank Tops for Breastfeeding
Women's Seamless Cami Tank Top with Built-In Nursing Bra
I LOVE these nursing tank tops. I love them so much I own many of them and wear them every night to sleep. These nursing camis don't provide much support but are perfect for nighttime feedings. You don't have to deal with hooks or snaps and can wear these over pajama pants, under your gowns and under other shirts during the day. Sometimes I skip the nursing bra altogether and just wear these under my clothes with breast pads.
*Tip: Buy 2 or 3-packs because you will need more than one.


What do you think about these ten postpartum essentials? Did you find this list helpful? As always, please pin the photo below if you found this article helpful!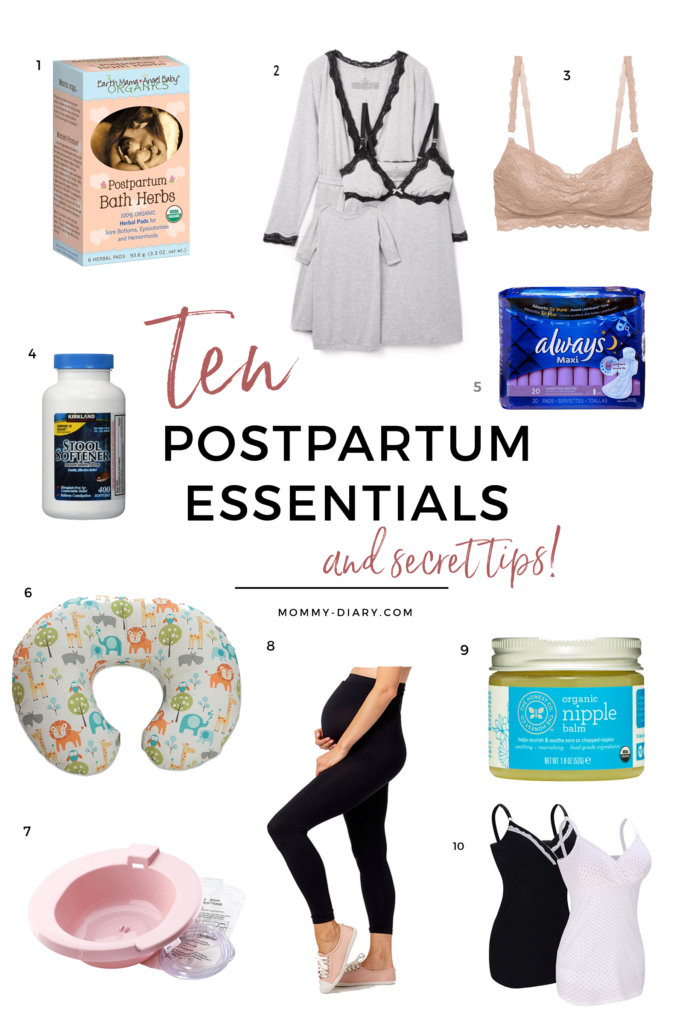 *This post contains affiliate links which help to support this blog at no extra cost to you. If you'd like to purchase an item from this post, please use my link. Thank you for your support!