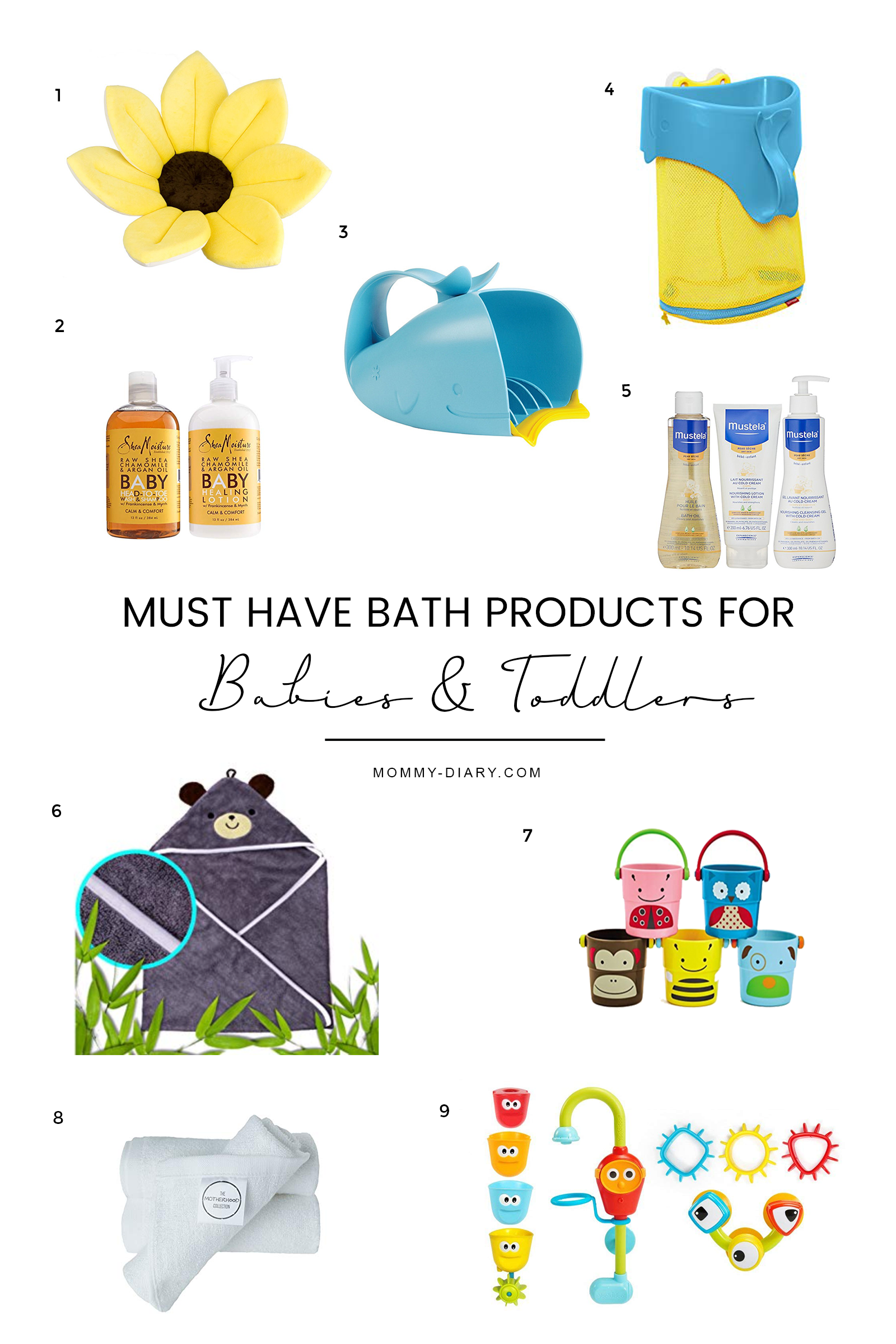 Must Have Bath Products For Babies And Toddlers
After raising and bathing three kids, I know a thing or two about must have bath products for babies and toddlers. These are some of my favorite bath products to make bath time easier and more enjoyable!
I really loved using this when my baby was an infant. It's a great alternative to traditional bath tubs when babies are too tiny to comfortably use a bath tub. The petals are soft and cuddly to keep baby happy and you can use these in any standard sinks. It's recommended for infants 0 to 6 months.
I really like this brand of baby bath products because of the gentler active ingredients that smell heavenly. This particular set is made with frankincense and myrrh and contains shea butter, chamomile and argan oil to moisturize, soothe and soften baby's skin. I also love that its made in the USA and sulfate free, paraben free, phthalates free- all certified organic ingredients. The smell lasts a long time too!
This is a must have for any parent. This bath cup makes washing and rinsing so much easier. So easy to clean and dishwasher-safe and mold and mildew resistant. The soft rubber lip fits snuggly to the forehead, prevents water from getting in the eyes.
I love this Skip Hop bath toy organizer. It holds all your bath toys together and keeps things organized. The mesh part drains water fully and it never gets moldy or smelly.
I love Mustela brand and used it for all three of my babies. I like this line that's specifically designed for dry and eczema prone skin. All 3 products are formulated with Avocado perseose- a patented natural ingredient to help protect and hydrate the baby's skin and ceramides infused with cold cream. In addition, it's hypoallergenic and fragrance free with thicker texture.
These towels are made from natural organic bamboo and super soft and cozy. It's also extra-large, meaning it fits babies and toddlers, even kids up to ages 6.
These cups are super cute with signature Skip Hop Zoo characters. The set contains five buckets with 3 different sprinkle effects with easy to grab handles for little ones. It's designed for babies ages 9 months and up and are stackable for easy storage and play. In fact, my son can play in the bathtub for hours with these cups!
A soft and lightweight wash clothes are a must have for any parent. This set is made from 100% rayon from bamboo fiber and very absorbent and durable versus cotton and microfiber. In addition, it's machine washable, quick-drying, and well packaged.
This is a battery operated bath spout that attaches and draws water from the tub creating an endless stream without wasting water or worrying about hot water. It's easy for kids to operate and keeps them engaged with more than 10 different water activities! The bath cups work with spout to create different water effects for spraying, straining and floating fun. It's a fun addition to any bath time.
I hope you enjoyed these recommendations to make bath time more enjoyable for both you and the baby! What are some of your favorite bath products? Please leave your suggestions below.
Did you enjoy this post? Continue reading the Ultimate Gift Guide For New Mothers and Ten Postpartum Essentials .
*This post contains affiliate links that helps to support this blog at no additional cost to you. Thank you for your support that allows me to continue to create valuable content for parents all over the world.