This blog post is sponsored by the Robert Wood Johnson Foundation. As always all opinions are my own.
As a mom of 3 almost 4, my kids' health and well-being is of utmost priority for me. I understand that their lifelong health and positive lifestyle is established from a young age even before they can remember. Therefore, it is critically important to establish healthy patterns in early childhood to prevent future health issues like dental cavities or diet-related diseases like obesity, type 2 diabetes, and to ensure optimal development and overall health.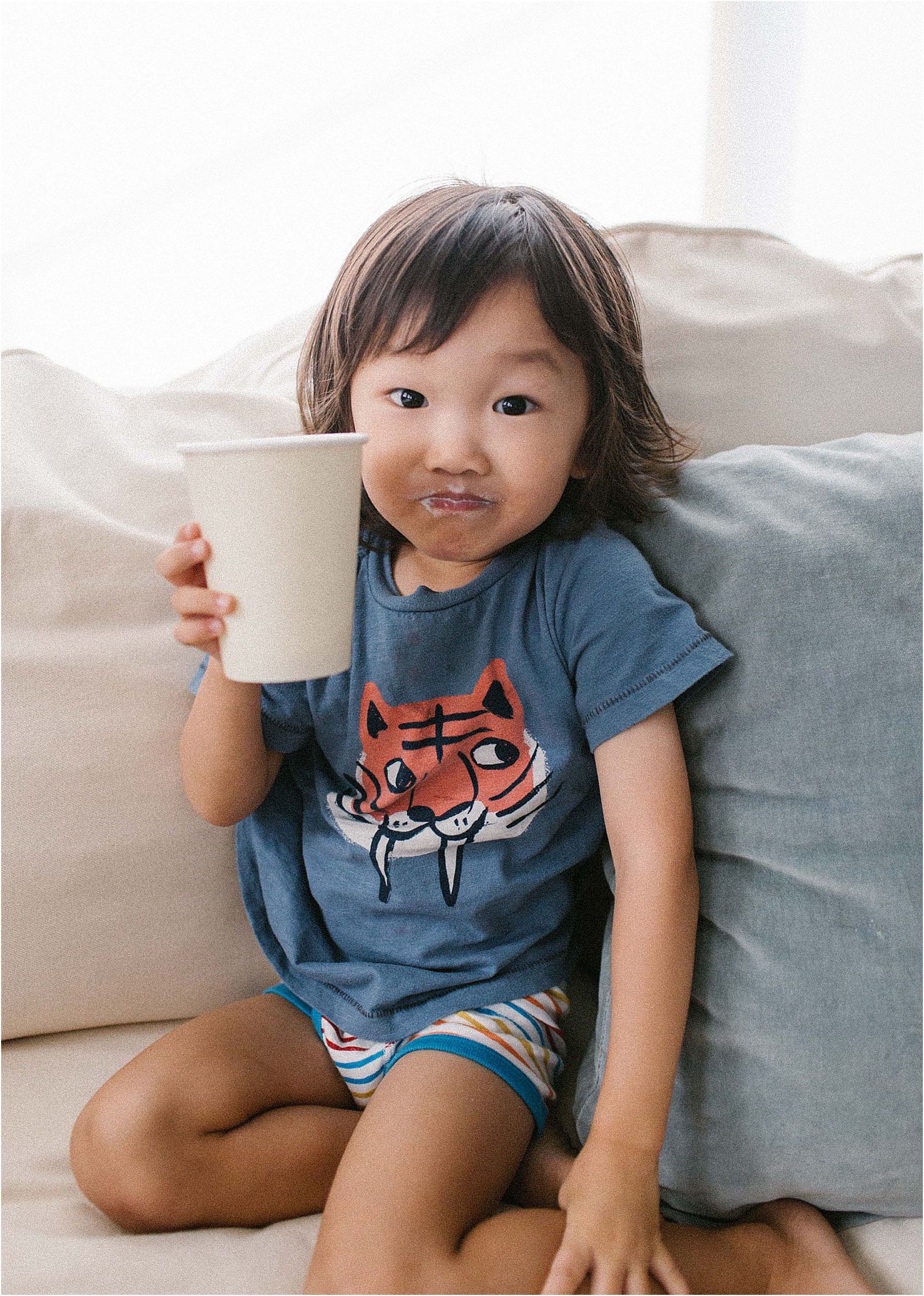 Thankfully we are now equipped with sufficient research and credible data to educate parents of kids of all ages. Healthy Eating Research convened an expert panel from groups like Academy of Nutrition and Dietetics, the American Heart Association of Pediatric Dentistry, the American Academy of Pediatrics and the American Heart Association to provide recommendations and guidance for beverage consumption in early childhood, along with reviews of existing 50+ literature and meetings to develop the following recommendations.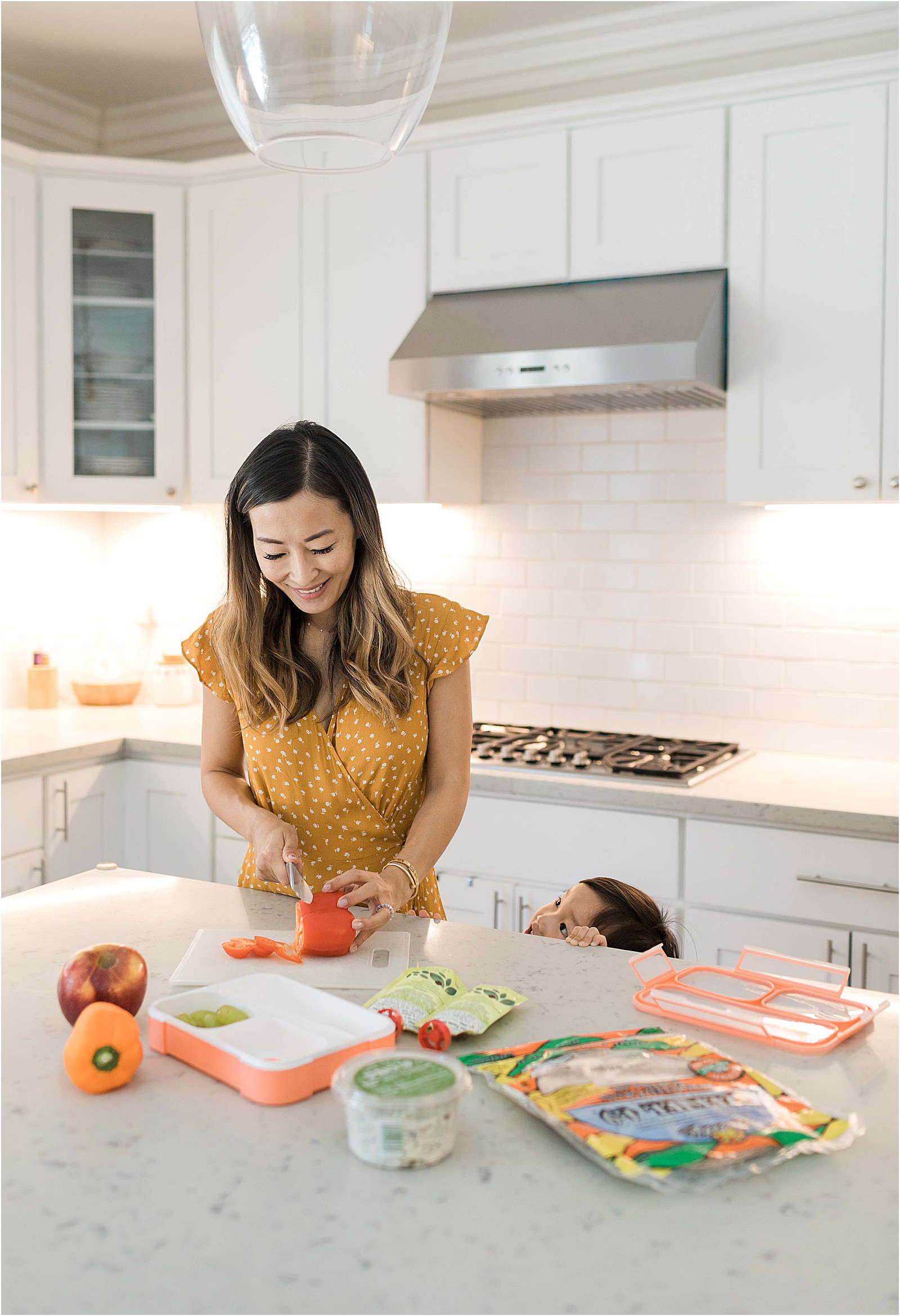 In short, the following data is accurate, credible and important for all parents, especially for those with children between ages 0-5. The following final consensus recommendations were reviewed and approved by all four organizations and the advisory committee members.
What does research show?
The importance of what kids drink from ages 0-5
Research shows that what children drink from birth through ages 5 has a big impact on their health. Both now and for years to come. Healthy patterns in early childhood can prevent future health issues like dental cavities or diet-related diseases like obesity and type 2 diabetes.
What follows is data gathered from credible research from the aforementioned organizations. As always, consult with your healthcare provider about your child's individual needs (specific diets, allergies, intolerances, etc.)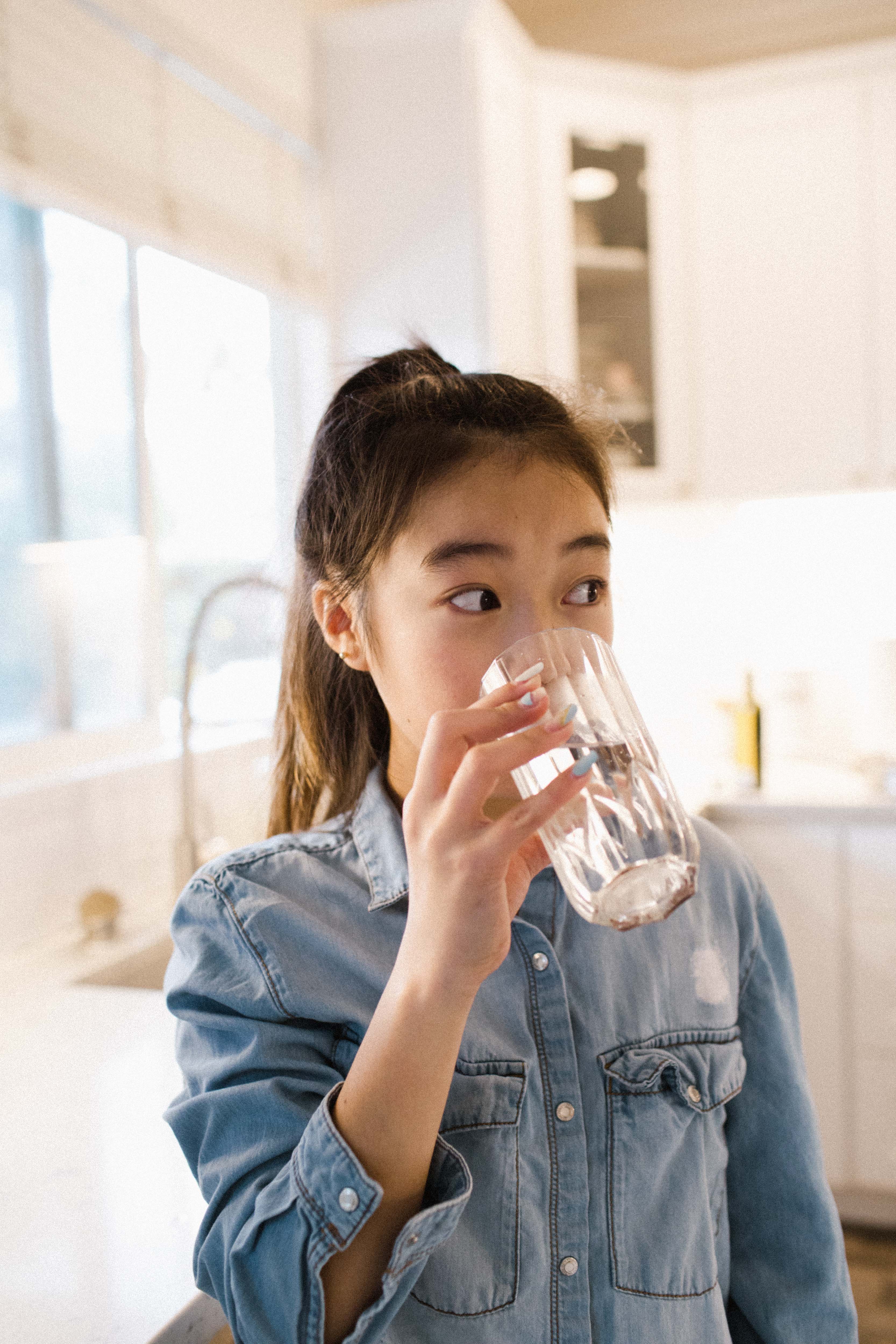 1. Drinks to avoid for kids 5 and under
All kids 5 and under should avoid drinking flavored milk (ie. chocolate & strawberry), toddler formulas, plant-based/non-dairy milks (ie. almond, rice, oat), caffeinated beverages (ie. soda, coffee, tea, energy drinks) and sugar and low-calorie sweetened beverages (ie. "diet" and "light" drinks including those flavored with stevia or sucralose) as these are big sources of added sugar with no unique nutritional value.
2. What babies and toddlers should drink

Babies 0-6 months only need breast milk or formula
Babies 6-12 months can drink small amounts of water once foods are introduced in addition to breastmilk or formula.
Toddlers 12-24 months should only drink whole milk, water and small amounts of 100% fruit juice to avoid added sugars (fruit is preferred). They should drink no more than 4 oz of 100% fruit juice per day.
Kids 2-5 years old should only drink milk (skim or 1%) and water, small amounts of 100% fruit juice (diluting it with water is a good approach). No more than 4 oz of 100% fruit juice per day for 2-3 year olds. No more than 4-6 oz of 100% fruit juice per day for 4-5 year olds.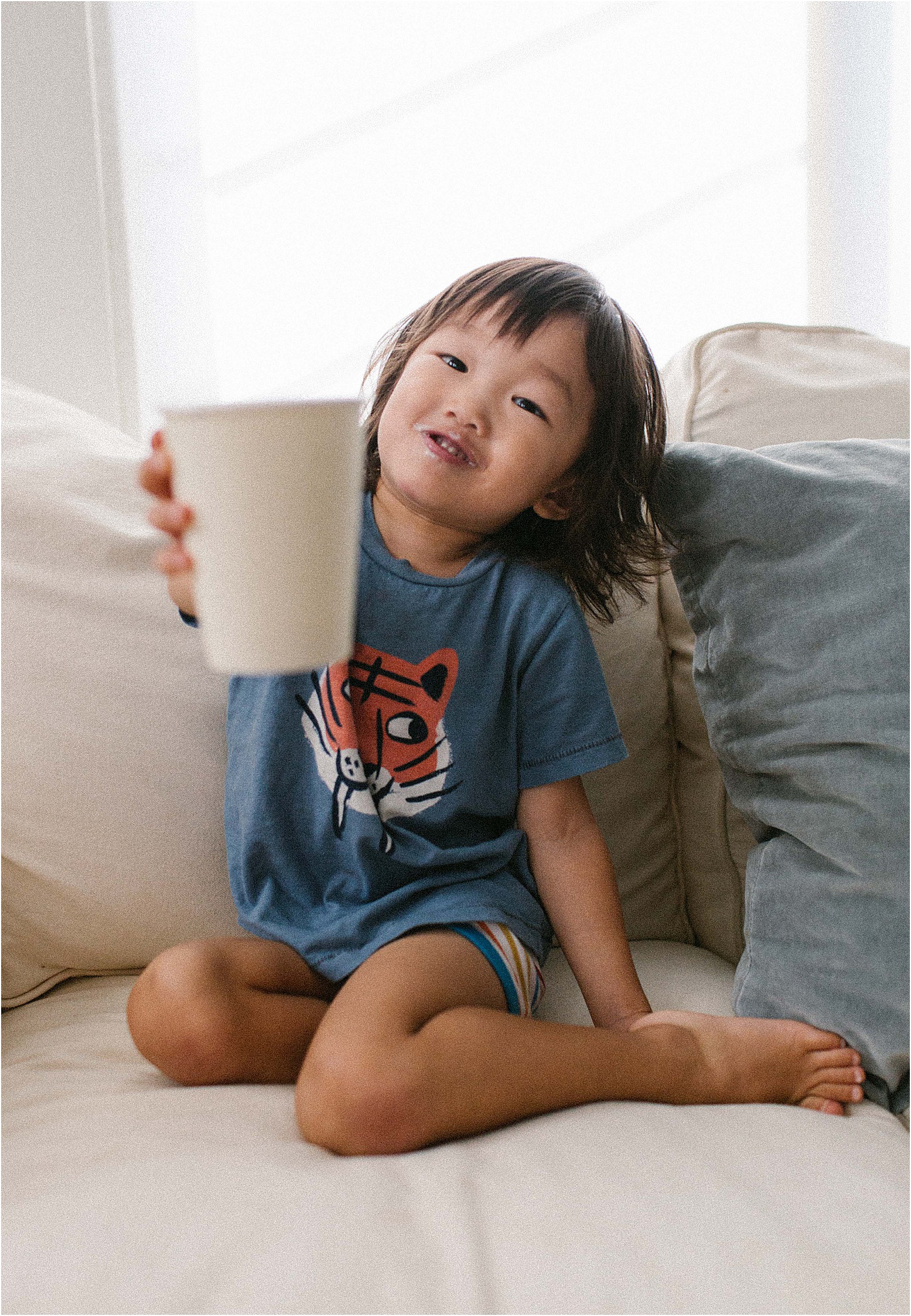 Don't these recommendations already exist? What's new?
Many different guidelines exist. However, there are gaps and discrepancies in either the age ranges covered or the types of beverages. This has lead to confusion among health care providers, parents and caregivers.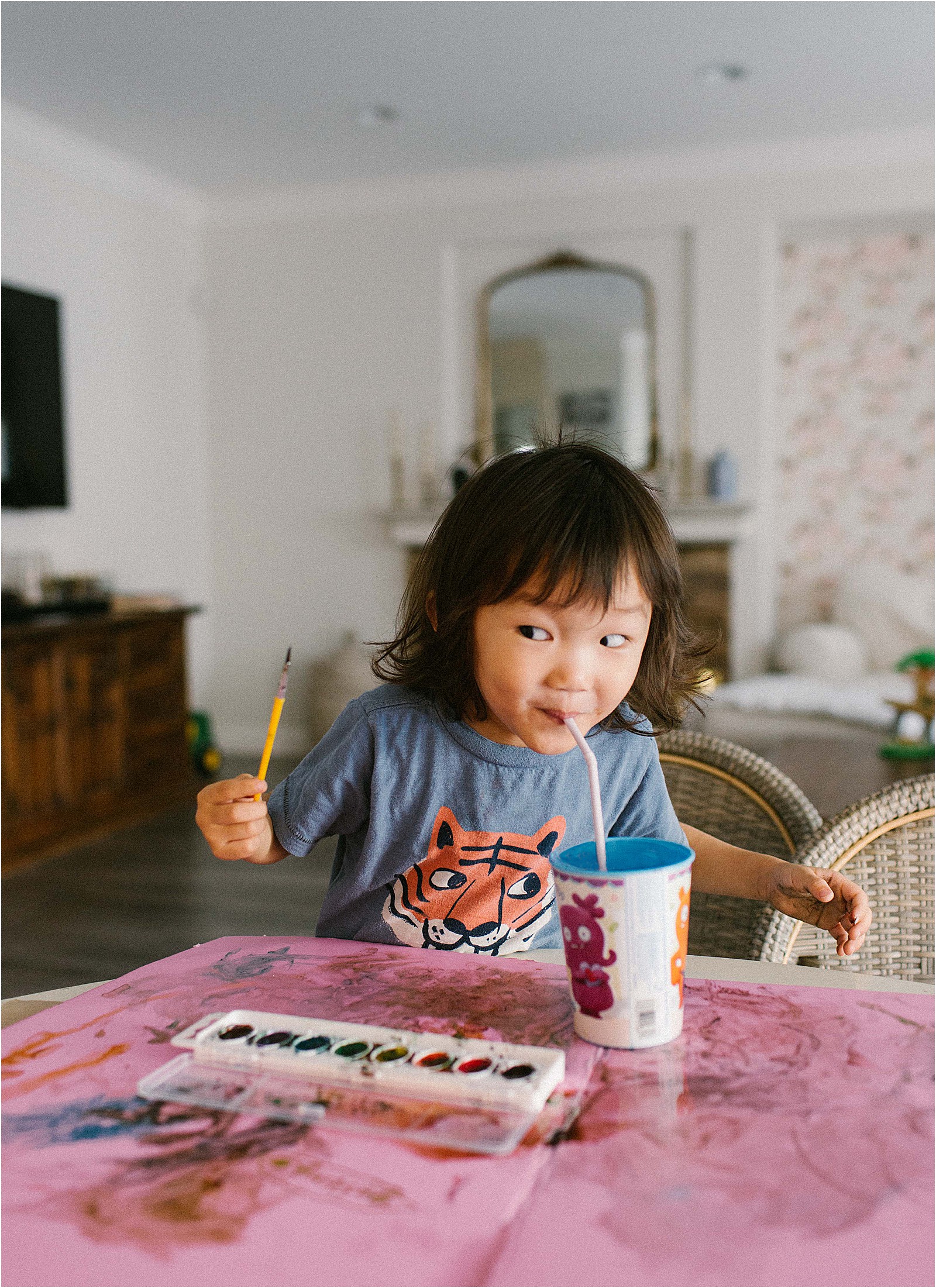 What are some practical tips for parents?
Whether you're a first-time parent or a veteran with 2 or more kids, these guidelines can help you make positive changes to get your kids on a path to optimal health. And these guidelines are practical and doable.
The HealthyDrinksHealthyKids.org website provides a lot of practical tips for parents and caregivers to make implementing these guidelines as easy as possible.
Here are some examples:
If your kids are hooked on juice or flavored milk, you can wean them off by gradual changes. For example, adding water to juice or adding plain milk to flavored milk. This allows their taste buds to adjust and learn to like less sweet varieties.
You can set boundaries about when kids can have certain beverages. For example, as kids age, the panel recommends that they only consume milk at mealtimes and water in between for thirst.
Encourage them to drink more water. You can add fresh sliced fruit to plain water or squeeze lemon or lime into the water.
What about occasional consumption of plant-based milks?
Plant based milk- regardless of the variety- is not an equal substitute for cow's milk. With the exception of fortified soy milk, plant-based milks are not nutritionally equivalent to dairy milk and may contain added sugars. For children ages 1-5, plant milks may be useful for those with allergies or intolerances to cow's milk. However, this should be done in consultation with a pediatrician or nutritionist to make sure that your child gets the nutrients he or she needs from another source.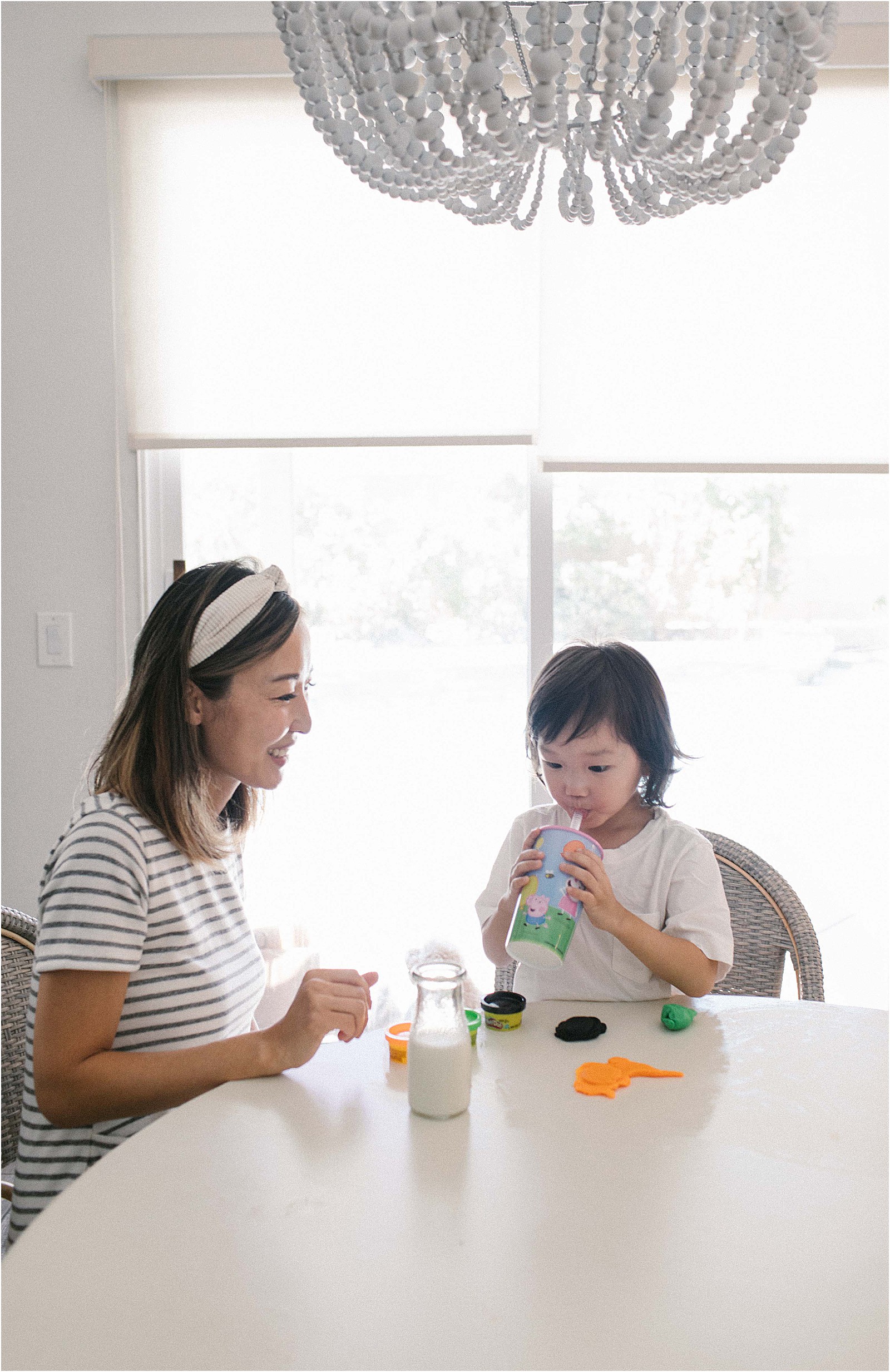 As you can see, healthy beverage habits established at a young age can make a lifelong difference. In addition, prevent various health issues in your child's future. With dedication, healthy restriction and clear guidelines, you can help your family achieve a healthier and happier life.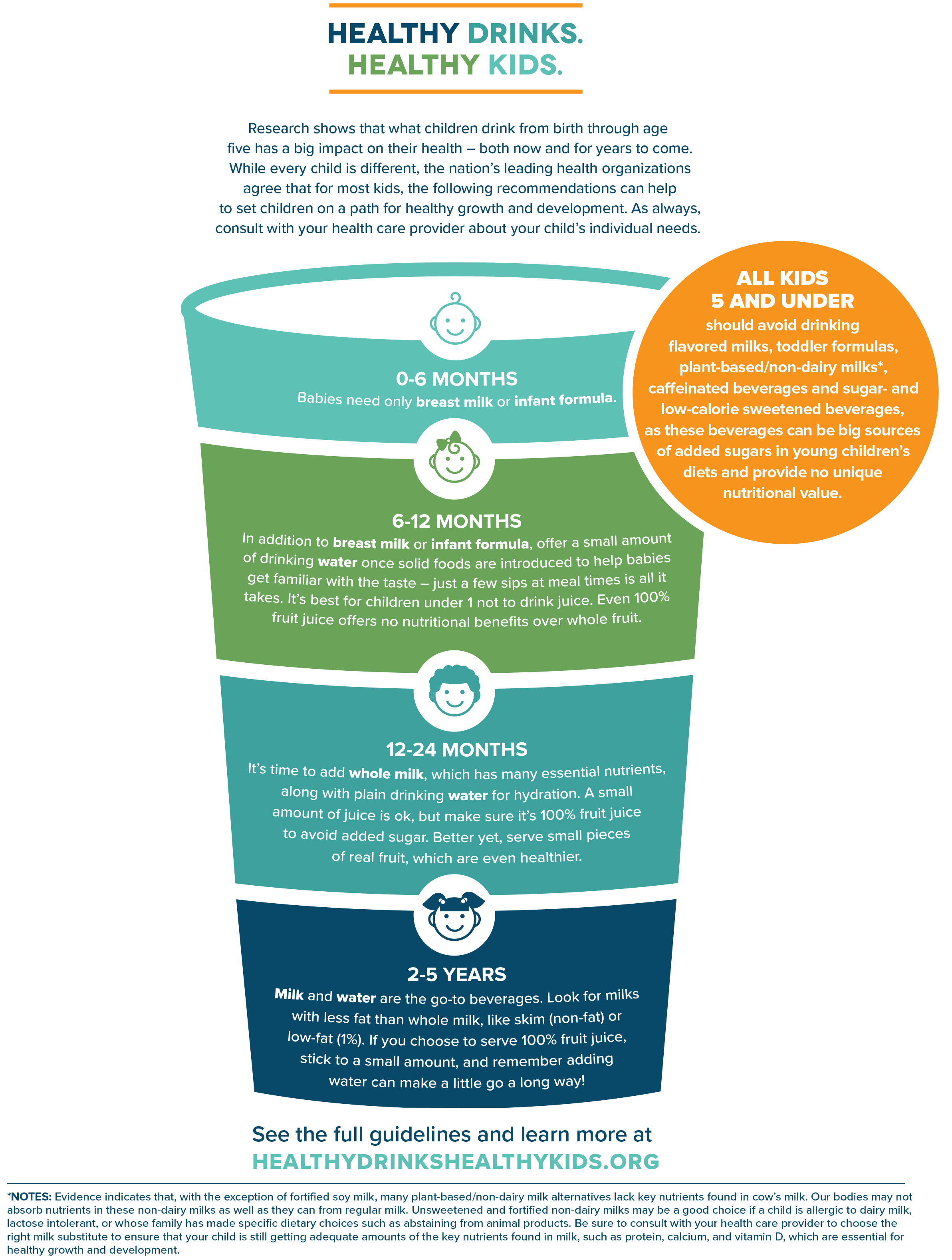 For more information, visit the Healthy Eating Research website here, or find them on Facebook and Twitter.