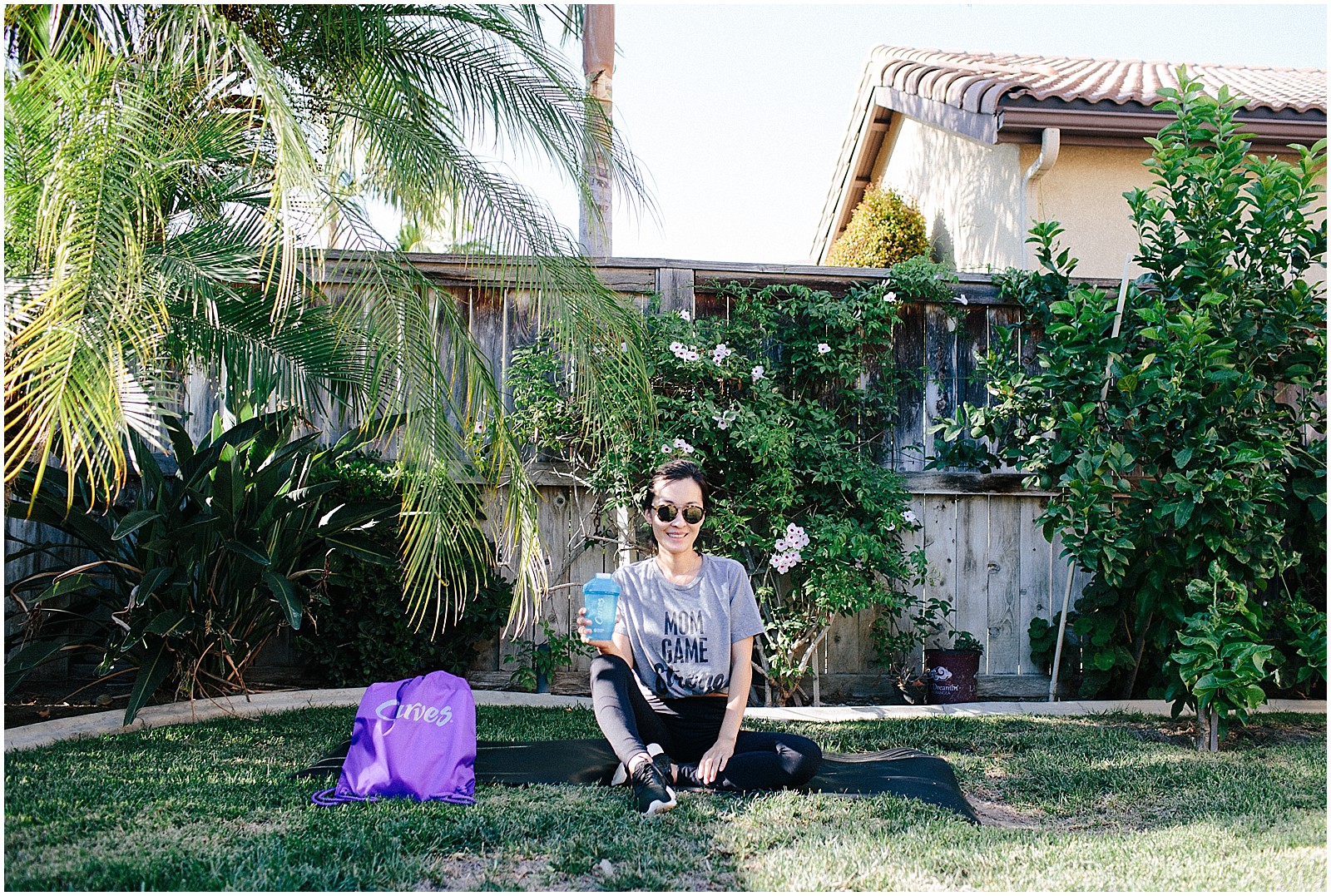 I've never been a fitness junkie but always led an active lifestyle. I've tried yoga, pilates, crossfit as well as basic cardio and weight training on and off for about 10 years. I began exercising not simply to lose weight or to get fit but more for mental and spiritual health. Yoga helped me to overcome postpartum depression after my second child and allowed me to feel more connected to my body.
As a busy mom, it's difficult to commit to a perfect workout schedule but I've always tried to go into the gym regularly. Sometimes I succeeded, other times I failed. Nonetheless I made fitness a priority because I was happier and more energized with regular exercise than without.
But this all changed when I became pregnant with my third baby. I was tired ALL THE TIME. I'm not sure if it was because it's my third baby or because I had two other kids to take care of but there was no way I can exercise besides moderate walking. I had so many aches and pains that I decided to just listen to my body and cancelled my gym membership.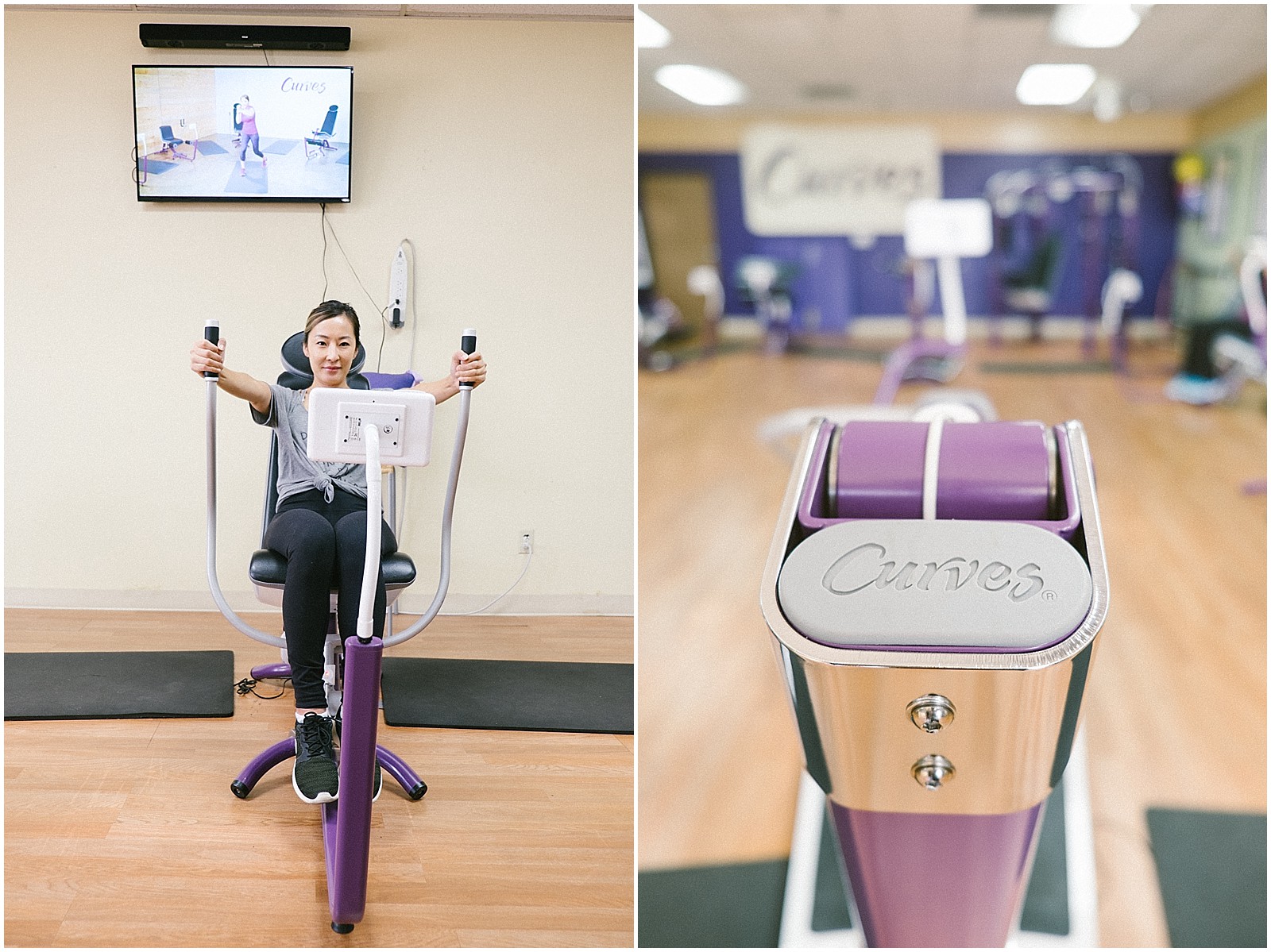 Getting Fit After Baby With Curves
Fast forward two years- my baby is now 13 months old. I've done yoga at home here and there but I still haven't re-enrollled back into the gym because it's so hard to find the right gym. Local gym is too big and crowded, and smaller yoga studios are too expensive with limited schedules. It can be so tough to get back into the routine of working out, but I also know how important it is and how much better it makes me feel.
So when I had a chance to try out Curves® circuit training program for 30 days with a friend, I leaped at the opportunity.
After trying out Curves®' program for two weeks, I'm very impressed with their program and facility. First, I love that it's a women's only gym which means there is no make-up and no mirror necessary.
No men, no make up and no mirrors!
The good news is that you can wear whatever you want and not feel self-conscious around other men. I also love the intimate vibe of the gym itself where other members become your new friends. In just two visits, I had already become friends with the other ladies!
Curves offers 30 minute circuit training, as well as specialty classes like boxing, cardio, body basics, and balance.
It's just like having your own personal trainers, which is an awesome motivator when a work out becomes extra challenging. All of these classes are good ways to burn pregnancy weight and help you meet your postpartum body and weight loss goals. Exercise isn't just about getting rid of extra weight or baby fat though. It's about staying healthy in general. Here are a few effective exercise routines whether you are pre pregnancy or post pregnancy.
Burpees
This move requires you to start standing up, then get into a plank position, and jump back up again. It's great for your abdominal muscles and triceps.
Uppercut/Hook Punch
Boxing moves are a great way to work on both cardio and strength moves. Boxing helps burn your goal calories a day while getting out some aggression at the same time! For this move, begin in a boxer stance. Engage your body as you do an uppercut punch. Next, return to your boxer stance and rotate your body to do a hook punch. Punch with force to really engage your abdominal muscles.
Squats
Squats are a tired and true exercise that works so many different parts of your body. To perform an effective squat, stand hip width apart. Engage your ab muscles as you lower into a squat, come back up, and tilt your hips forward. This move actually strengthens your pelvic floor muscles as well.
Lunge Jacks
This is an effective cardio move that you can do at the gym or at home. It combines lunges and jumping jacks. You begin by standing with your legs shoulder width apart. Next, jump into a lunge while bringing your arms to shoulder height by your ears. Jump switch your legs, landing in another lunge with your opposite leg forward. Continue to alternate your legs and hands with each jump.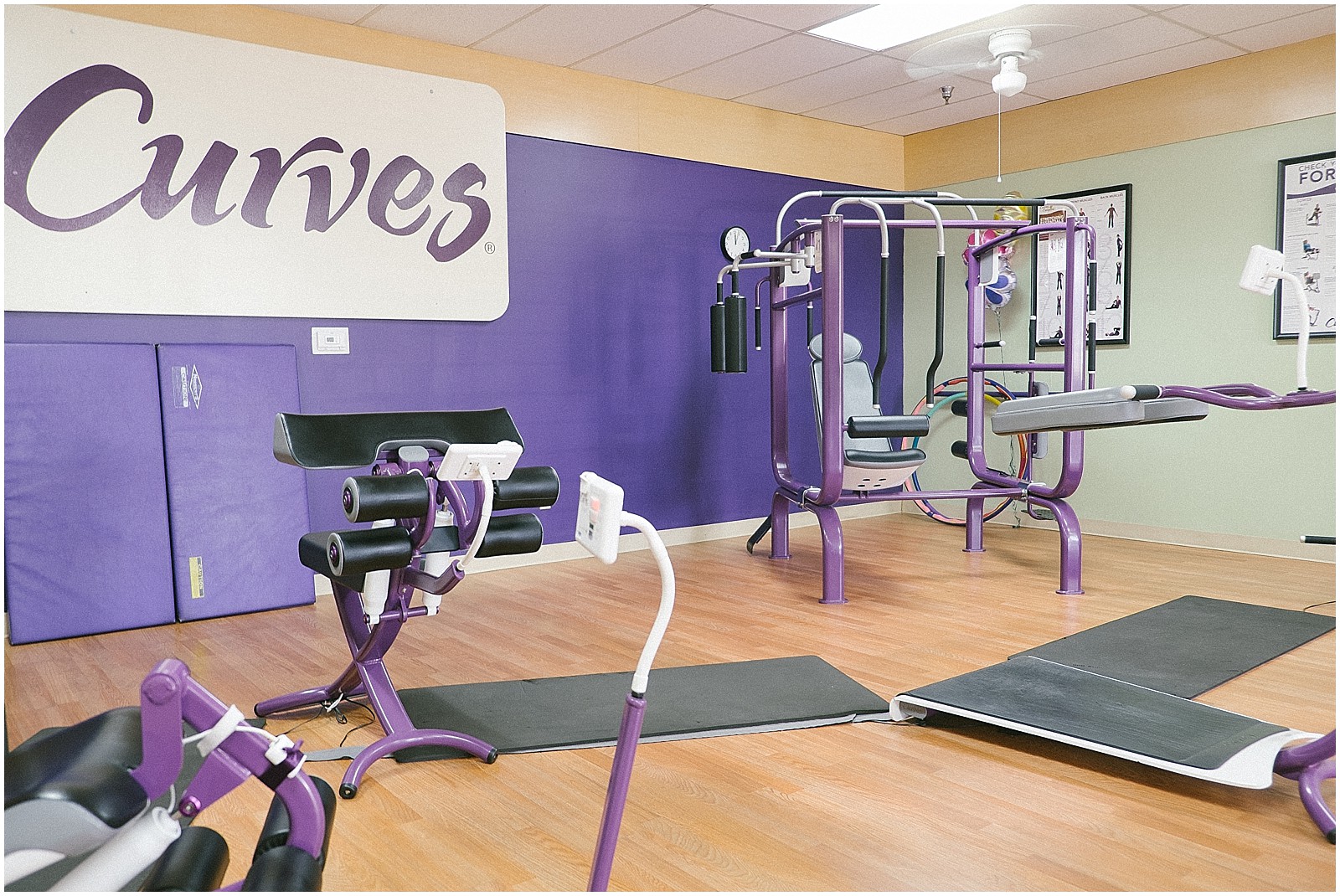 In celebration of their 25th anniversary, Curves® will gift 25 female veterans $25,000 each toward owning their own Curves® club. For aspiring entrepreneurs, this is a great way to learn more about Curves® franchise opportunity. If interested, you can apply here.
There are also fun perks and rewards for joining Curves® during their 25 year anniversary celebration. For example, the first 25 members who join between August 28th and September 27th can join for free with the purchase of an annual membership.
On September 28th, Curves® will be celebrating their 25th birthday around the globe with special workouts and local in-club parties. Non-members are also invited to join so be sure to check out your local Curves® for more details!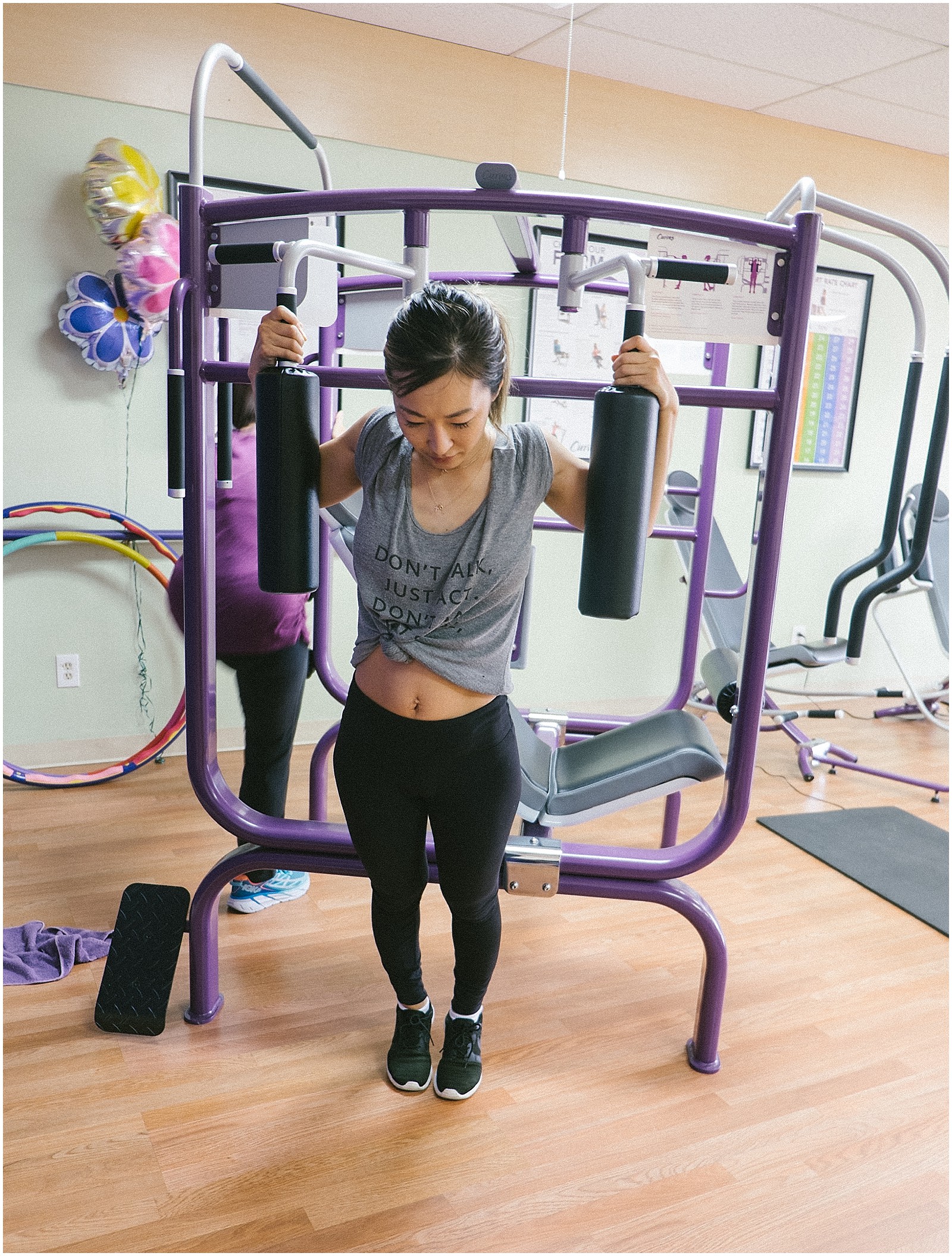 As for me, I'm dedicating 3 times a week to Curves®' circuit training which is about 30 minutes long.
During the 30 minutes, I'm able to participate in a total body workout on their various strength training machines. You begin by starting at one machine in the circuit and completing 3 rounds. It's fun because I get to learn how to use different machines that are designed for different body parts while working off baby weight. It's goes by so quickly, that there literally isn't any time to worry if a particular move is challenging for you.
You also get rest in between while keeping your heart rate up the entire time. It's a well-designed and fun program, you should definitely check it out.
It only took one 30 minute session to know that the circuit training is effective in building muscle, strength and burning calories. I was sore for days, which is a great sign. I really enjoy the supportive environment of the all-women group and the targeted guidance of the coach. They really know how to make you feel welcome and motivate you to keep going! My comfort level is much higher than at a normal co-ed gym.
Don't forget to follow Curves® on Facebook and Instagram and comment on their posts for a chance to win great giveaways!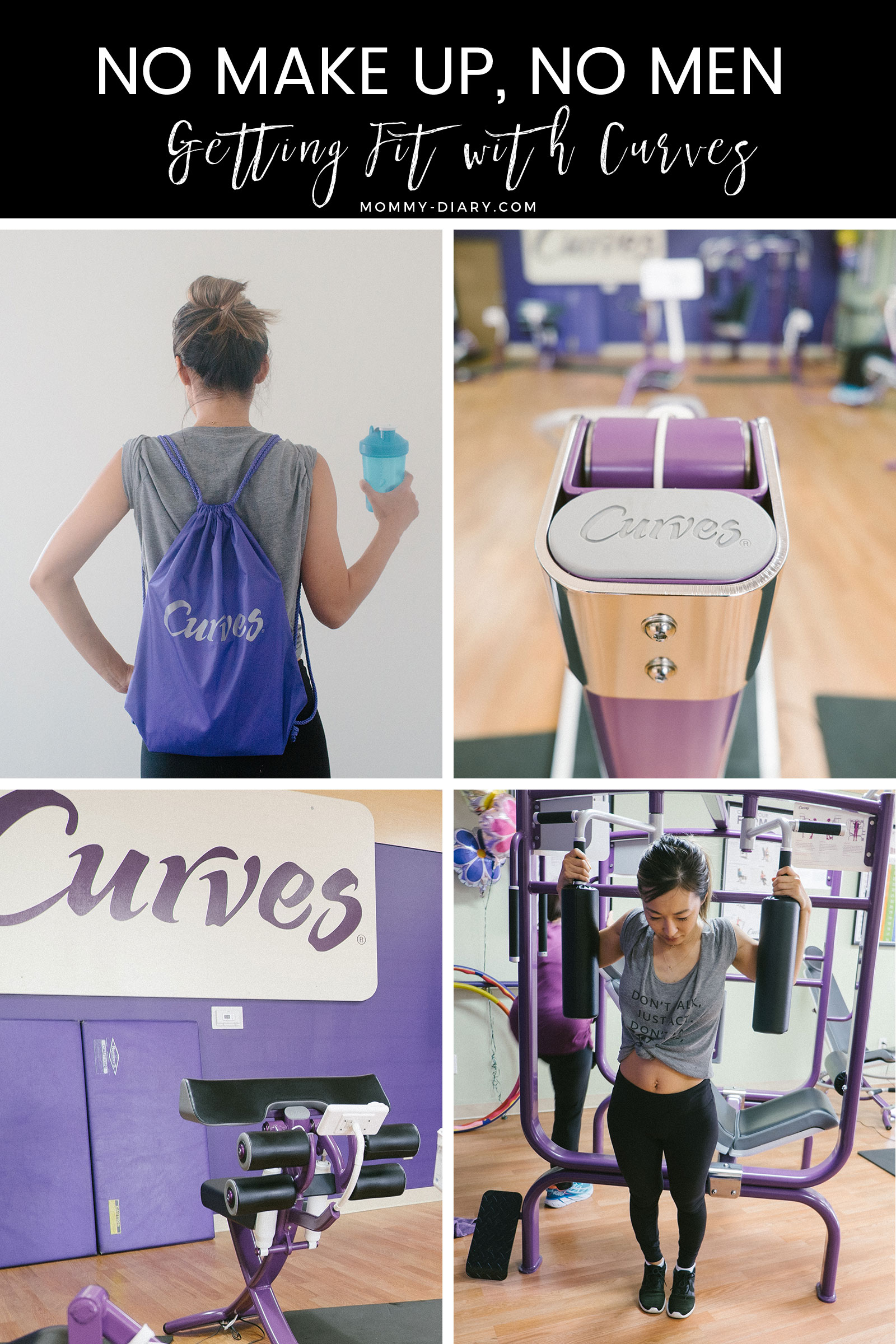 What do you think? Are you interested in trying out Curves®? Whether your goal is to get fit after baby or something else, why not take advantage of current special offer and join a Curves® nearby? Click here to learn more.