Celebrating AAPI Heritage Month for Month of May by supporting Asian brands
I'm celebrating AAPI (Asian-American Pacific Islander) Heritage Month for the month of May by sharing some of my favorite Asian-owned businesses. You can support the Asian American community by shopping your local and online Asian owned brands in beauty and skincare.
According to Forbes, Asian American consumer market is now at 12 trillion dollars which means Asian Americans are powerful consumers who can really make a difference in the marketplace.
Please continue to support Asian American small businesses by shopping mindfully. There are many great brands that sell quality products and also give back to Asian American communities. I hope you enjoy the following list of Asian owned businesses in beauty and skincare.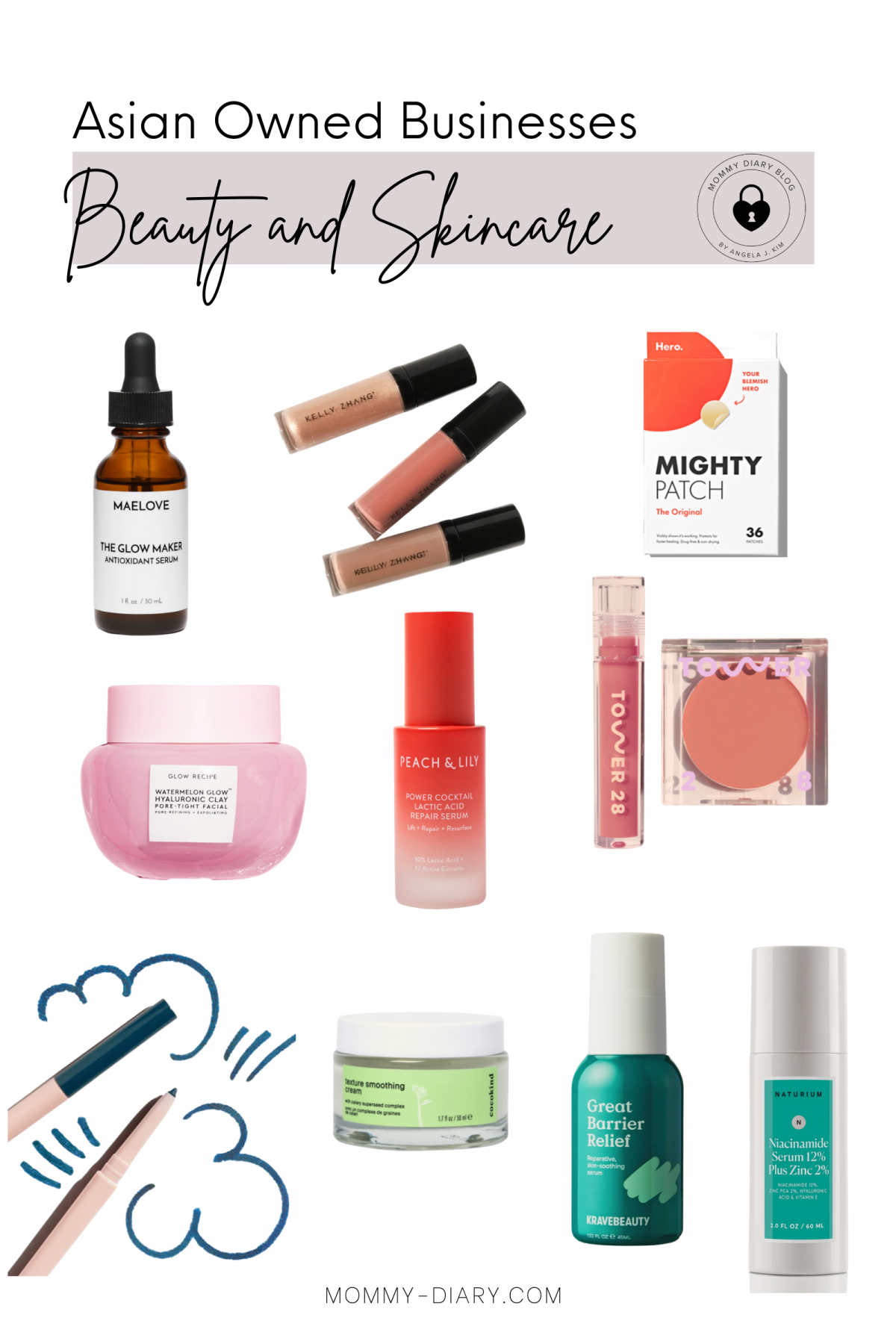 I've compiled a list of my favorite AAPI owned makeup and skincare brands that will be perfect for you and your loved ones.
Asian Owned Beauty and Skincare Businesses
Maelove skincare is the epitome of affordable luxury- it's at a reasonable price point but has very potent ingredients that will help you see results.
I love Cocokind for its gentle ingredients and fun packaging! This is a great brand to introduce to your teens or someone who is looking for hassle free skincare.
The Hero Cosmetics Mighty Patch is unmatched. Put these on a pimple overnight and you'll see a significant reduction without drying.
Glow Recipe formulates most of its skincare products around fruits. I also love the full experience of their products- from ingredients to texture to results!
If you're sensitive to some makeup, check out Tower 28. They have a beautiful range of clean beauty products that are also designed for sensitive skin.
Kelly Zhang, my personal friend and go-to makeup artist, now has a makeup line out! Her lip products are my favorite.
I love to support fellow creators who start their own brands, and Naturium is no different. Started by Susan Yara, an amazing Youtuber and mom, Naturium is a great science backed skincare brand.
If you're in need of fun colorful eyeliners, look no further than Kulfi Beauty! I love that they celebrate South Asian representation while also offering amazing high quality products.
Peach & Lily has a great selection of trusted K-Beauty products, as well as their own line of skincare.
Krave Beauty is a great skincare brand for sustainability and simplicity. With a limited range of products, their goal is to make your skincare routine easy and accessible!
What are your favorite Asian owned skincare and beauty products? Are you shopping Asian Owned businesses this month? Let me know in the comments below. You can also come visit me on instagram and let me know your current faves!