Raising children in a technology-rich world can have its ups and downs. As parents, we constantly feel the need to monitor screen time in fear of social emotional repercussions. While technology may be a source of stress, it also can act as an engaging tool for learning. There are many educational learning apps available to our children that can help build their skills in areas such as reading, writing, math, and science. Whether you are using a computer, an iPad, or a phone, these apps offer educational support while our kids at school, at home, or on the go. Today I'm sharing 10 fun learning apps for kids.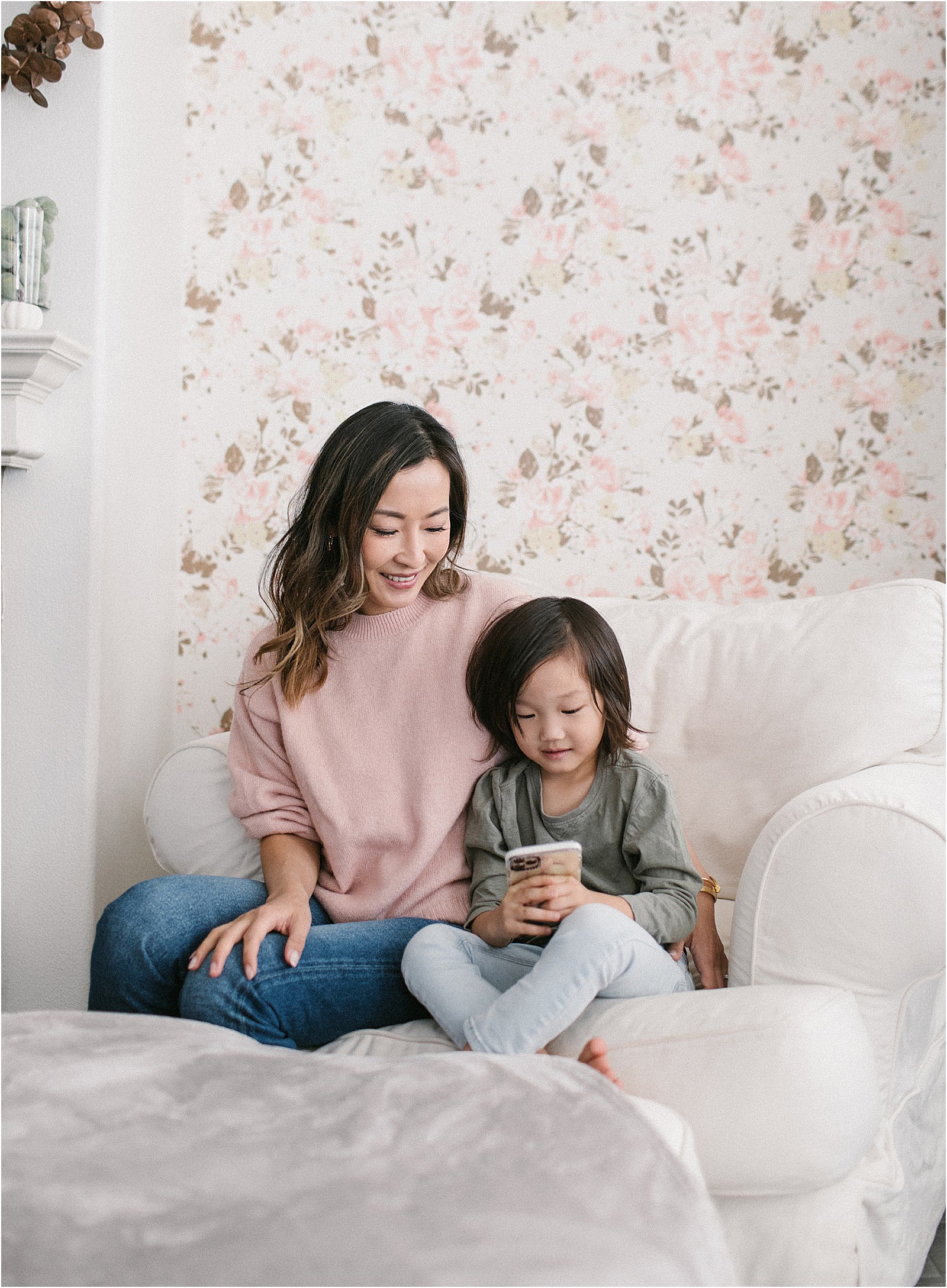 10 Fun Learning Apps For Kids
The following educational apps for kids are categorized by age level. These apps will hold the attention of children from preschool age through middle school and beyond. Many of them help both kids and adults by offering tips on how to further support the development of important skills. With four children, three of whom use technology, I feel much better allowing them use an educational app than watching Netflix on repeat.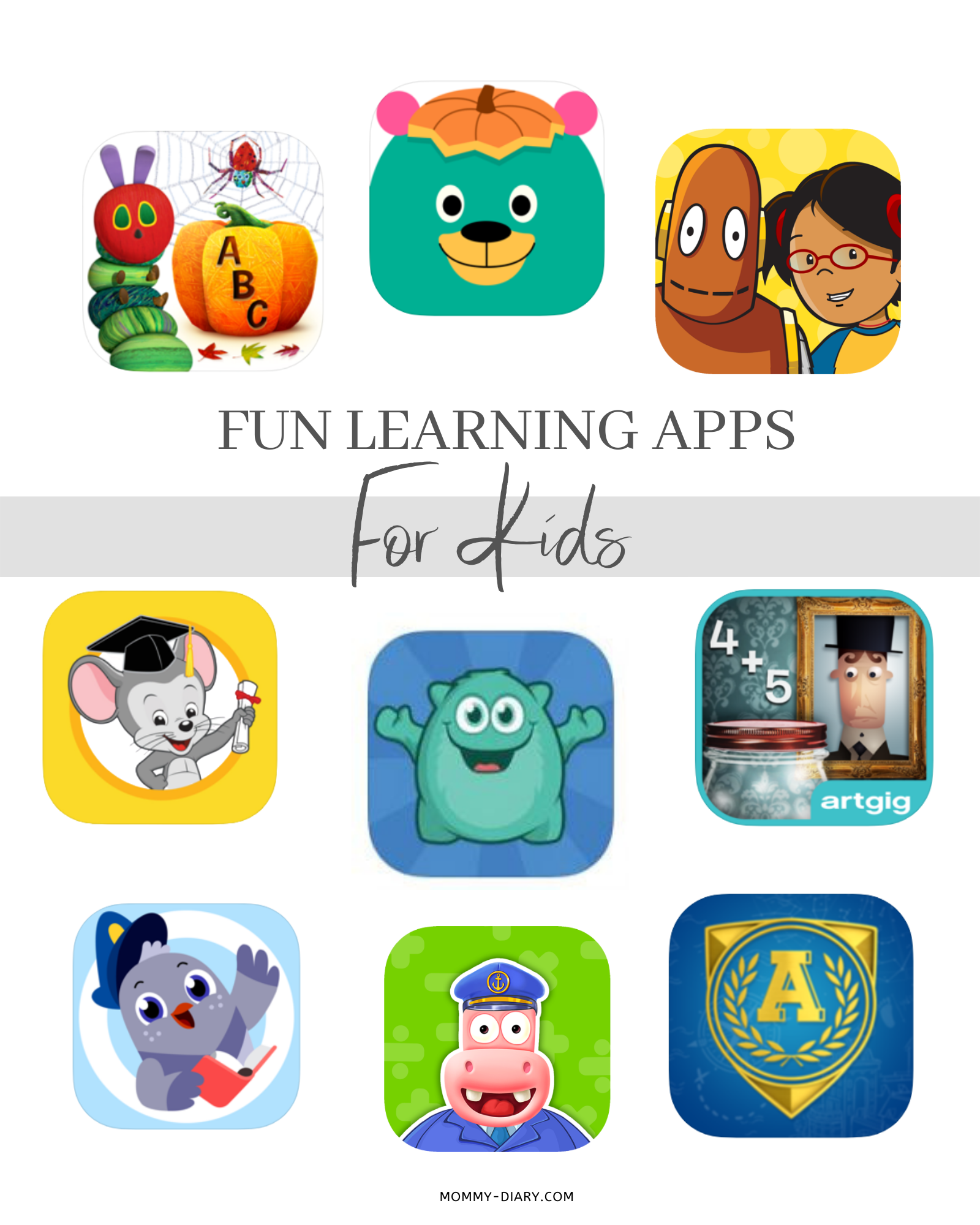 Apps for Preschool Age
Learn with Homer
This highly-rated app covers a wide range of skills from ages 2-8. The app teaches young children important early literacy skills through engaging activities. Starting with teaching letters, to short stories, poems, and songs, this app is designed for all learning styles. It is currently available to use on iPhones and iPads, but will soon be available to Android users as well. The cost is $9.99 if billed monthly, or $59.99 if billed annually. You can sign up for a free 30 day trial here.
Khan Academy Kids
Khan Academy is one of the most popular apps for young children, and for good reason. This app has received multiple parents choice awards and children's technology review awards. It aligns with the Head Start Early Learning Outcomes Framework and Common Core Standards, so you know the provided content covers skills to get your child ready for school. One of the best parts is that Khan Academy Kids is completely free. and without ads. The characters, virtual environment, and activities are super fun and deliver lessons in a way that is effective, yet engaging. You can get this app on Apple, Google, and Amazon! Khan Academy has several other similar free apps, such as Duck Duck Moose.
Hungry Caterpillar Play School
The Hungry Caterpillar Play School app is designed around the beloved Eric Carle stories, which feature beautiful artwork. The games, songs, books, and puzzles provide developmentally appropriate instruction through exploration and meaningful play. The activities help develop skills in reading, spelling, writing, math, problem solving, science, and the creative arts. There are even brief videos for parents to show ideas on how they can continue the learning with their children offline. There is a free trial option, and then the cost for a membership is $5.99 per month or $39.99 per year. This app is compatible with iPads, iPhones, or other Apple products.
Apps for Early Elementary
Brainpop Jr.
Your child may be familiar with this app, as it is used in many classrooms around the country. What makes BrainPop unique is that it covers a variety of subject areas from language arts, to math, to social studies and science. Each subject area has a fun video with follow up activities such as a game and a quiz. The app is super intuitive and easy to navigate. A subscription is required for this app. While it is pricier than others, it is one of the most popular among children and would make for a great birthday or Christmas gift. You can check out the various plans here. Be sure to click on "family and homeschool plans".
ABC Mouse
The award winning app ABC Mouse is a popular program for children ages 2-8. After using the app, I feel that it's best suited for children kindergarten through second grade. This app focuses on early literacy and math skills. It's suggested that just 45 minutes per week is shown to increase these important skills and prepare your child for third grade. There are thousands of books, songs, puzzles, videos, games, and printables to explore. ABC Mouse also tracks your child's progress and offers a customizable avatar and virtual bedroom. Kids learn while receiving tickets and rewards for completed activities. This app can be played in either English or Spanish. You can sign up on their website for a free first month, and then $9.95 for the following months.
Apps for Late Elementary
Mystery Math Town
It is difficult to find effective math apps that hold the attention of an elementary or middle school child while actually learning math. Mystery Math Town proves to be a winner. It is a goal-based game that provides daily math practice. The theme of this app is very mysterious, yet not scary. The app offers humor through its characters, and players solve math problems in order to accomplish certain things around the virtual math town. It is a one time fee of $2.99 and available to play on iPads through the app store.
Splash Learn
While this app offers content for children as young as preschool age, it is intended for children up to fifth grade. The focus is on developmentally appropriate quick math skills such as fact fluency, multiplication, division, word problems, fractions, and telling time. Splash Learn's content is based on the common core curriculum. It has a gradual skill progression to ensure that facts and concepts are mastered before moving on to something new. Parents can sign their children up for free here.
Brain Pop
Brain Pop is an extension of Brain Pop Jr. and created for students in fourth grade and up. Similar to Brain Pop Jr., the lessons begin with an animated video followed by various activities. They cover a wide variety of topics, including lessons on difficult subjects such as terrorism, alcoholism, war, and sexual reproduction. All lessons are done in a way that is sensitive and appropriate for the corresponding age range. There is even a companion site for English Language Learners. You can find plans and pricing here.
Apps for Middle School
Prodigy
Prodigy is a popular and fun learning app for kids up to eighth grade. It is used in many classrooms and meant to connect in-school and in-home learning. It covers over 1,500 curriculum-aligned math skills. The games are super engaging and kids answer math questions to earn spells, which are then used to battle monsters as they move through different virtual worlds. You can set up a free account for your child, create assignments, and view their progress. There is also a paid membership option, which offers more game features. Prodigy is available to both iOS and Android users.
Adventure Academy
This app is made by the creators of ABC Mouse and is intended for children ages 8-13. There aren't many fun learning apps for kids of this age range, so I was happy to find Adventure Academy. It follows a similar design as ABC Mouse. Kids create a unique avatar, and explore around their virtual school while interacting with other players and completing activities based on learning topics such as math, language arts, science, and social studies. Parents are able to set difficulty levels. Adventure Academy can be purchased for $9.99/month or $79.99/year. This page allows you to sign up for a free first month.
Well friends, that complete today's list of fun learning apps for kids. I recommend trying a couple of them out to see which one your child prefers most! These apps can provide a fun and effective learning experience for your family. If you are unsure about a particular app, I always recommend heading to Common Sense Media for honest app reviews from parents and kids. On this site, you'll be able to find trusted apps based on the parent's choice.
Let me know what your favorite learning apps are in the comments! Have you read my post on the best Netflix shows for kids? You can check it out here!