Dates and ginger tea is my go-to tea throughout the year, especially during fall/winter months and the cold season. It's easy to make and full of antioxidants, nutrients and other immune boosting agents.  This homemade dates and ginger tea tastes good both hot and cold. It's great for colds and sore throats.
Koreans believe dates and ginger help keep the body and uterus warm, which is important for women during pregnancy and postpartum.
I've been drinking this tea regularly and I believe it helped me to heal more quickly after childbirth and boosts my immune system. Here is a list of many benefits of this tea.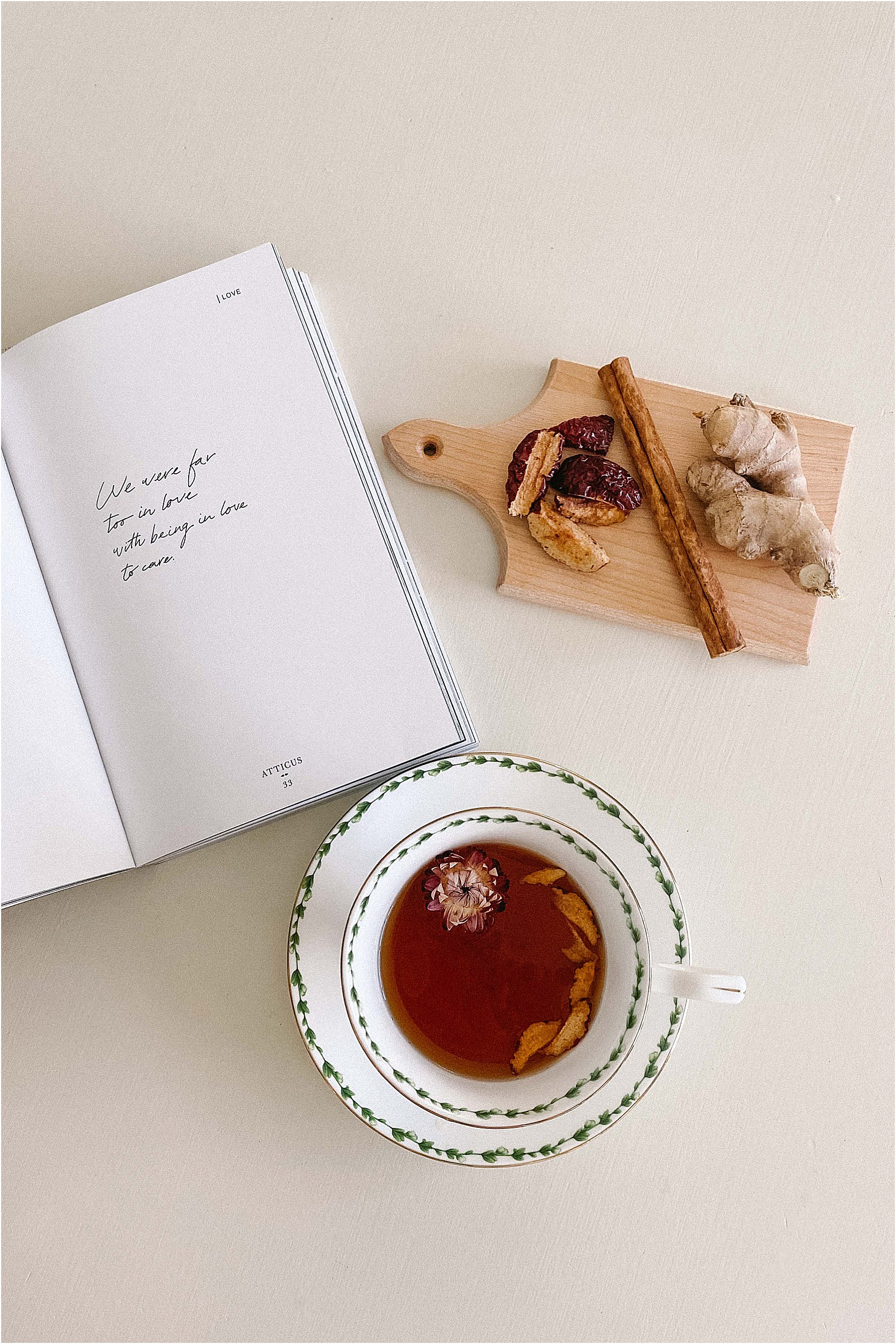 Homemade dates and ginger tea benefits
Benefits of red dates / jujubes
An excellent source of antioxidants. Dried dates contain polyphenols, just like green tea.
Good for blood sugar balance.
Contain a brain booster. It contains choline and higher choline intake is associated with better memory and learning- key nutrient for kids and older adults.
Help with bone mass.
High in fiber, which can benefit digestive health and prevents constipation (great for pregnancy and postpartum!)
High in disease-fighting antioxidants.
May promote natural labor. Also helps to maintain energy level during labor.
Helps with sleep.
Benefits of ginger
Ginger reduces your risk of diabetes.
Anti-inflammatory
Can settle an upset stomach.
Can curb morning sickness and nausea.
May help prevent heart disease.
May lower risk of cancer.
Can help you lose weight.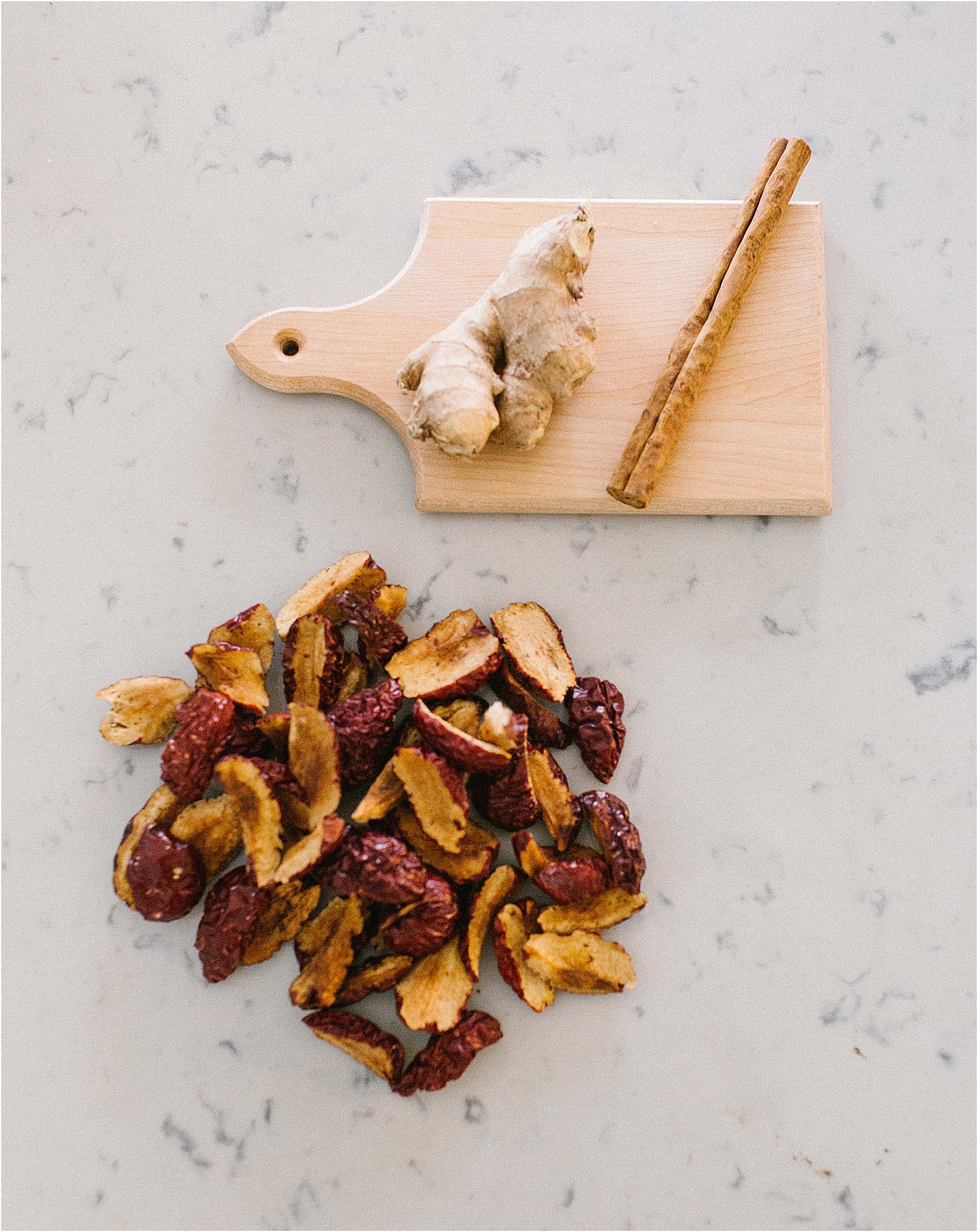 Homemade dates and ginger tea recipe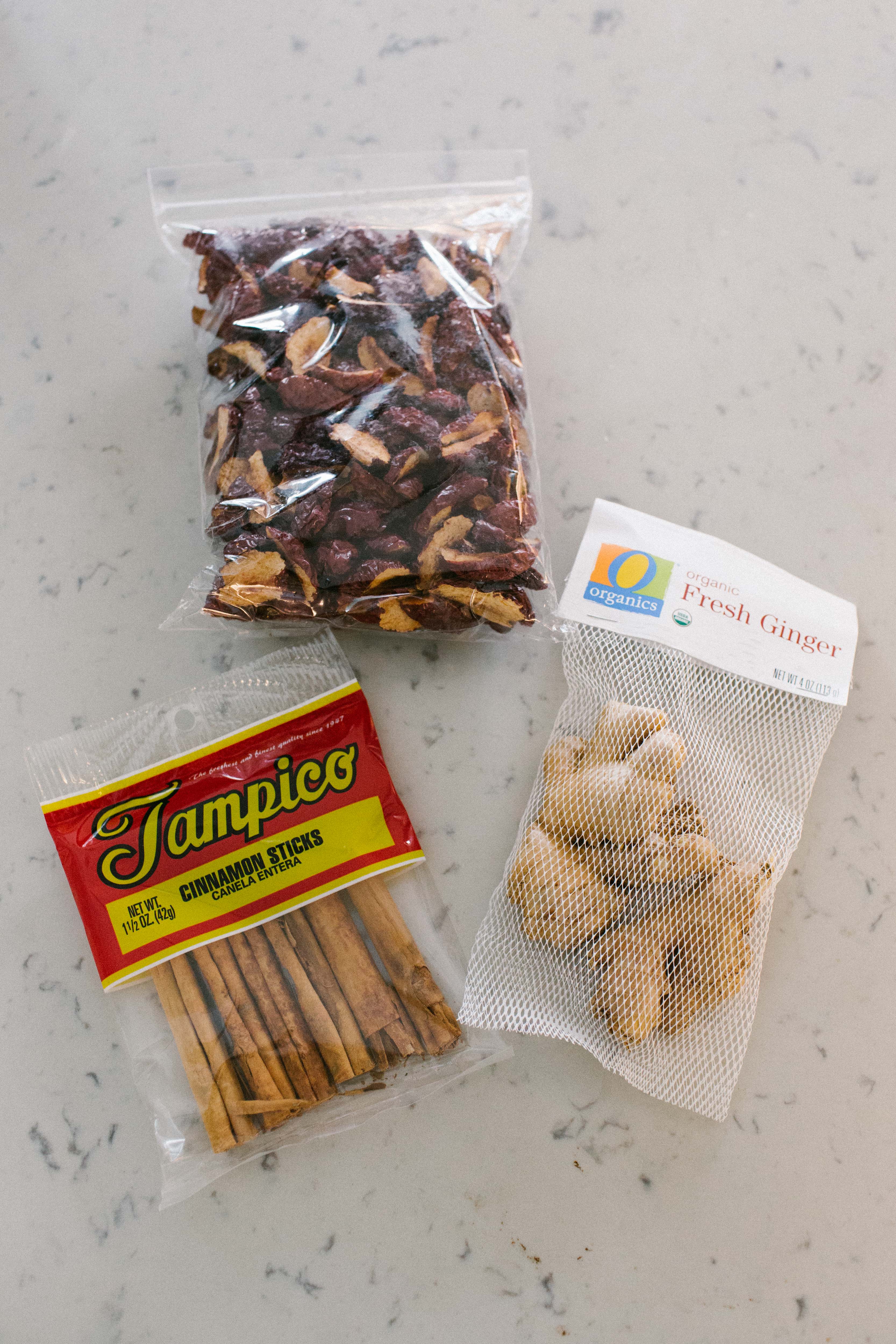 If you want to make this homemade dates and ginger tea, you can find dried dates online here and here. I also like Joshua's Farm brand because it's organic and supports local farmers. You can find cinnamon sticks here and here.
Ingredients
8 cups of water
1 to 1.5 cups of sliced dried dates
1 medium sized ginger
1 cinnamon stick
Slow cooker, instapot or pot
How to make homemade dates and ginger tea
Prepare a pot. I like using a slow cooker or instapot on slowcooker setting.
Wash and slice the dried dates. This allows full flavor.
Wash, peel and slice 1 medium sized ginger.
Wash 1 cinnamon stick.
Add all ingredients to 8 cups of water in your choice of pot.
Cook high 4 hours in a slow cooker, or in an instapot using slow cooker mode until tea turns reddish in color.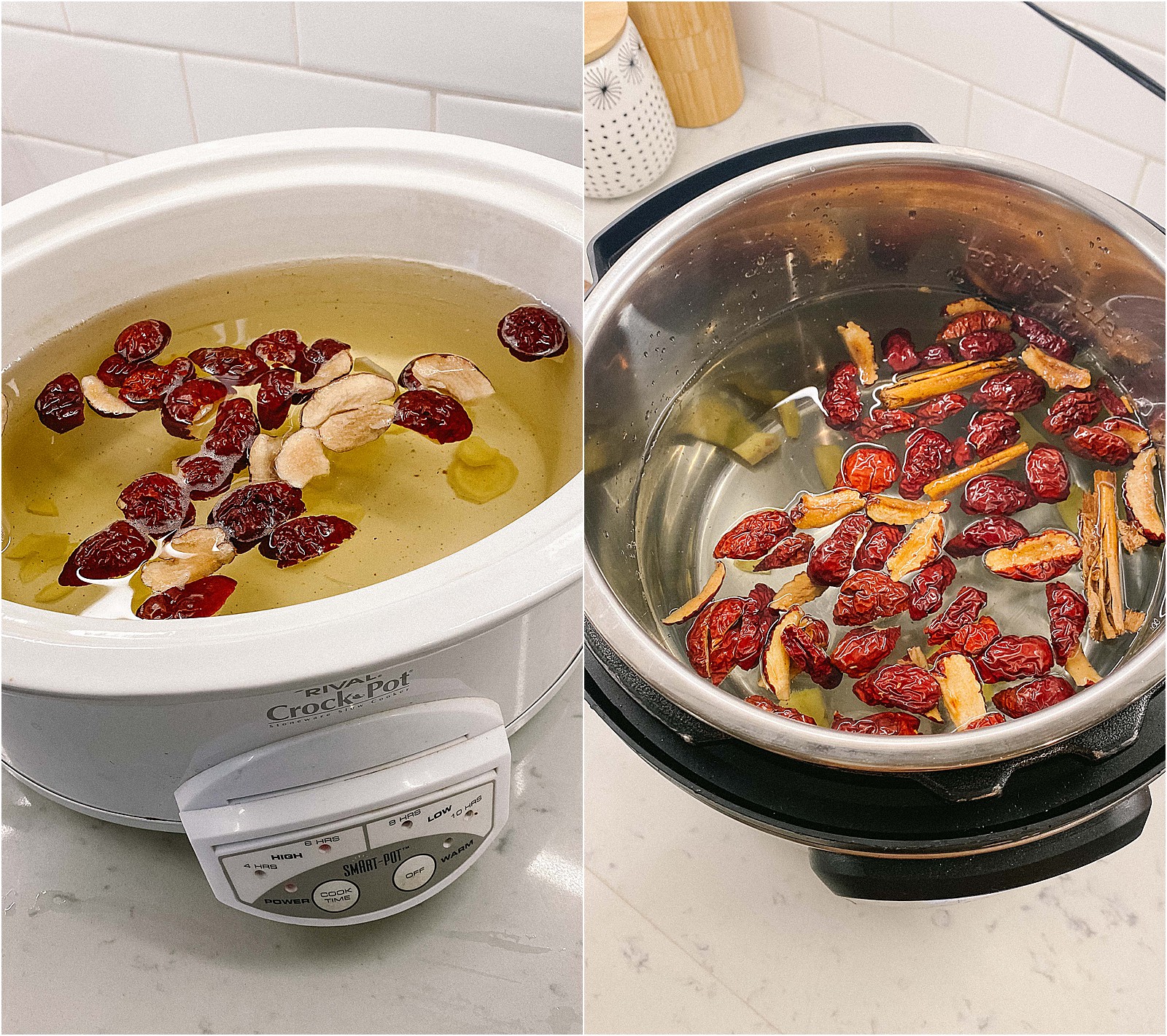 Tips for making homemade dates and ginger tea
The longer you cook, the more concentrated the tea will be
If you like the sweetness, add more dates. Add more ginger if you like the spice.
If you have a cold or sore throat, add more ginger.
Add honey to sweeten your tea
Make a big batch and enjoy for a few days by keeping it warmed up in a slow cooker.
During summer months keep it refrigerated and drink it over ice!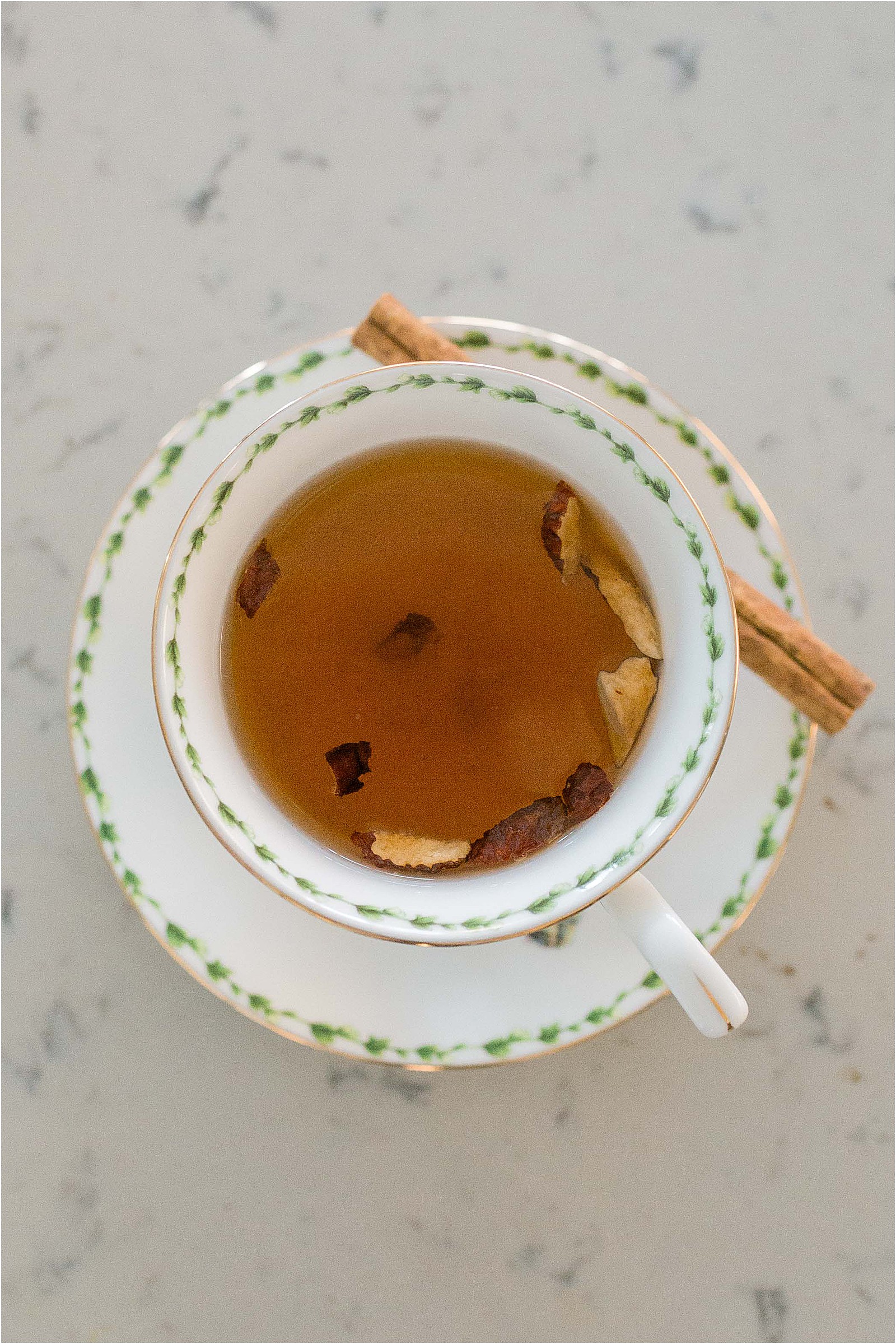 Have you tried dates & ginger tea? If you try this recipe be sure to let me know how it went for you!