Family photos are one of the most important elements of motherhood for me because I know how fast our time together passes by. We took our first professional family photos when my girls were 4 and 5, which I still regret. I spent too much time behind the camera, not enough being in the frame. I wish I was more proactive about taking photos every year because now I look back to these photos with so much fondness and nostalgia. I miss my babies so much and these photos are all I have to remember them by.
Now that we are a family of five, I plan to not make the same mistake again and take holiday photos every year.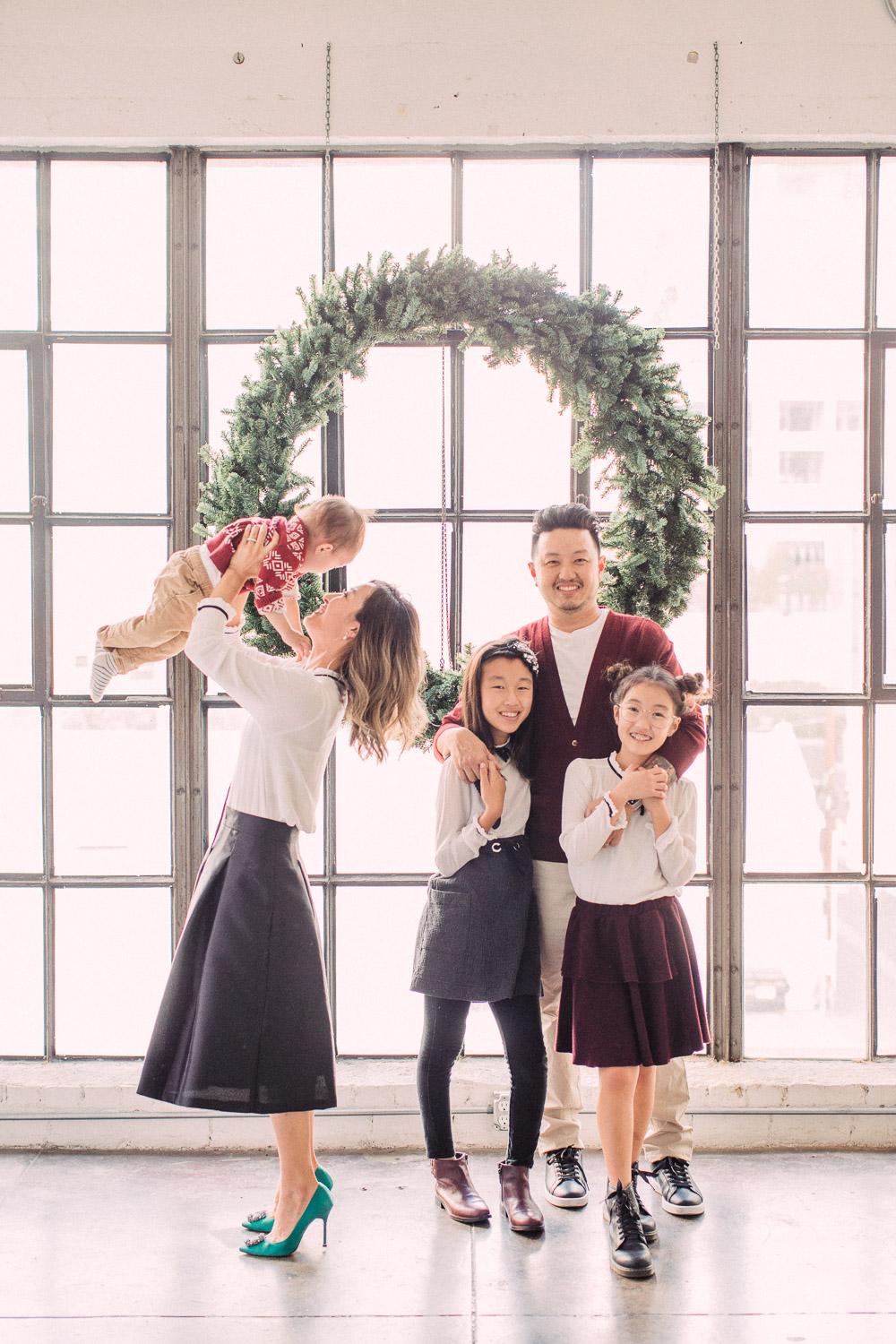 These are our holiday photos this year taken by talented Caroline Tran. What do you think? We already had the matching blouses so I styled them with existing skirts and shoes. I never shop separately for holiday photos, instead I go through our closets and see what I can come up with. It's definitely a creative challenge! These might be one of my favorite family photos thus far.
I never shop separately for holiday photos, instead I go through our closets and see what I can come up with.
The holiday time is the perfect opportunity to take professional family photos because 1) you can use them for your Christmas card and 2) many photographers offer mini sessions during this time that are more affordable. If your husband is not big on photos, you can at least get him to take yearly Christmas card photos, right? 😉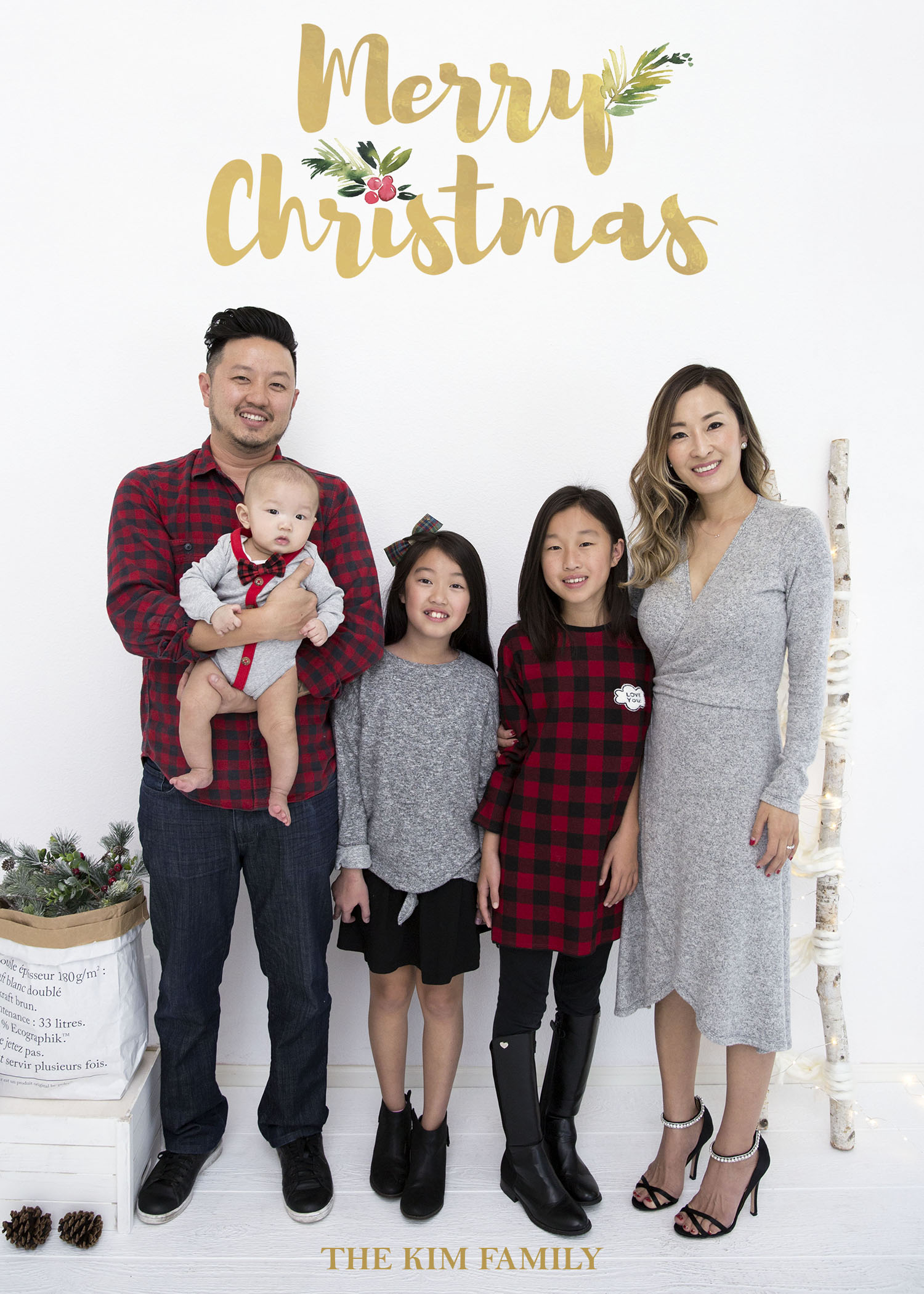 Today I want to share my simple tips on how to get the best family holiday photos. By the end of the post, you'll have a better idea of how to find the right photographer, how to prepare for the shoot and how to style the whole family in a meaningful way. I hope you enjoy this post!
1) On Finding the right photographer
Start searching for local photographers early
Looking for the right photographer can be stressful but also fun. This is the perfect time to refine your personal style and figure out what you like and don't like. You can begin the search by using Google and typing in family photographer + your city.
I personally like using Instagram because I find it easiest to get to know the photographer's style by scrolling through his/her feed. In fact, any time I come across a photo I love, I check out the photographer's page and either follow or screenshot the page. You can even save the photo you like and create a folder on Instagram. This way you're always researching for great photographers in your area rather than waiting at the last minute.
Always be on the lookout for a great photographer you want to work with.
Check out your favorite photographer's follow list
If you find a photographer you love but he/she isn't available for some reason, you can always discover new photographers by going through his/her follow list. Most photographers are connected to other photographers in the area so this is a great way to discover more photographers so you have more choices. Most photographers tend to follow other photographers whose style is similar to their own so this is a great way to broaden your research!
Use Instagram to discover more photographers in the area.
Figure out the average rate and know what you want to pay
Photography rates vary greatly between one photographer to the next based on their location, experience, style, etc. However, there is a general going rate for family photography in the area so ask around, do your research. Some mini sessions are as low as $200-300 and can be as much as $700-800. Know what your budget is and begin there.
Know your budget. Consider setting aside a budget for holiday photos each year.
Avoid hiring a photographer just because he/she is cheap
Photography is a creative art form and most photographers who are experts in their field is not going to undersell themselves. Photography equipments are expensive, it takes years to master the craft and editing photos take time and skill.
Therefore, if someone's price is too good to be true, it probably is and you may not get the best results. Preparing for a shoot takes time and energy- hire the right photographer so you don't waste your efforts on less than stellar photos.
Preparing for a shoot takes time and energy- hire the right photographer so you don't waste your efforts on less than stellar photos.
Don't hire the photographer unless you've seen his or her work first and it suits your aesthetic.
2) On Styling For The Shoot
No need to shop separately for the shoot. Think ahead and shop with intention
When I'm shopping for my kids' fall/winter clothes, I tend to stick with a certain style or color scheme depending on the trend that year. For example, jewel colors are on trend this year which means you can find many clothing and accessories that are deep burgundy, emerald green and mustard yellow. Think textures too- like velvet, denim, corduroy, chunky knit and pom poms.
Stick to a style or color scheme that's popular that season. It makes shopping and coordinating much easier.
If you begin shopping this way every season, styling your family becomes so much easier. In fact, I never buy new clothes just for the photoshoot and work with what we already have for the season.
It's tempting to match the entire family in same shirts and dresses but I personally think this look is boring and outdated. Instead of matching, think complementing or cross-matching.
Instead of matching, think complementing or cross-matching. Try to visualize the big picture rather than focusing on small details.
Start with one neutral color scheme you like, such as white, black + white, beige, gray, etc. Then from there layer colors. Some like a lot of color which is fine, but my personal style is less color- no more than 2-3. I'm also not a fan of too many prints and too many accessories.
This really depends on your personal style. Some bloggers will tell you more accessories the better, I'd say less is more.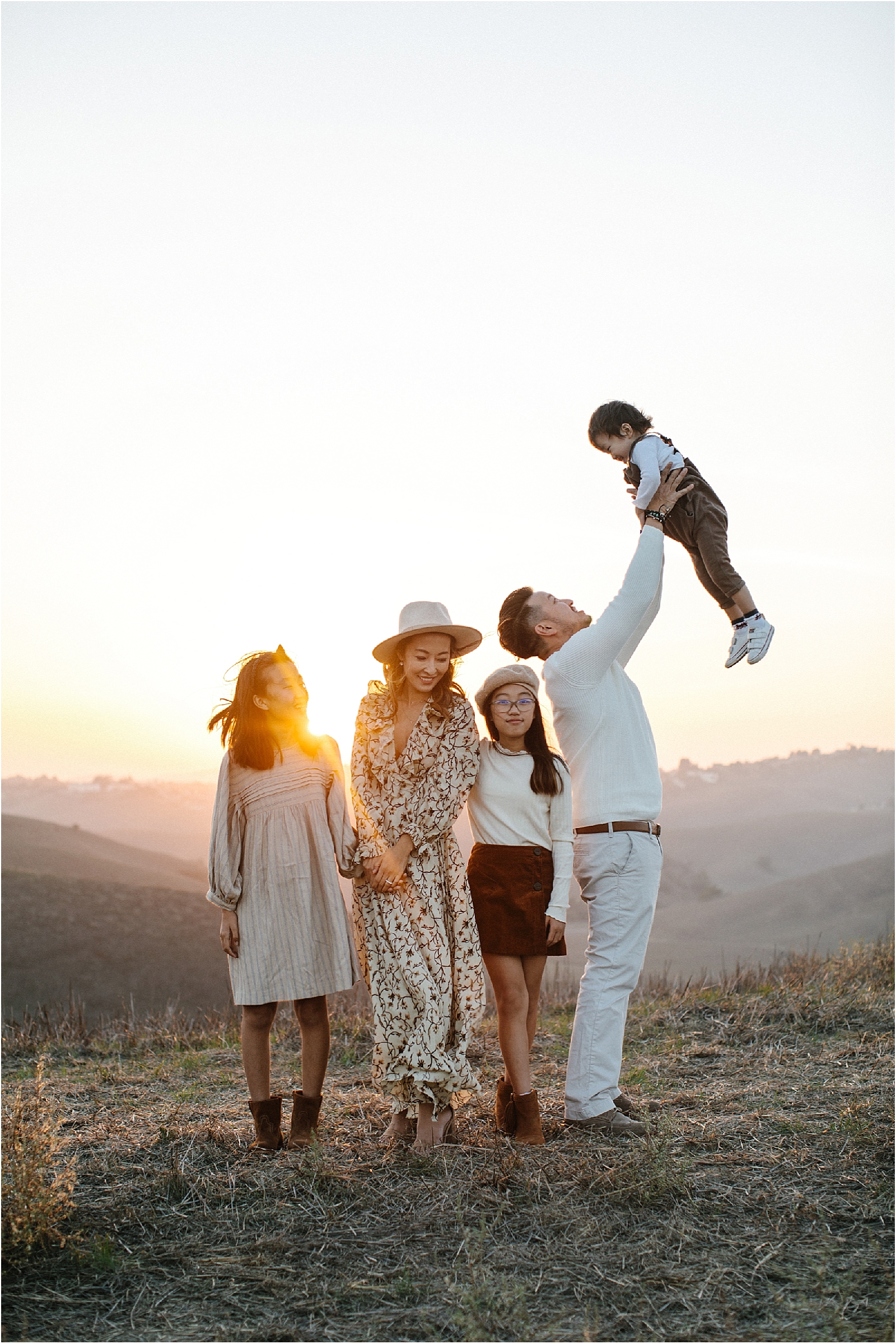 Don't be afraid to mix different shades of the same color family
I personally like mixing different shades of the same color family, like deep burgandy with red, white with cream, dark gray with lighter gray etc. I think this creates a more effortless and cohesive look instead of being too matchy matchy. It also creates interesting layers and textures in the photo without looking too busy.
Don't be afraid to style differently every year
Don't be afraid to step out of your comfort zone. Our family photo last year was more casual, so this year we wanted to be a little more formal. Think sneakers one year, boots/high heels the next; jeans and pajamas one year, and holiday dresses the next. Don't be afraid to try something new each year because this is what makes the entire creative process so fun!
Try different styles each year. It makes it so much more fun!
Let each family member's personality shine
Consider each family member's personal style and listen to your children's feedback. My kids tell me what they want to wear and don't want to wear according to their evolving style. Sometimes they surprise me and bring even better results.
Stay true to each family member's style.
For example this year, my younger daughter wanted to put her hair in pigtail buns. It's totally not what I was thinking, instead I was thinking traditional loose curls but I allowed her to be creative. The end result? The photos came out even better because of her cute buns. It gave the entire photo so much character!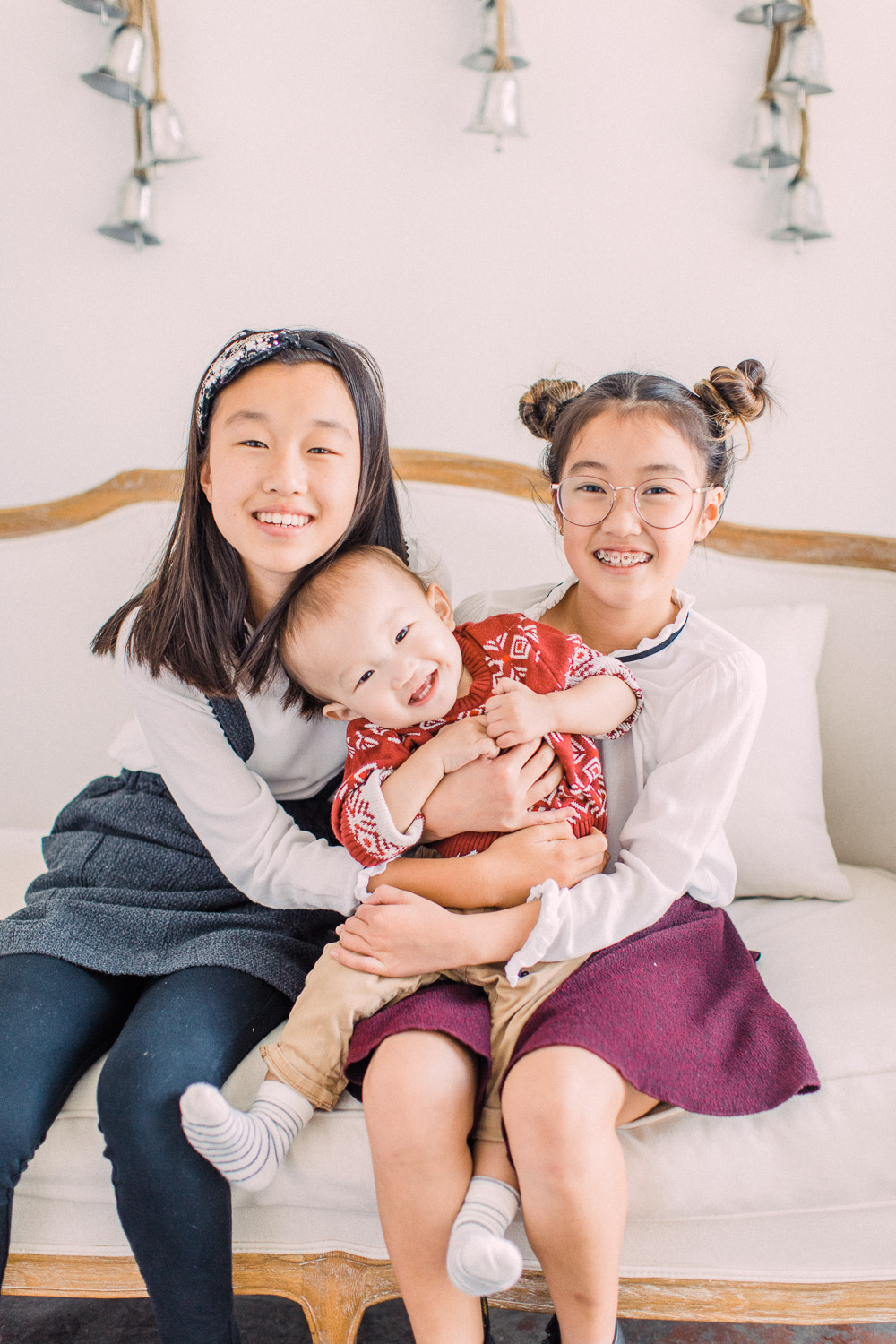 Lastly, don't forget to feed the kids, pack snacks, make sure the baby/child naps and have fun!

And don't worry about photos not being perfect, it's not meant to be. Think in terms of capturing the perfect moment not the perfect photo.

Relax, don't stress, enjoy the session and allow each family member's beauty and energy to shine.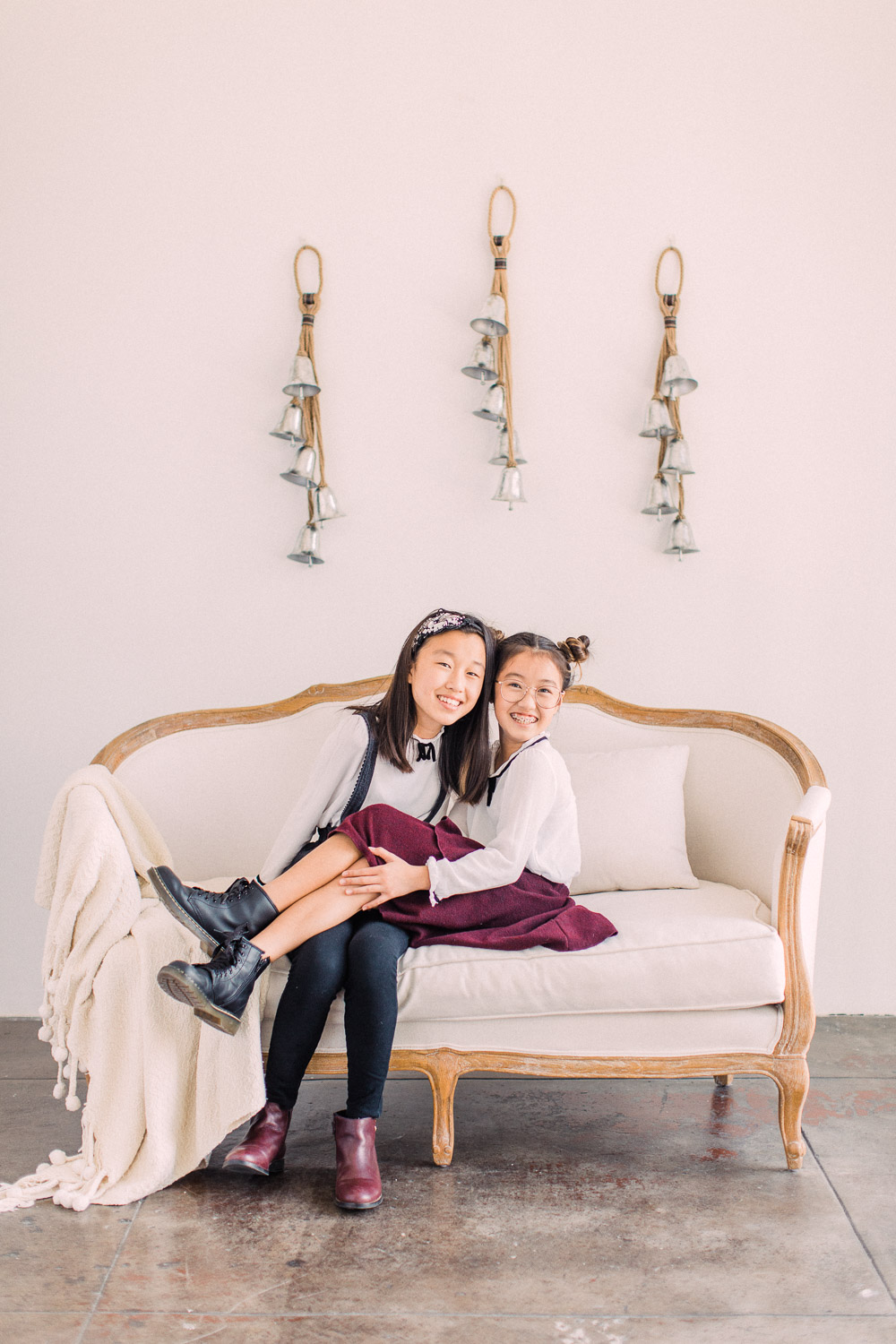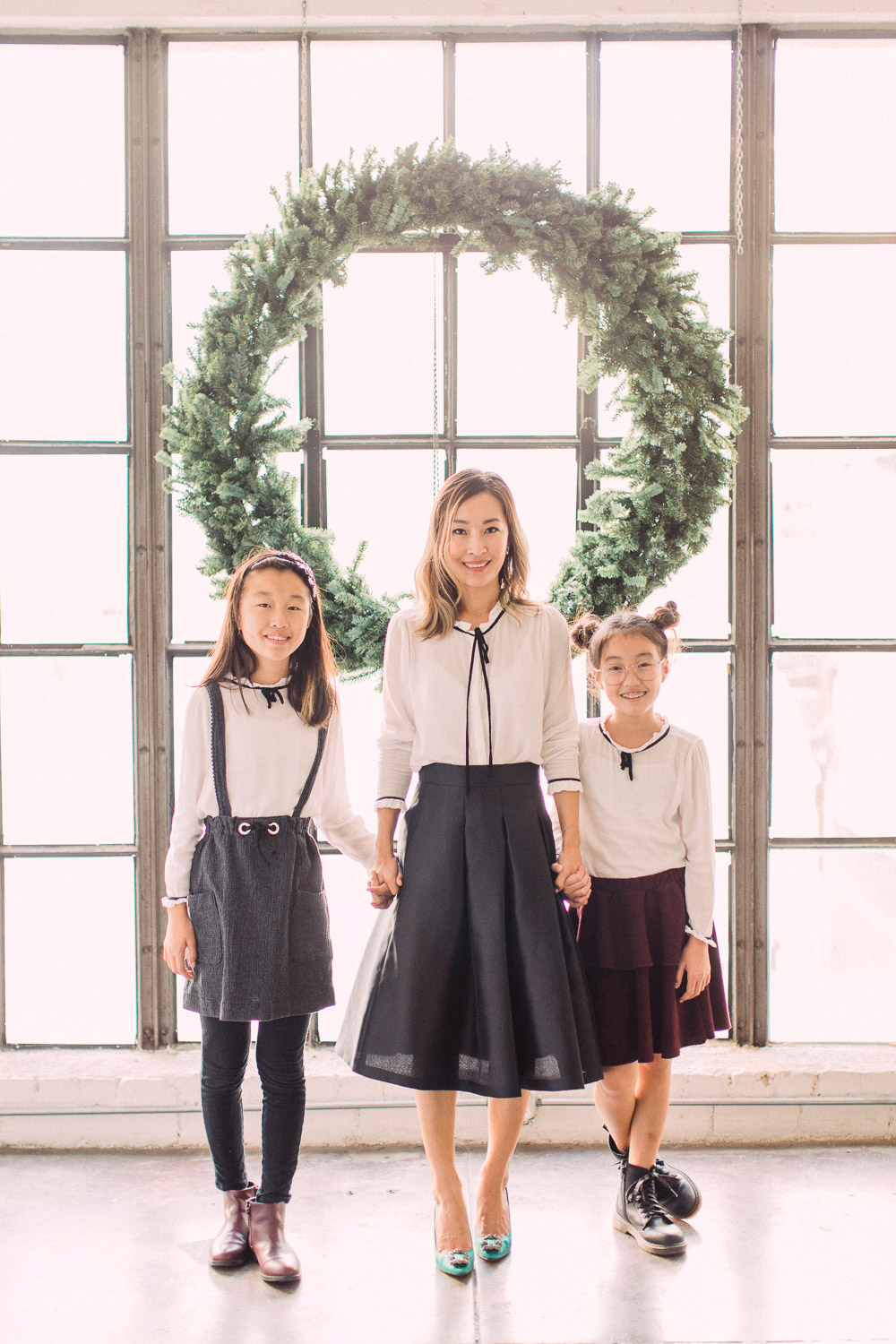 None of our family photos were perfect, but every photo shoot was worthwhile because we got to capture every year of my family's growth. I also like to experiment with different styles because I like the creative process of trying something new.
If you find a family photographer you love, it's a good idea to stick with him or her because sessions can go much smoother with familiarity especially with young kids. However, don't limit yourself, have fun and find your own family's unique style.
Allow your family to be themselves. It goes a long way and produces best results.
What do you think? Did you like my tips and styling suggestions? Let me know in the comments below. Thank you for reading!