The following post is sponsored by Thistle Baby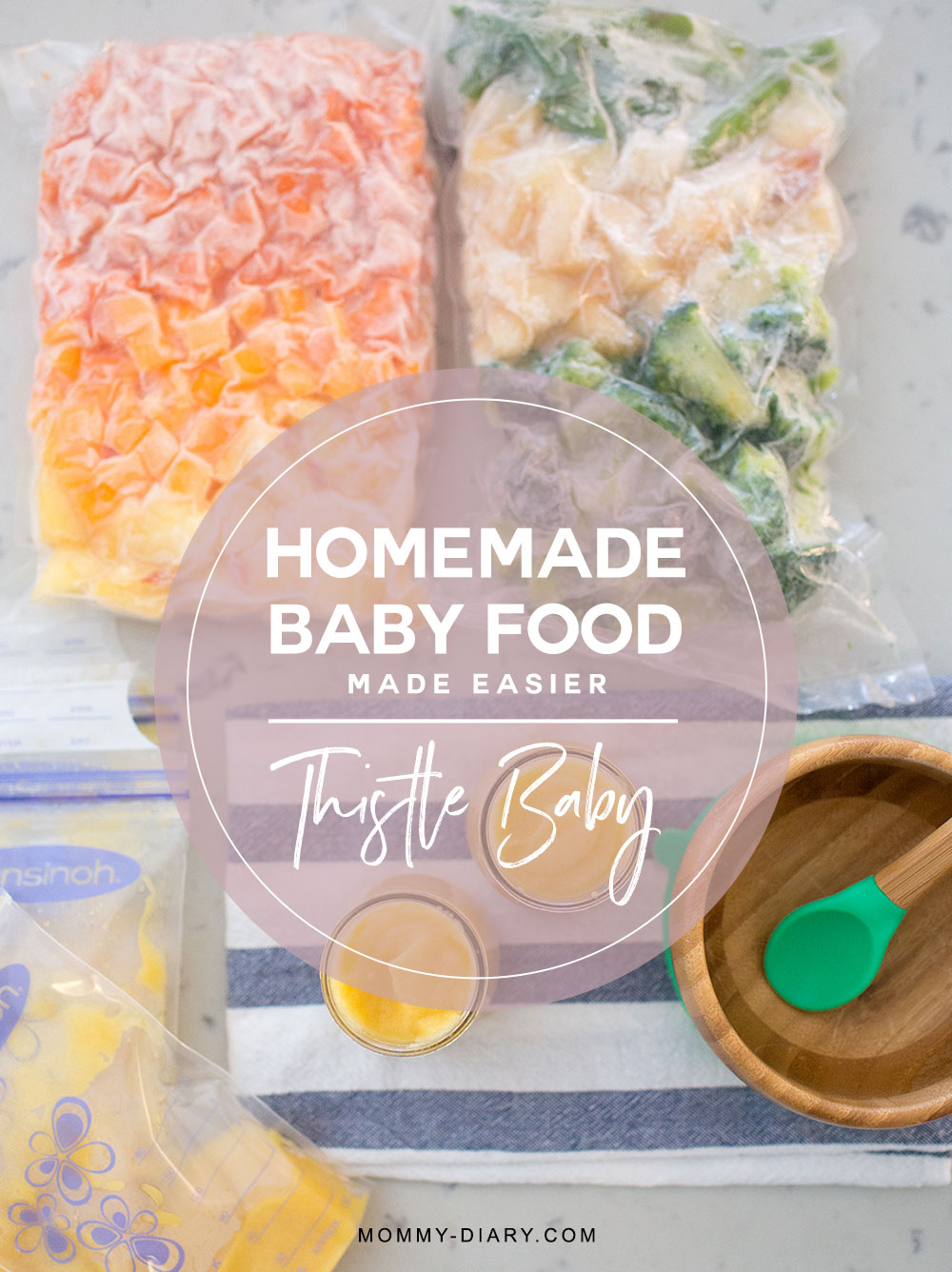 To me, food is one of the most important parts of our lives. It determines our lifestyle, our outlook and of course, our health. I don't follow one particular diet, but believe that moderation, flexibility and open-mindedness are key to raising healthy eaters and individuals. Fortunately both my daughters are healthy eaters with a wide palate and we regularly consume various ethnic foods with eclectic flavor profiles such as Asian, South American and Mediterranean in addition to American.
When my daughters were babies I made them homemade baby food 90% of the time. It was a lot of work but life was a lot simpler then. Now that I have three kids, making my 7 months old son fresh food has been a challenge. I even threw out organic vegetables on several occasions because I couldn't get to it on time.
In an attempt to make things easier, I began buying him organic baby food sold in jars but he didn't seem to like any of them. So I stuck to mainly organic oatmeal and soft fruits searching for another good way to feed my baby.
While searching for another option that's simple and healthy, I discovered Thistle Baby, a San Francisco based baby food service that delivers organic, flash-frozen, pre-washed, chopped and portioned ingredients right to your door. It's like Blue Apron or Hello Fresh for babies. How brilliant!
What's Inside Thistle Baby Box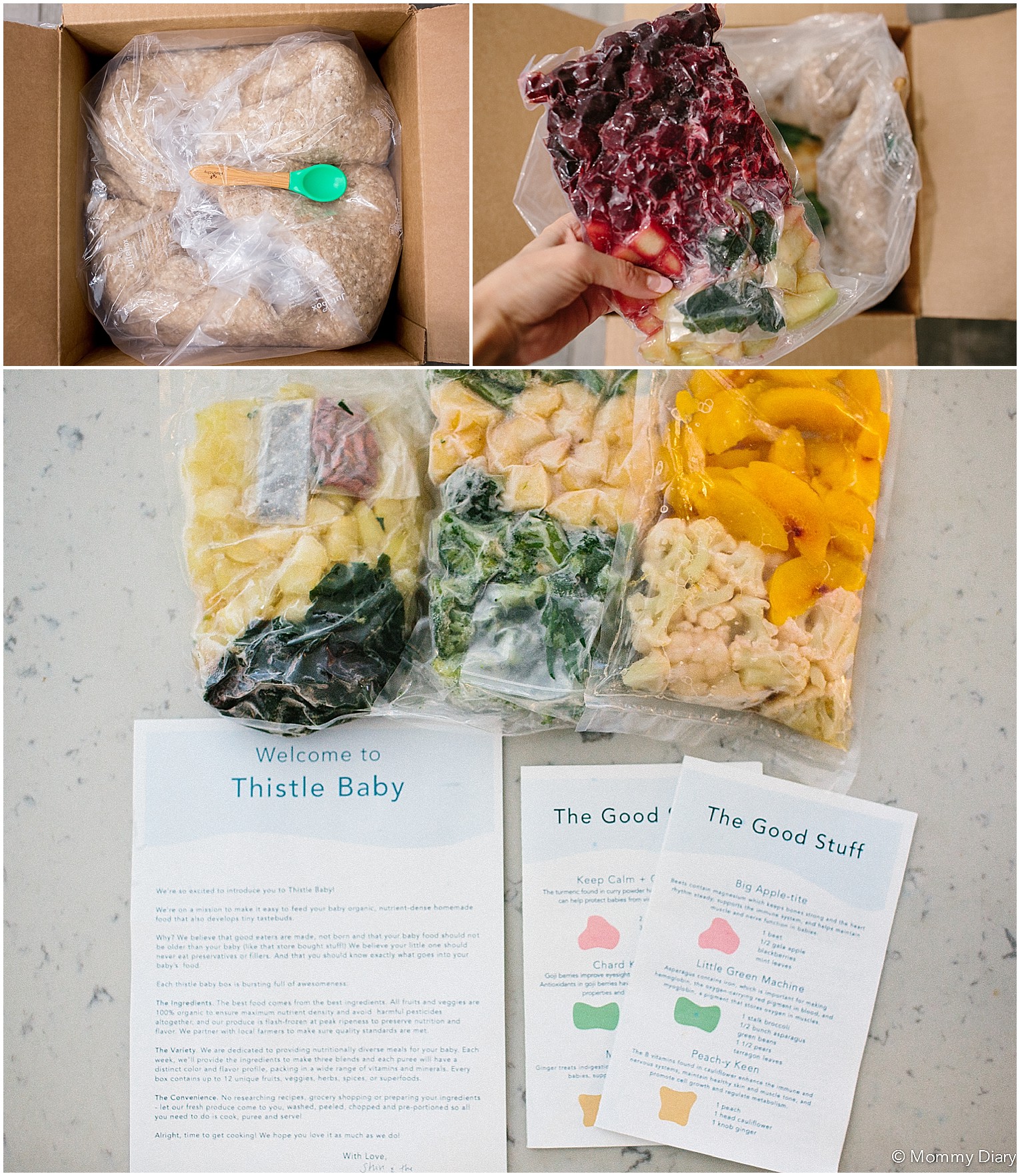 The box contains tightly sealed packages of freshly chopped ingredients. For the purpose of this post, I received two weeks worth of food.
The packages contain various blends of different vegetables and fruits such as
Big Apple-tite: beet, apple, blackberries, mint leaves
Little Green Machine: broccoli, asparagus, green beans, pears, tarragon leaves
Peach-y Keen: peachy, head cauliflower, knob ginger
Keep Calm + Curry On: apples, carrots, butternut squash, mild curry powder
Chard Knock Life: rainbow chard, pears, goji berries, chia seeds
Mango Tango: mango, kale, pears, ginger
I tried the Little Green Machine, Peachy Keen and Keep Calm + Curry On for my 7 months old son. His favorite was the Green Machine and least favorite was the Peachy Keen. But of course, this depends on the baby and it's important to introduce your baby to various flavor profiles even if he/she doesn't seem to like it at first.
My personal advice is to be patient and to keep trying! Some were easier to spoon feed than others but overall, he ate all of them.
How to make Thistle Baby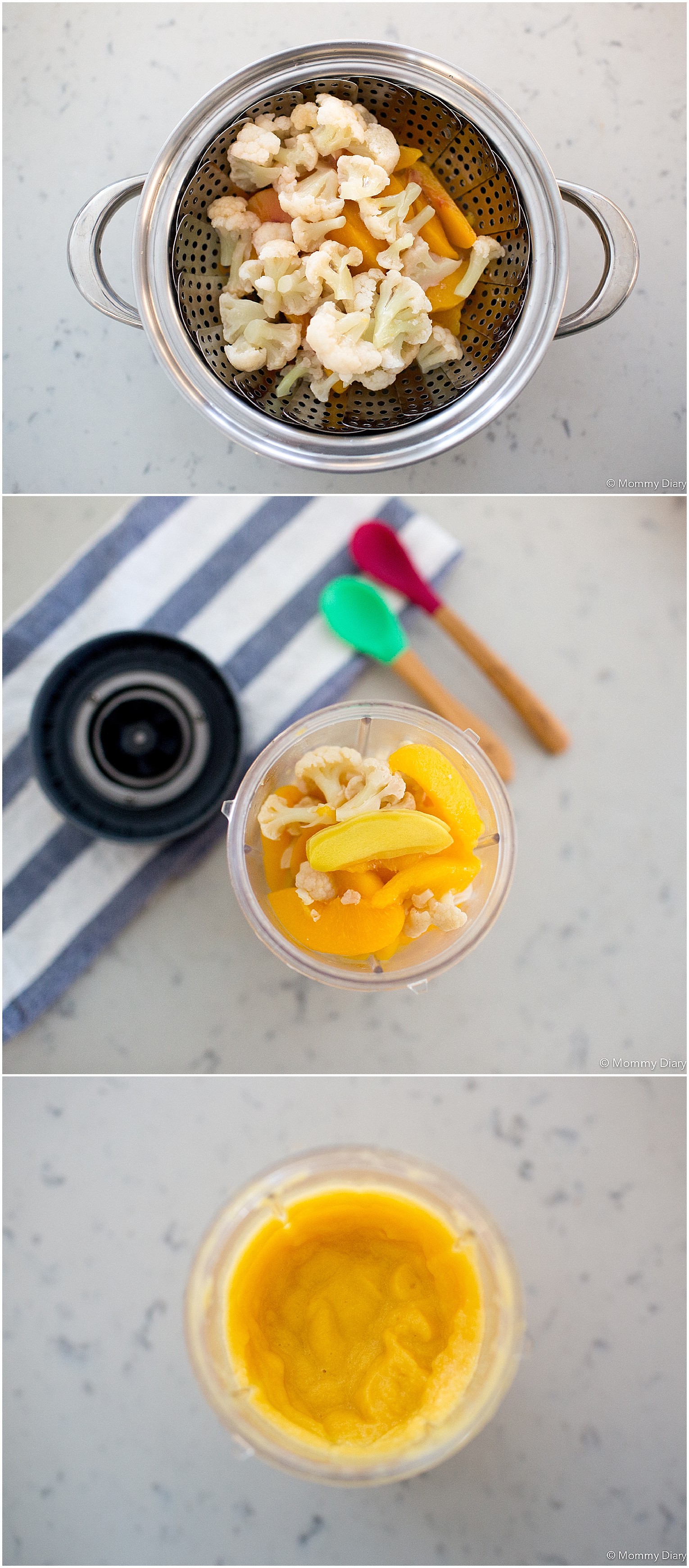 To make the food, you simply open the packaging (you can defrost overnight in the refrigerator or steam frozen), steam in any steamer or steam basket, blend in a blender/food processor and serve. It took me less than 10 minutes to make fresh food for the whole week.
You can cook all the packages at once and freeze them or cook it one at a time. This is entirely up to you. I prefer to make it one at a time.

With one bag of Thistle Baby, I was able to fill two baby jars of fresh food and freeze some in breastmilk storage bags for later in the week. The food lasts up to 3 days in the refrigerator and one month in the freezer.
What I like about Thistle Baby
100% organic: Organic and flash frozen at peak ripeness to preserve nutrition and flavor
Variety: You can introduce your baby to different flavor profiles packed with a wide range of vitamins and minerals
Healthy: Each box contains up to 12 unique fruits, veggies, herbs, spices and superfoods
Convenience: No researching recipes, grocery shopping and preparing ingredients. Everything is washed, peeled, chopped and pre-portioned.
What I also find interesting about Thistle Baby is that each bag contains stronger flavors like ginger, curry and tarragon leaves. You can adjust how much to put in because the flavors can get strong for beginning eaters. Even a sprinkle of curry powder and one ginger root goes a long way and you don't need to use all that is provided. This is a great way to introduce babies to wider flavors and create healthy eaters.
Final thoughts
Thistle Baby boxes are $45 (including shipping) for 21 meals, so it comes out to $2.14 per meal. Not bad for giving our babies a healthy start with fresh, organic vegetable and fruits. The best part of all, it makes everything so fast and simple that I actually end up using the ingredients. No waste, no mess.
The downside is that it's currently only available in certain states like CA and Nevada and can be expensive for some parents.
Overall, I'm really impressed with Thistle Baby. The ingredients are nutritious, well-packaged and ready to be cooked. Steaming and blending takes less than 10 minutes and I love that my baby has fresh organic food to eat for the whole week.
Overall, I'm really impressed with Thistle Baby. The ingredients are nutritious, well-packaged and ready to be cooked. Steaming and blending takes less than 10 minutes and I love that my baby has fresh organic food to eat for the whole week.
What do you think? Are you interested in trying Thistle Baby?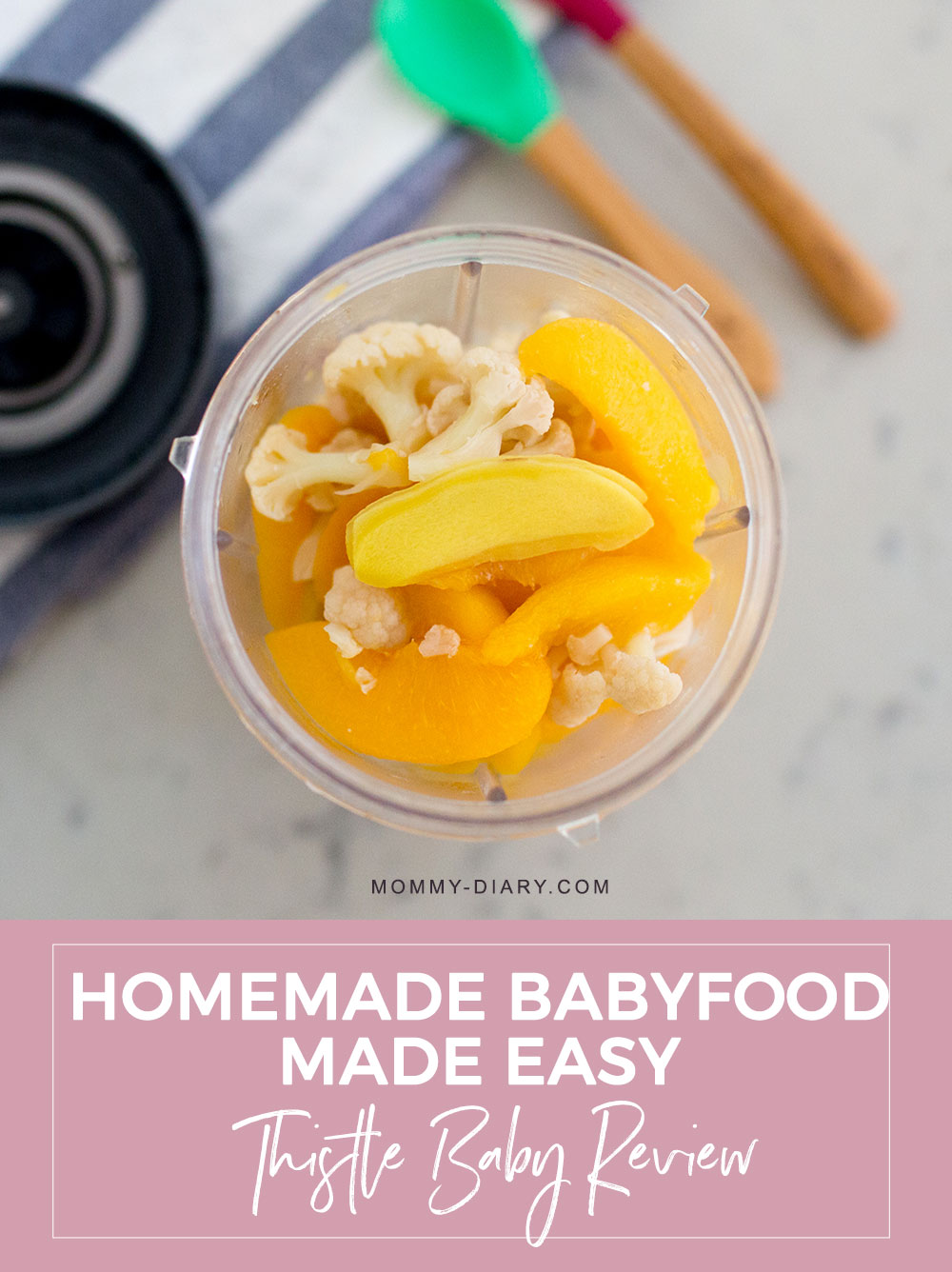 I received a box of Thistle Baby for this review. As always, all opinions are my own and I only share brands and products I truly enjoy.