Celebrating Fourth of July is a favorite summer milestone for many. I think it's important to explain the why behind holidays to our children. It can be difficult to explain 4th of July to toddlers and preschoolers. However, you can tell them that it's a day where we celebrate our country by being outside, cooking out, going to the beach, etc. Let them know that they'll see lots of red, white, and blue because these are the colors represented in the American flag, and that it's also called Independence Day.
This is also a great opportunity to teach your kids that not everyone has the same amount of freedom in America and talk about how they can be a friend to those who look different than them by showing empathy, kindness and understanding.
With fireworks, swimming, yard games, and grilling, this July celebration tends to excite older children and adults more than the younger kids. However, there are plenty of ways to get your toddlers just as excited for the 4th. Read on to see ideas for Fourth of July Activities for Toddlers.
Fourth Of July Activities For Toddlers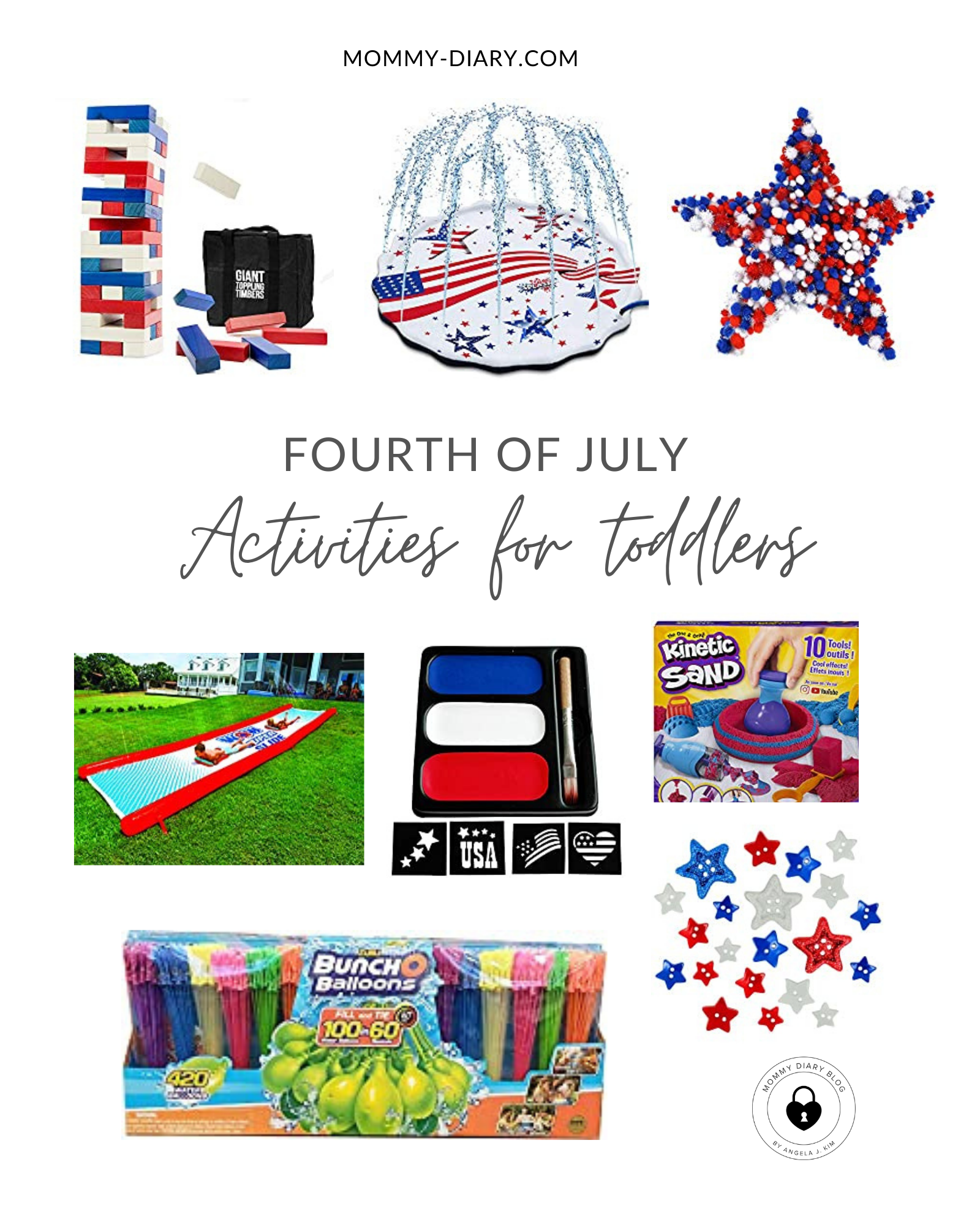 Planning July activities for kids can be difficult because for many of us, it's so hot outside. Especially with COVD, we've been stuck at home for months now, and you may be running out of activities for toddlers as well as your big kids. Here are some 4th of July activities that will keep your little ones busy.
Backyard Activities
Water Balloons
Who doesn't love water balloons? Grab a set like this one from Amazon. It can fill up and tie 100 water balloons in just 60 seconds!
Slip and Slide
Any activities with water are great Fourth of July activities for toddlers. I'm sure your kids of all ages could spend hours going down this slide and slide in your backyard!
Splash Pad
Splash pads have been a huge hit this year! This one is even 4th of July themed and has great reviews. Combined with a slip and slide, this would make for a fun afternoon.
Giant Jenga
Jenga is a game that the whole family can play together. This giant red, white, and blue version is made for outdoor play.
Artsy Patriotic Fun
Red, White, and Blue Sensory Bin
Sensory activities are always a toddler favorite. There are many items that you can dump into a bin and let them explore. Be sure to add various size cups, scoops, or tweezers to pour and pick up the items. My favorite spot to buy sensory bin items is the dollar store! Some ideas are:
Dry pasta

Rice (head to Pinterest to learn how to dye your pasta or rice various colors!)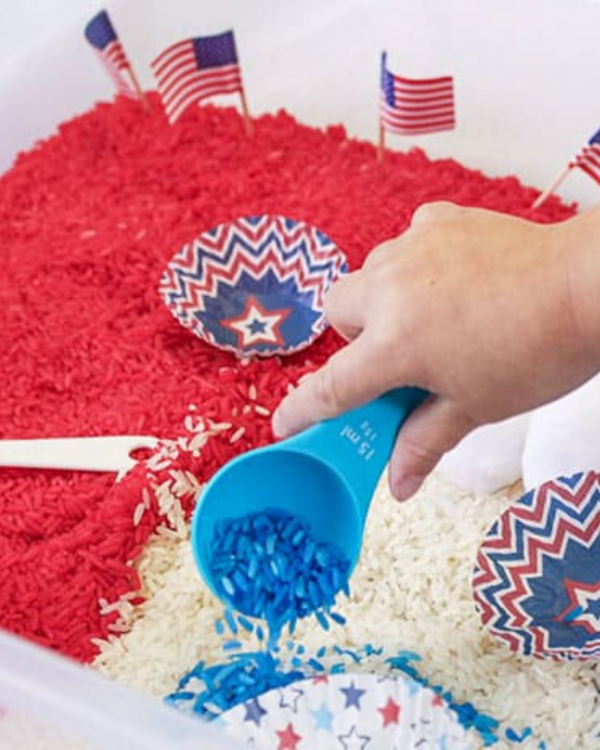 Dish Brush Fireworks
All you need for this patriotic craft is a dish brush, red and blue paint, and a piece of white paper.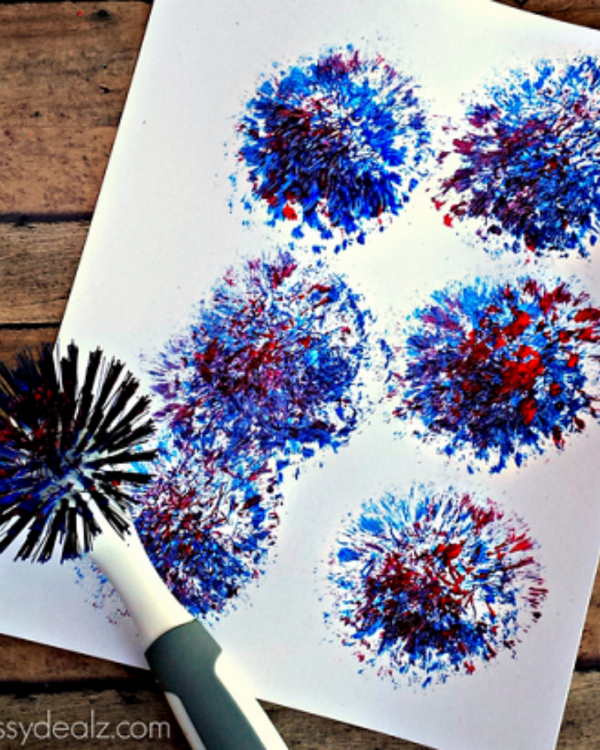 Paper Plate Flag
All you need to make this cute craft is a paper plate, blue paint, red and white tissue paper, glue, and a small piece of string.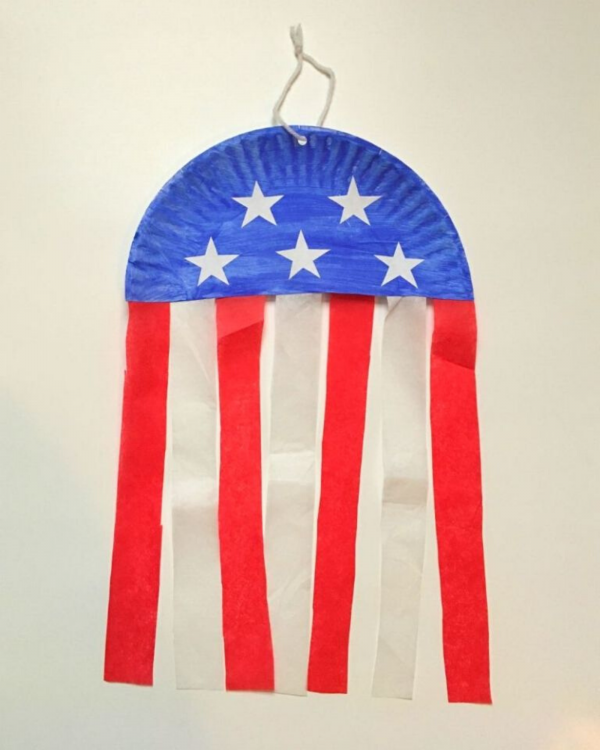 Face Paint
Check out this 4th of July face painting kit that comes with four different patriotic stencil designs.
Even if you are staying home this year, these activities will make for a fun yet easy 4th of July. What's your favorite 4th of July activity for toddlers? Leave it in the comments! For more toddler activities and ways to encourage your child to play independently, check out this post.
This post contains affiliate links that help to support the blog at no additional cost to you. Thank you for your support that allows me to continue to create valuable content for families all around the world.