Hi everyone! I have exciting news to share. Starting this week, I'll be featuring creative and inspirational first birthdays on my blog. The reason I focus on First Birthdays is because in my Korean culture, first birthdays are a huge celebration similar to the quinceañera or sweet sixteen. In the old days many babies didn't survive past their first birthday due to poor health, disease and lack of resources. Therefore, this is a way modern day Koreans continue to celebrate a baby's most important milestone- their very first birthday!
Korean first birthdays (also known as dohl or dol) are a huge family event, almost like a mini wedding. Many moms hire event planners, photographers, bakers, calligraphers and florists to create a dream event for their child. Fortunately, it's also customary for the guests to bring cash gifts to the event, which helps to pay for some of the cost. 😉 It's such a wonderful tradition in the Korean culture and I'm excited to bring to my readers this new inspirational series.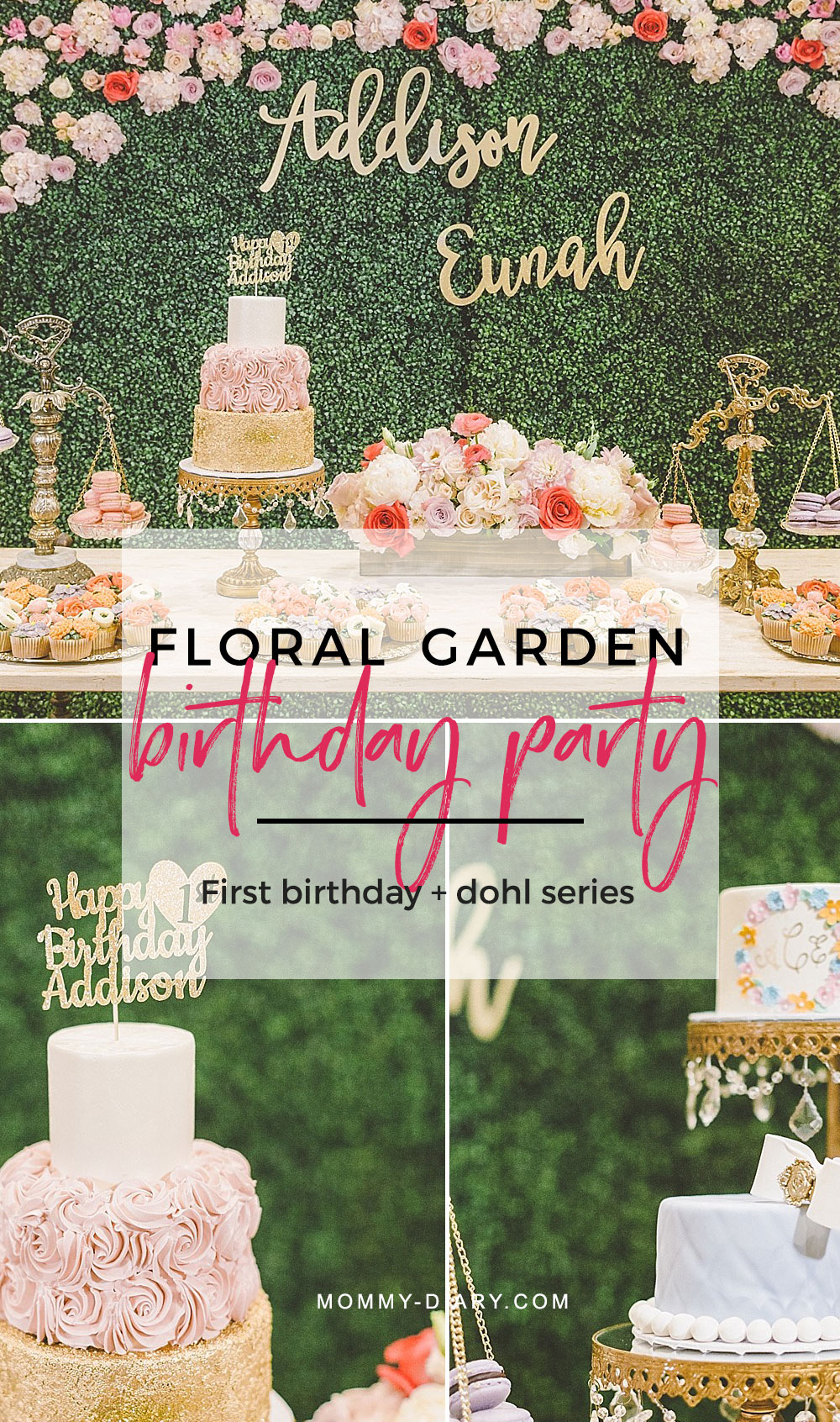 Today I'm delighted to share a beautiful floral garden party put together by talented event planner and mother, Audrey Choi of Graceful Charming Events.
Details of head table (dolsang)
A note from mom:
I wanted our dessert table to really have an impact on guests as soon as they arrive. Our florist, Kerim Albanes of My Wedding Blooms, created the most incredible hedge wall as a backdrop. Fresh blossoms bursting with color hung from the greenery, producing a breathless sight. Thanks to the gorgeous work of Butter Cake Shoppe and a church student of mine, Hannah Chang, our desserts were unspeakably beautiful and were delicious to boot. Our friends from Etablir provided the rentals for the table and dessert stands.
Highlights:
I am in love with the backdrop, the beautiful feminine floral details, the laser cut signs for both her American and Korean name and the gorgeous details on the head table. I also love the touch of vintage gold throughout the event. The mom did an amazing job juxtaposing Korean tradition with modern touches.
Style:
Feminine, garden, floral, girly, vintage meets modern
Location:
Lawrys Steakhouse, Beverly Hills
Feminine Details: Assorted cake, flower cupcakes + macarons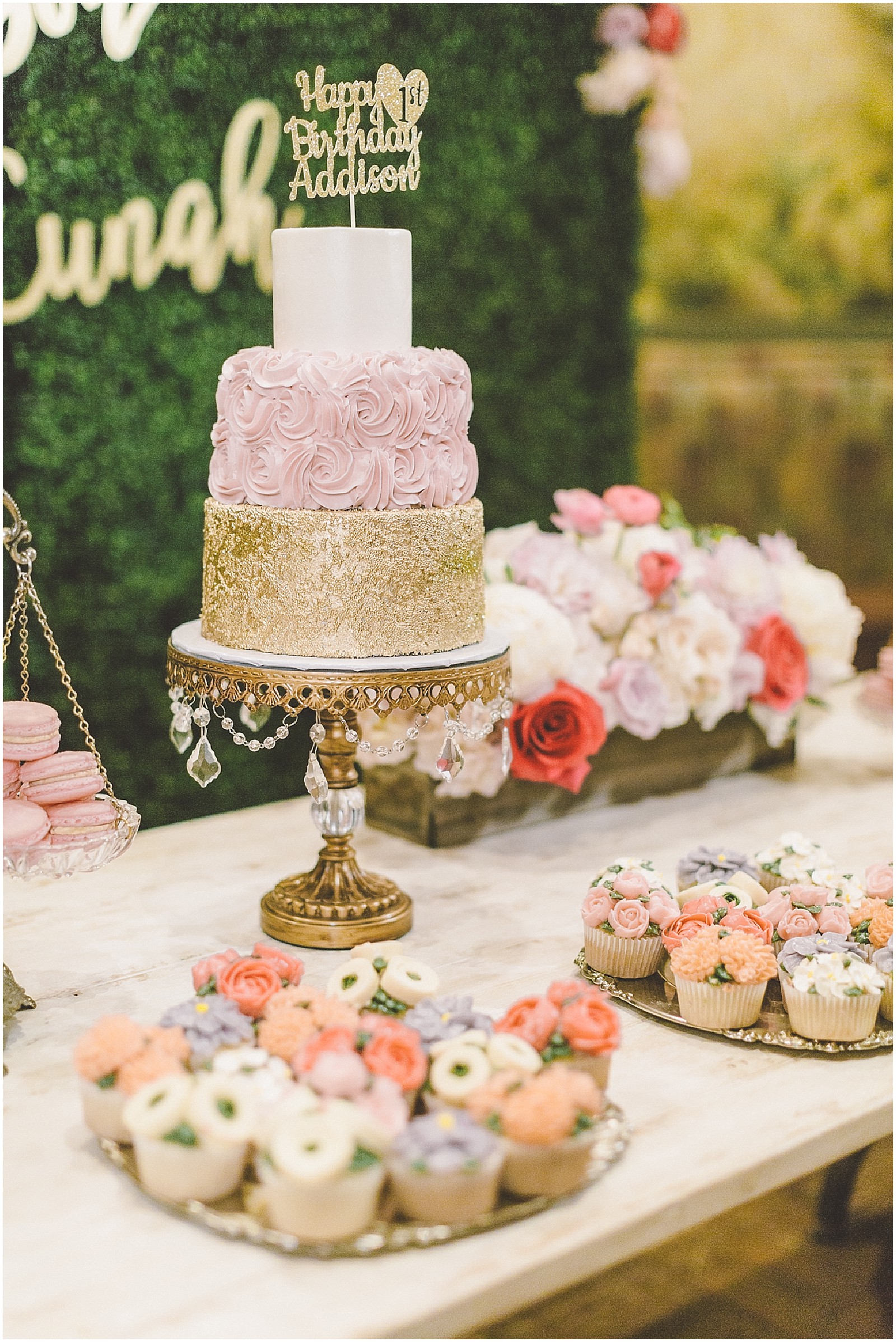 Guest seating chart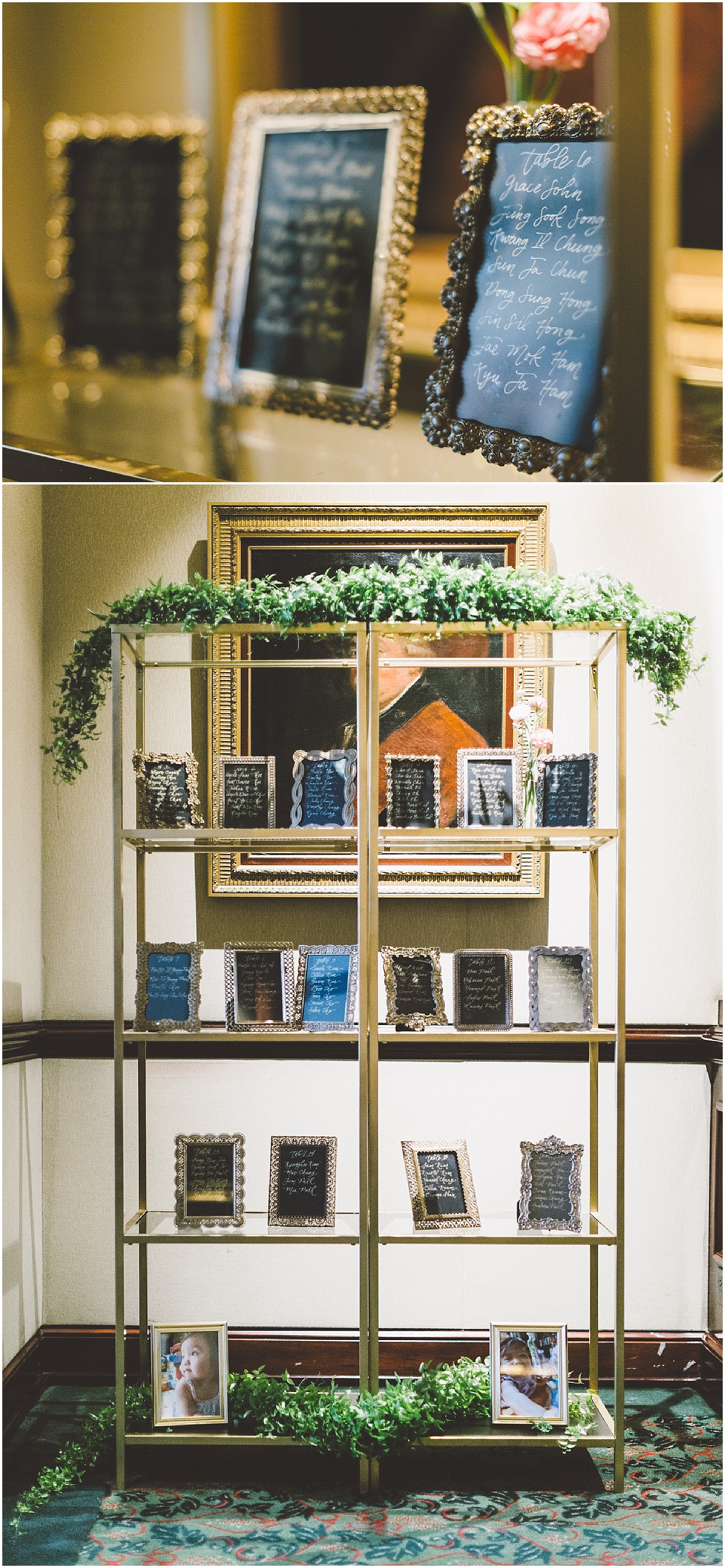 Guests found their seating assignments written on antique gold frames placed on this gorgeous shelves.
Guest sign in table + photo table
A note from mom
Our vintage welcome table invited guests to write a message for Addison to open
and read on her 18th birthday. We framed a sign with instructions in both English and Korean. Pictures of Addison in different stages graced the table along with a fresh peony arrangement created by our florist.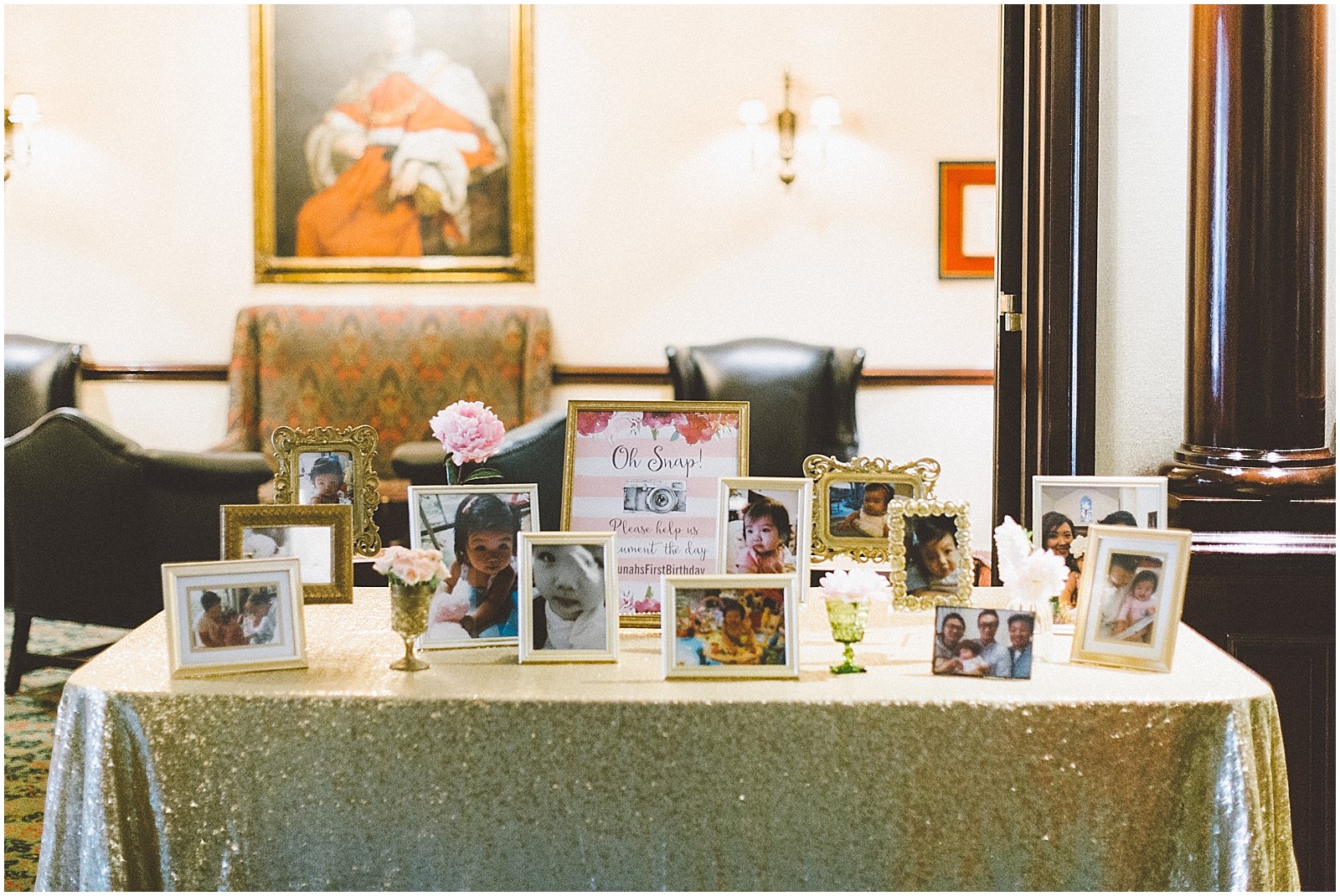 Love the assortment of gold and neutral frames
Sign-in table
Guests write a letter for the birthday girl to read when she turns 18!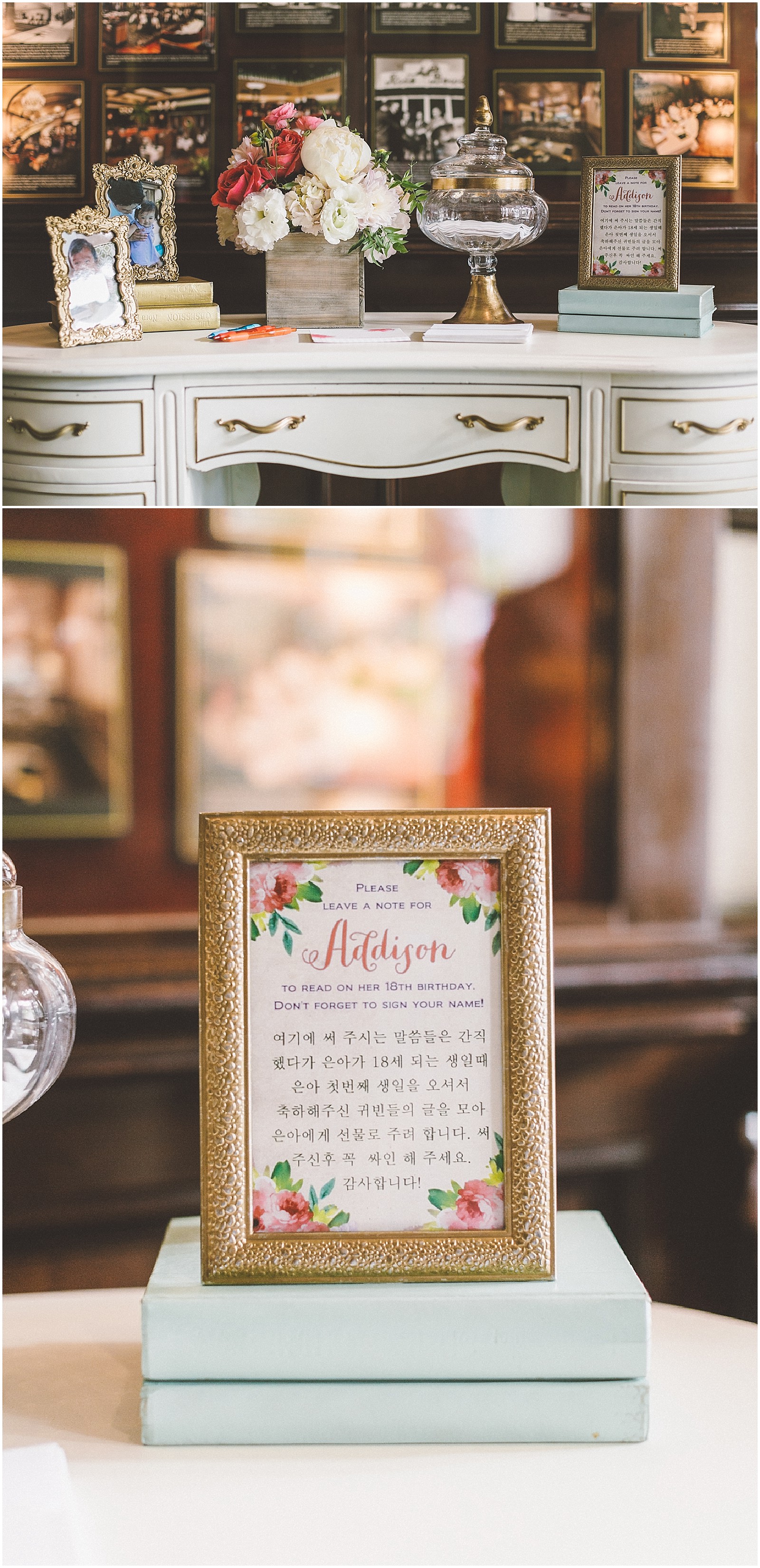 I love the white vintage dresser she used as a guest sign-in table. The gold frames match the rest of the decor perfectly and are strategically placed so that the table isn't overpowered with photos. I also love how the guests are invited to write her birthday wishes for her 18th birthday. What a memorable and priceless keepsake these will be!
Guest tables
Instead of the traditional dduk (rice cake) display, mom placed dduk in favor boxes and placed them at each guest's table setting.
Doljabi
Another highlight of Korean first birthdays is a game called "doljabi" where guests guess which item the baby will choose. Parents lay out items on the table or floor and baby chooses what he/she will become in the future.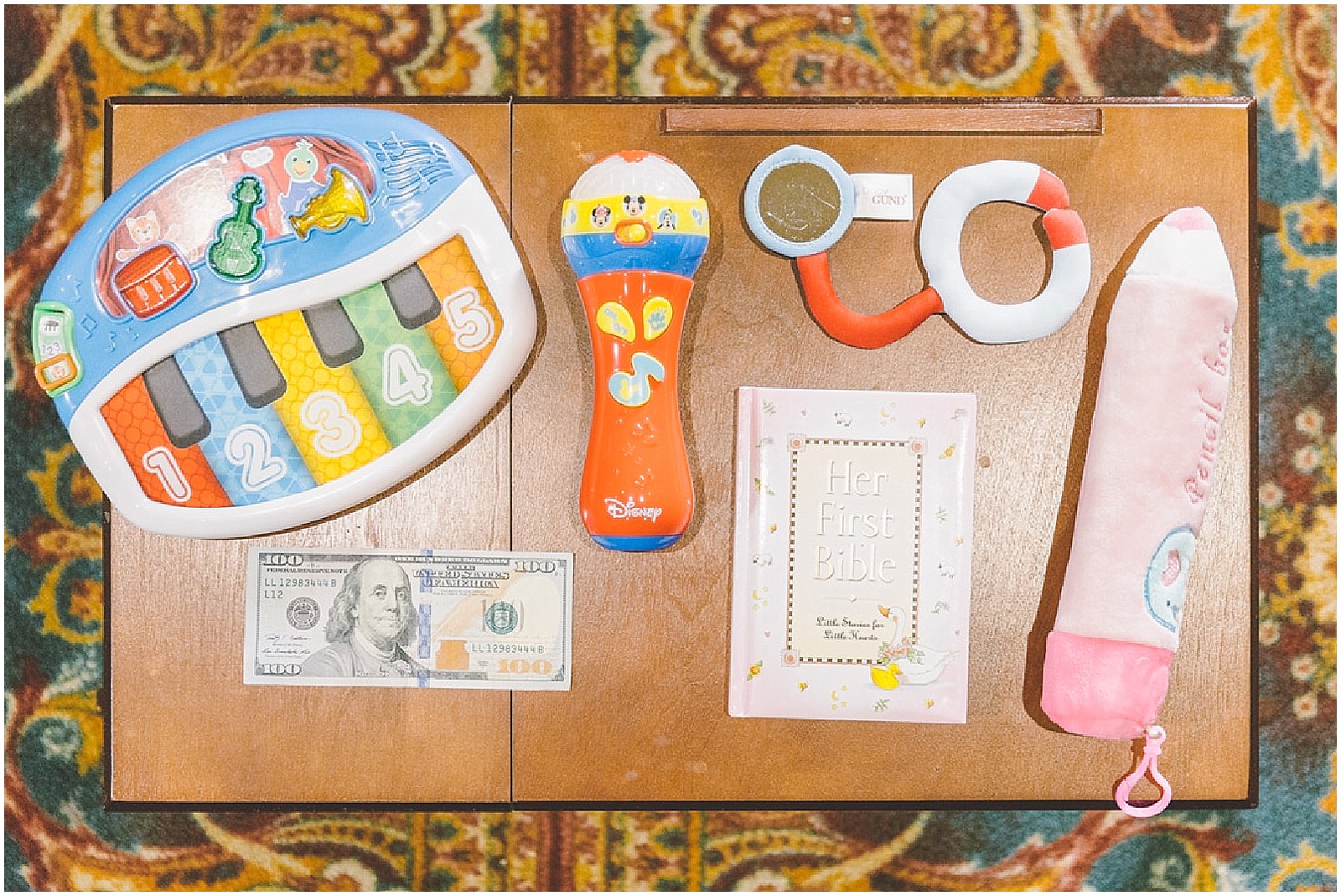 Parents can choose which items to include for doljabi. Some popular ones are money (for wealth), stethoscope (for a career in medicine), book (for scholar/professor/teacher), paint brush (for artist) and rice or string for long life. Of course this is a game played for fun and laughs but oddly enough, I chose a book for my first birthday and I ended up becoming a book worm. 😉
It looks like Baby Addison chose the microphone for a career in entertainment, broadcasting or speaking. Can't wait to see what she will become in the future!

This event planner + mom did an amazing job with her daughter Addison's first party. What do you think about this garden themed birthday? Don't you just love all the pretty feminine details?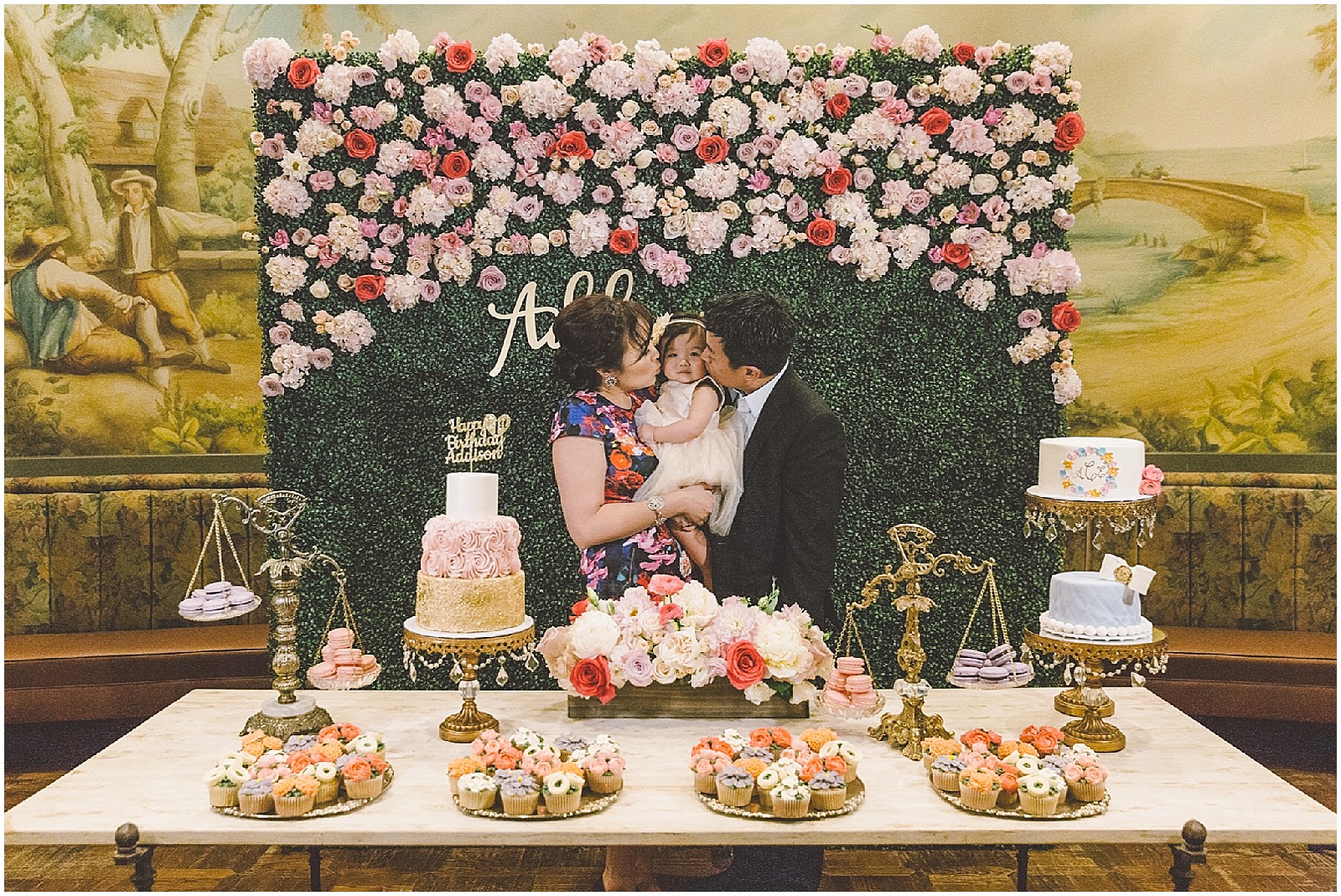 Vendor info
Venue:  Lawry's Prime Rib
Photographer:  Jeffery Cho Photography
Florals:  My Wedding Blooms
Vintage Rentals:  Etablir
Calligraphy:  Letterstou
Cakes and Macarons:  Butter Cake Shoppe
Cupcakes:  Hannah Chang
Calligraphy Name Sign:  NGO Creations
Bubble Show:  Bubblemania
Event Design: Graceful Charming Events
Thank you Audrey for sharing your daughter's beautiful first birthday! Best wishes to you and your family as we continue on this motherhood journey together.
xx