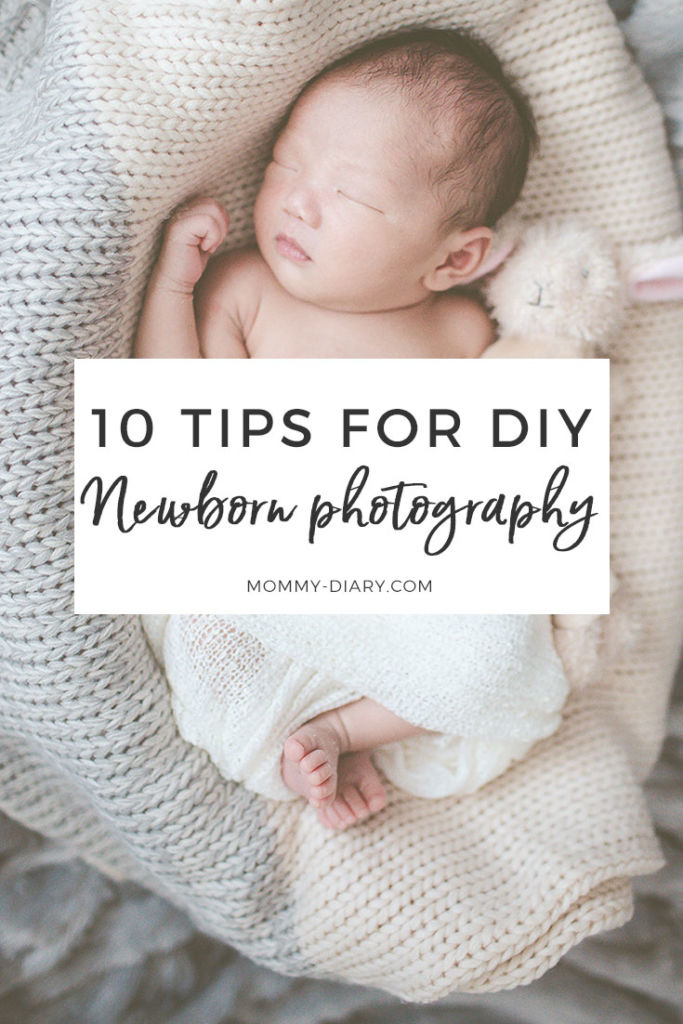 DIY Newborn Photography/ How To Take Newborn Photographs Yourself At Home
Today I want to share with you my tips and tricks for doing a newborn photoshoot at home. With little bit of preparation and creativity, any mom can do these at home without breaking the bank for new photoshoots at every milestone. Of course there will be times when you want to hire a professional photographer but in my opinion, these tips and tricks are great to know for any momtogs who love to capture moments of their little ones.
*Disclosure:
First I want to begin with a disclosure that I am not a professional photographer and these tips are meant for amateur momtogs like myself. The following tips and tricks are simply what I discovered through research and experience and in no way meant to replace professional opinion. These tips may not work for everyone and I cannot guarantee results. But I do hope that this blog post can inspire you to create your own photos from the comforts of your home.
Tip 1: Shoot no later than 10 days
For best newborn photos, professionals recommend to do the shoot no later than two weeks. I found that on or before 10 days is best because by two weeks babies become fussier while sleeping. This depends on the baby of course, but it is important not to miss this window of time because this is when they sleep longer and can be posed more easily.
Tip 2: Use natural light
Use natural light by a bright window when sun is not too harsh
A good rule of thumb is to let the light hit baby's face at a 45 degree angle
Be sure light source isn't directly above or below the baby's face
I wish I knew this sooner, but lighting is so important when it comes to photography. It doesn't matter how great your equipment is, poor lighting will yield poor results especially when it comes to portrait photography. This is why so many professional photographers prefer to take photos in the mornings or late afternoons also known as the "golden hour" and not under the harsh mid-day sun.
I think lighting looks most natural when it's not directly above or below you, when it hits from the side creating natural, soft shadows and highlights that frame the face. For this reason, I chose the nursery window draped by sheer white curtains.
After some research and experimentation, I found colors look most natural when soft light hits at an approximately 45 degree angle. (But of course, this can depend on your personal style and preference.)
With these factors in mind, this is how I set up my temporary home studio.
Tip 3: Set up home studio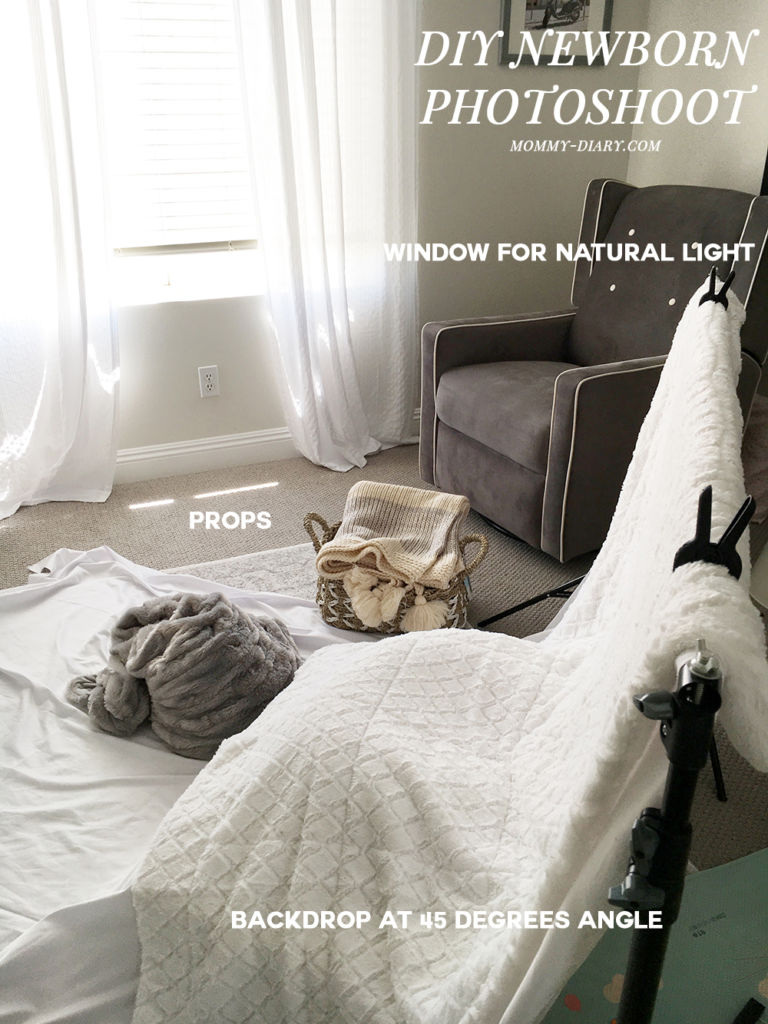 What you need for DIY photoshoot
A sleepy baby
A camera (I used Canon 5D Mark III with 35 mm prime lens)
Backdrop in any color of your choice. I personally like white. You can use also use sheets , fabric or blankets for this.
Support system to hold up the backdrop (you can use back of a chair or a large poster board)
Cushion or pillow. This newborn posing pillow works well too.
A Boppy or pregnancy pillow to place baby
Props (blankets with different textures, baskets, dolls, accessories, etc)
A pacifier
Soft music or white noise
Photo editing program. Try Adobe Photoshop, Lightroom or Canva.
Lots of patience!
As you can see, I own an adjustable backdrop kit with white curtains kindly gifted by my brother for a birthday one year (thanks brother!). These don't have to be expensive and can cost you anywhere from $40 to hundreds of dollars depending on quality. You can find just the support system for $39 here or a full kit here
(amazon affiliate links).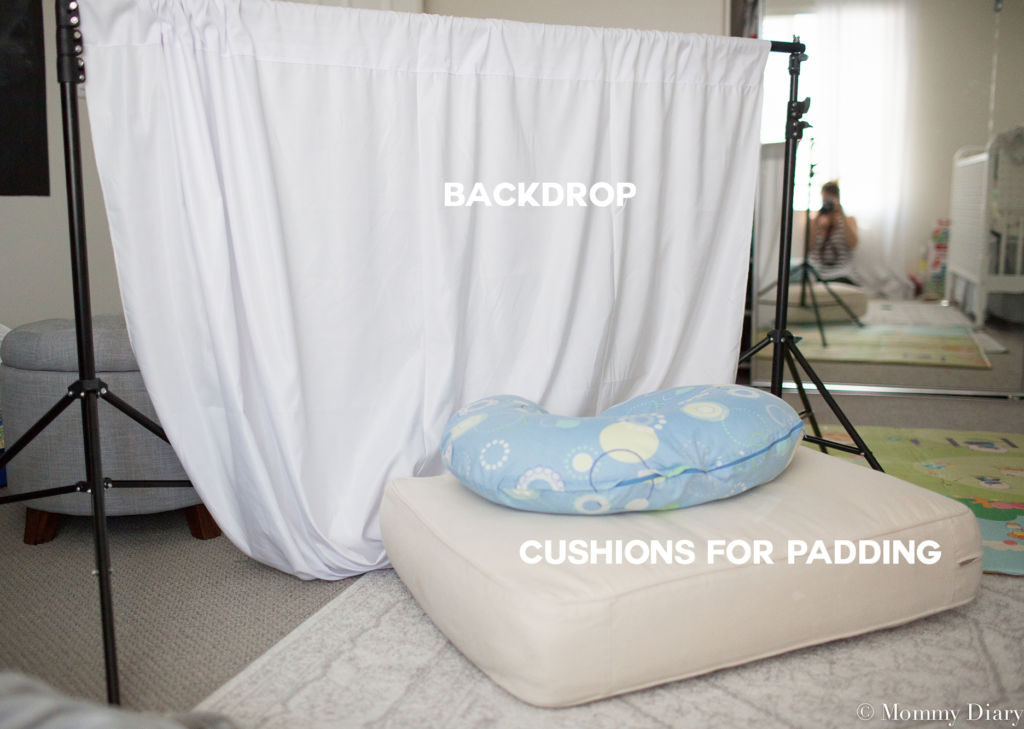 You also need cushions or pillows to provide some padding because your little one will most likely not stay asleep on a hard surface. I used a cushion from one of my sofas and a Boppy pillow I use for nursing.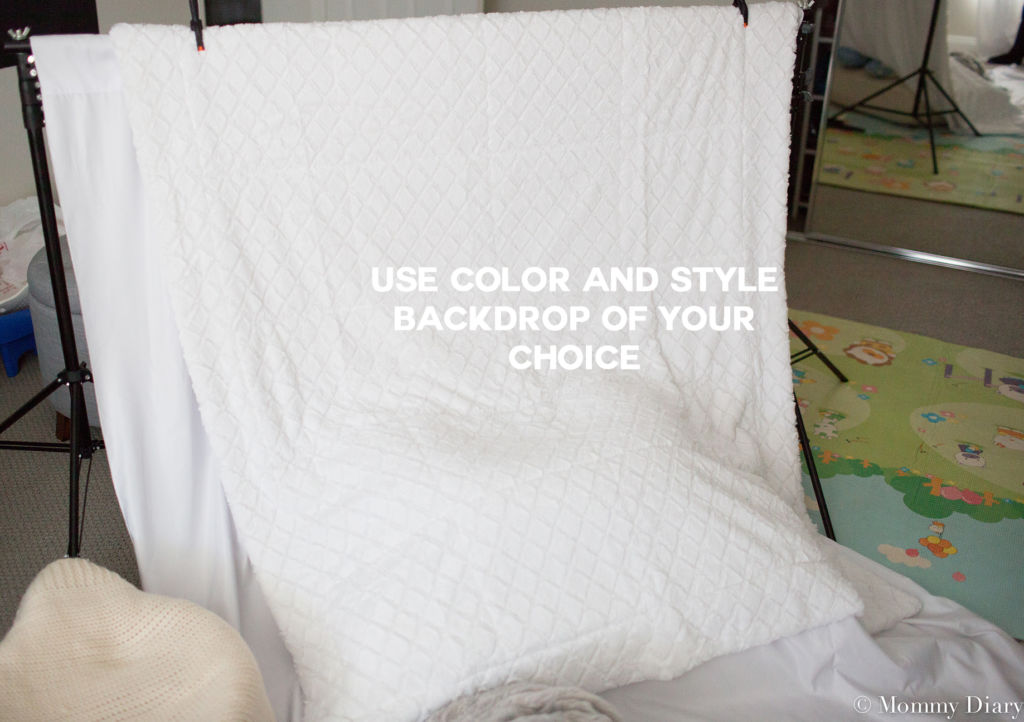 Then I spread a white blanket over the two cushions.
With this set-up, these are some of the photos I got. This was my first attempt at day 7 so there were some limitations. I wasn't fully recovered so I didn't have too much energy and it was hard to move around freely. I wish I took more time to perfect every shot, but because I couldn't push myself, I was only able to take what the baby allows.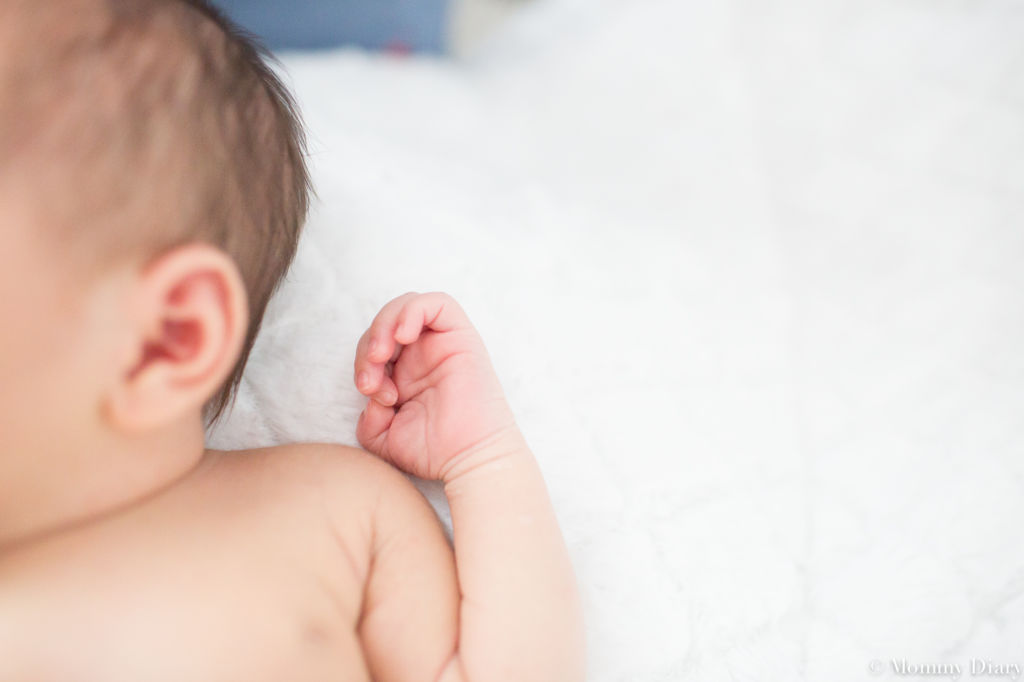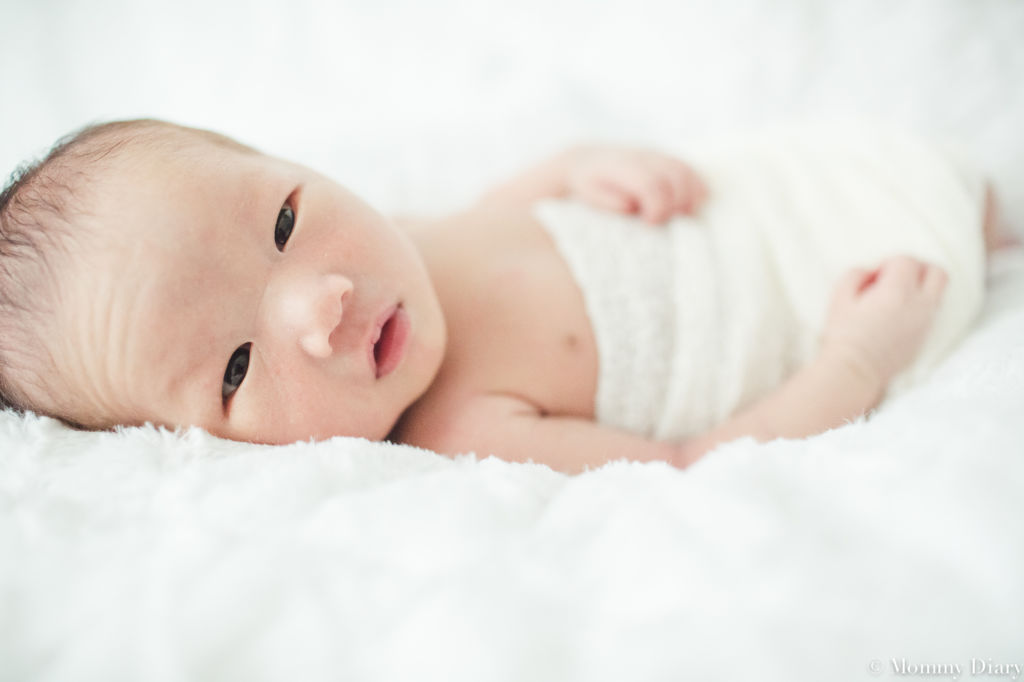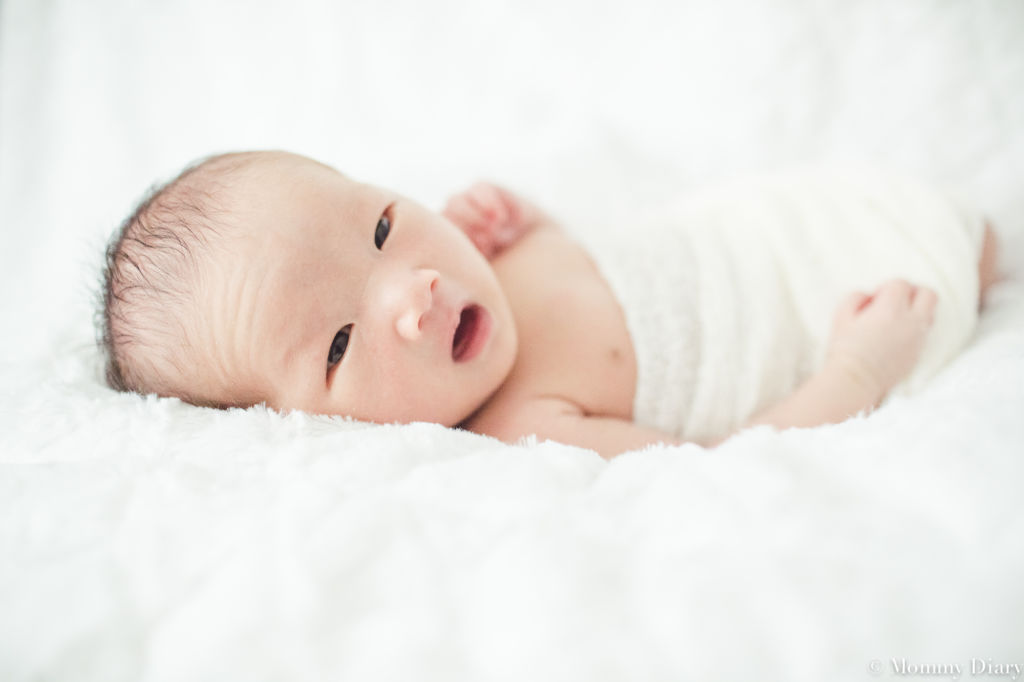 Tip 4: Keep it simple
This is my personal preference but I think newborn photos turn out best when it's kept simple. The focus should be on the baby, not the background or props especially when the baby is only a few weeks old.
Tip: 5 Don't be afraid to pose the baby
I made the mistake of being afraid to pose the baby. I was so concerned with my baby's comfort that I didn't have the heart to close his fingers, move him around, put him on his stomach, wrap him tightly in cheesecloth, you get the idea.
Learn from me and don't be afraid to pose the baby. You get one chance for these photos and your baby will be fine even if he/she looks uncomfortable on his/her tummy or tightly wrapped in cheese cloth. Be patient and keep trying.
For this shoot, I gathered a few props from around the house (purchased at Home Goods) such as a basket and few blankets. I threw in a tiny doll that I happened to have in the nursery. These are some photos I got from this look.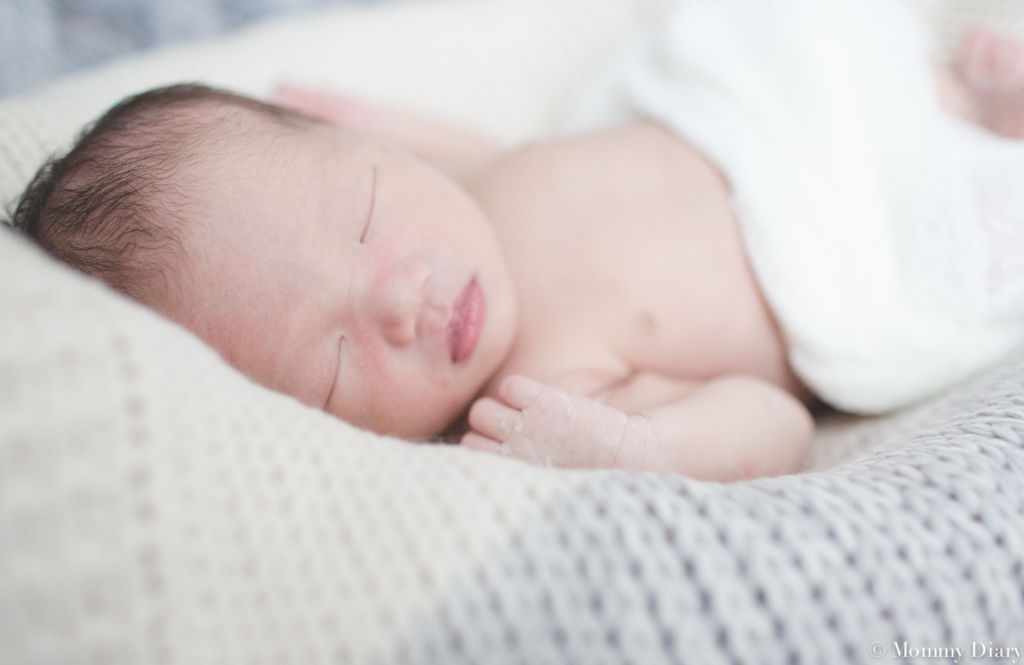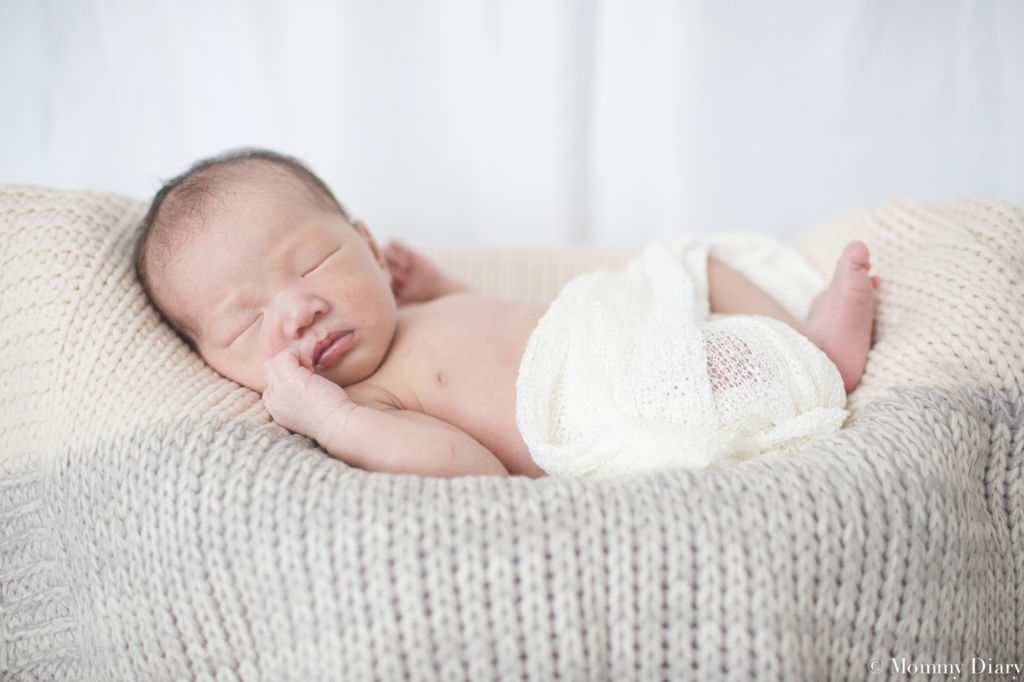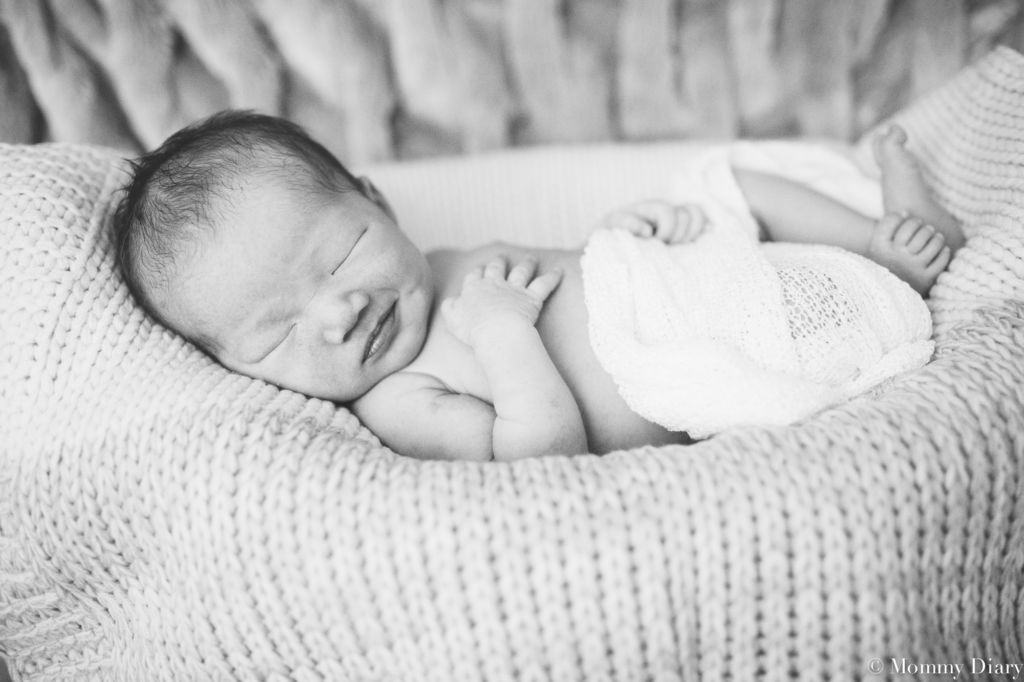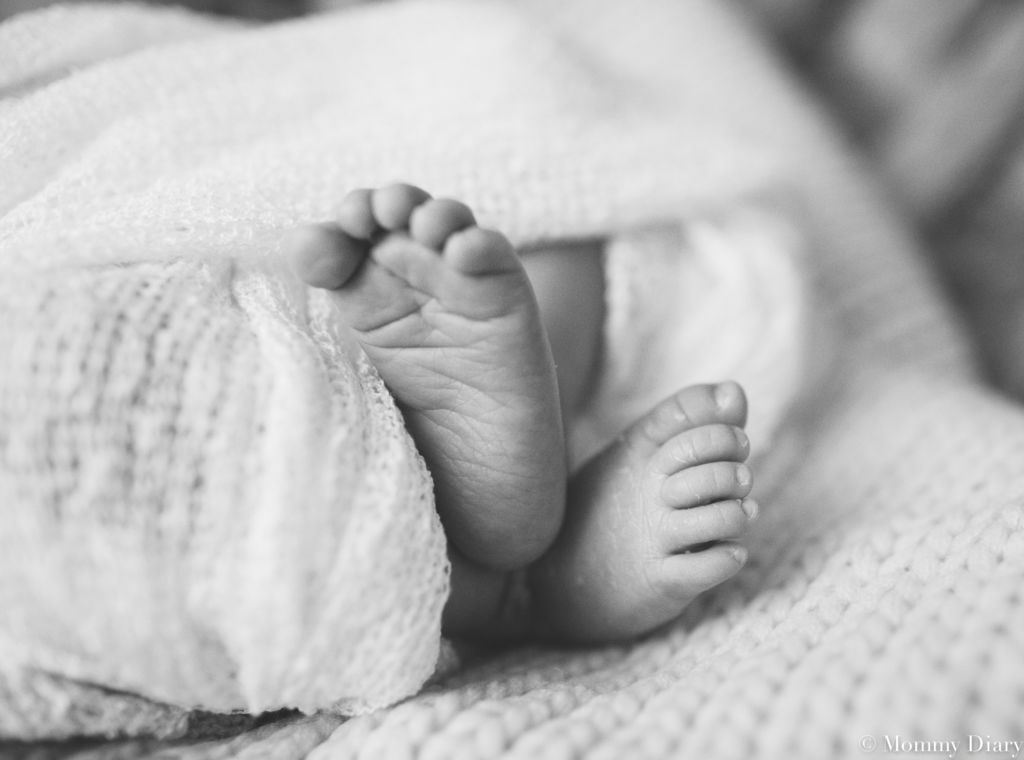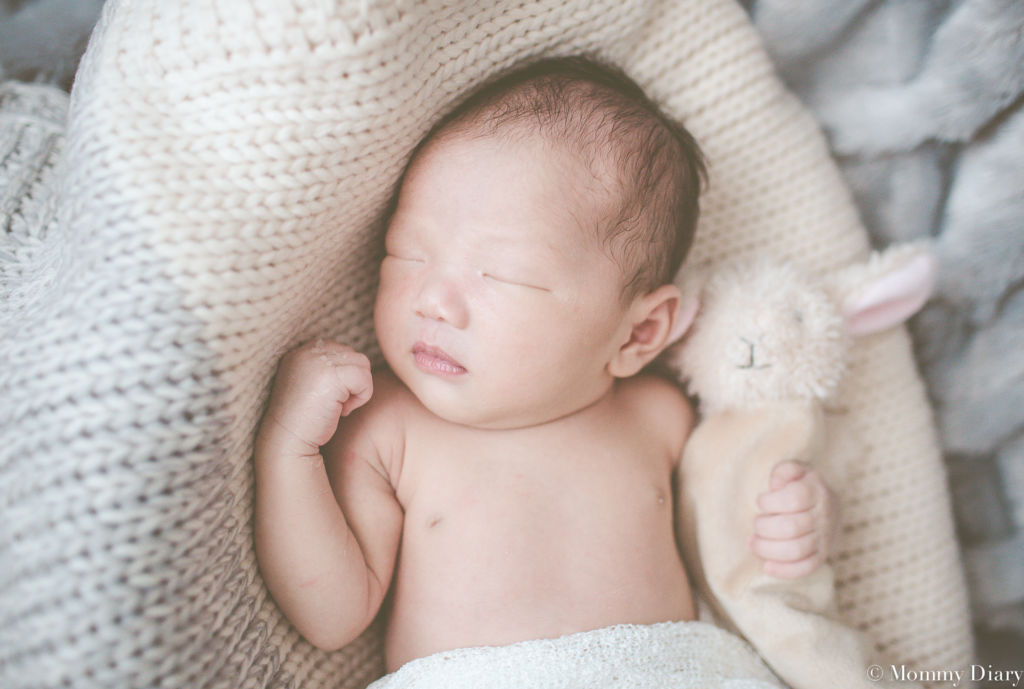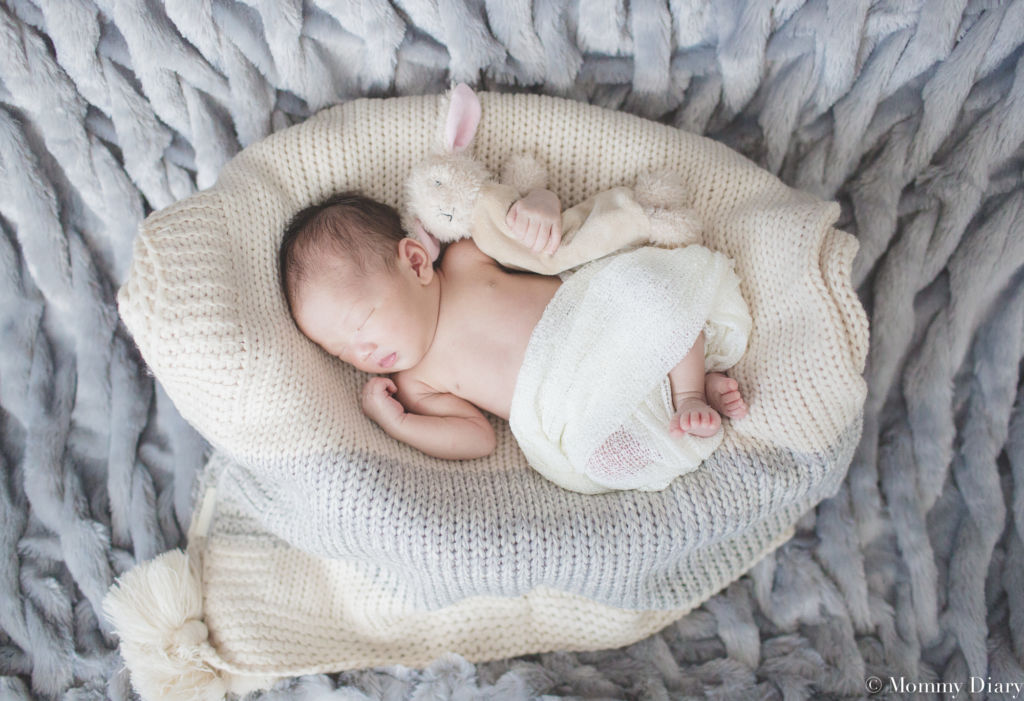 Tip 6: Get someone to assist you
When I planned to do the newborn shoot myself, I didn't realize how much pain I would be in. I was not only in pain, but also lacked the energy I needed to set up the home studio, pose the baby, take photos and breastfeed in between. So if you plan to do this at home, be sure you have someone to help you and listen to your body.
Overall, I am satisfied with the way the photos turned out, but wish I planned it better and had someone to help me.
Tip 7: Consider investing in a SLR camera
I began using a SLR camera once my kids were born. I was never trained formally and just taught myself from home because I wanted to take photos of my kids while staying home with them. For me, this was the best investment and choice I made as a mother.
Overtime, I've taken thousands of photos of my daughters, many of them I now consider to be priceless. For these photos alone, the SLR camera was worth the investment.
I don't know much about Nikon SLR's because I began with the Canon line. I went from the entry level Canon EOS Rebel series Canon Rebel T7 to Canon 7d to the full frame Canon 5d.
The entry level Rebel series is great for anyone who wants to learn digital photography. I would highly recommend it, perhaps with a better lens if you want better quality photos out of it (Consider the 50mm 1.8 or 50mm 1.4 for portraits. Link on the bottom of the post.) I used the Rebel for at least three years before investing in a better body.
Tip 8: Learn how to use Photoshop and/or Lightroom
I use Adobe Photoshop and Lightroom to edit all my photos. I'm not an expert and am still learning as I go.
These two programs have so many capabilities and functions that are useful for basic photo editing such as brightening photos, making them black and white, cropping, etc. I sometimes use filters to make editing easier. For the above photos, I used the Newborn Lightroom Preset from Creative Market for $19.
Tip 9: Practice, practice, practice
Like anything else, you will never become a better photographer unless you practice. So grab your camera, play with various settings and start shooting before the big day. Whenever I have down time, I google various techniques for photography to learn from articles and blogs of professional photographers.
Some tips
Focus on the eyes
Avoid shooting the face from bottom to top (nostrils shouldn't show. This isn't flattering)
Take both close up and wide full body shots
Take photos of details such as ears, hands and feet
Experiment with various angles
Tip 10: Limitations of DIY newborn photography
You may be tired and in pain
You may not have enough energy for a photoshoot. I was only able to shoot 30 minutes at a time.
You may be so focused on baby's comfort that you find it difficult to freely pose the baby for the photos.
You lack the experience and know-how of professional photographers
Final reminders
Figure out what poses you want for the baby but be flexible
Take it easy and don't overwork your body
If it doesn't work on the first day, try again the next day
Have props and backdrop prepared before you give birth
Despite some limitations, I saved money by doing my own newborn shoot and can now tell my son that I shot his first photos myself! I was still able to get some nice photos and make a birth announcement for family.
So what do you think? Would you consider doing your own newborn shoot?
As always, if you found this post helpful in any way, please pin the image below. It helps other parents find this article and supports this blog. Thank you!