I've always thoroughly enjoyed reading and writing. It is a source of escape and relief for me. Unfortunately I haven't been able to do much of either this past year and I want to change that. I've done some research on most loved books for women and I'm sharing 10 personal development books for women with you today. Perhaps we could read some together!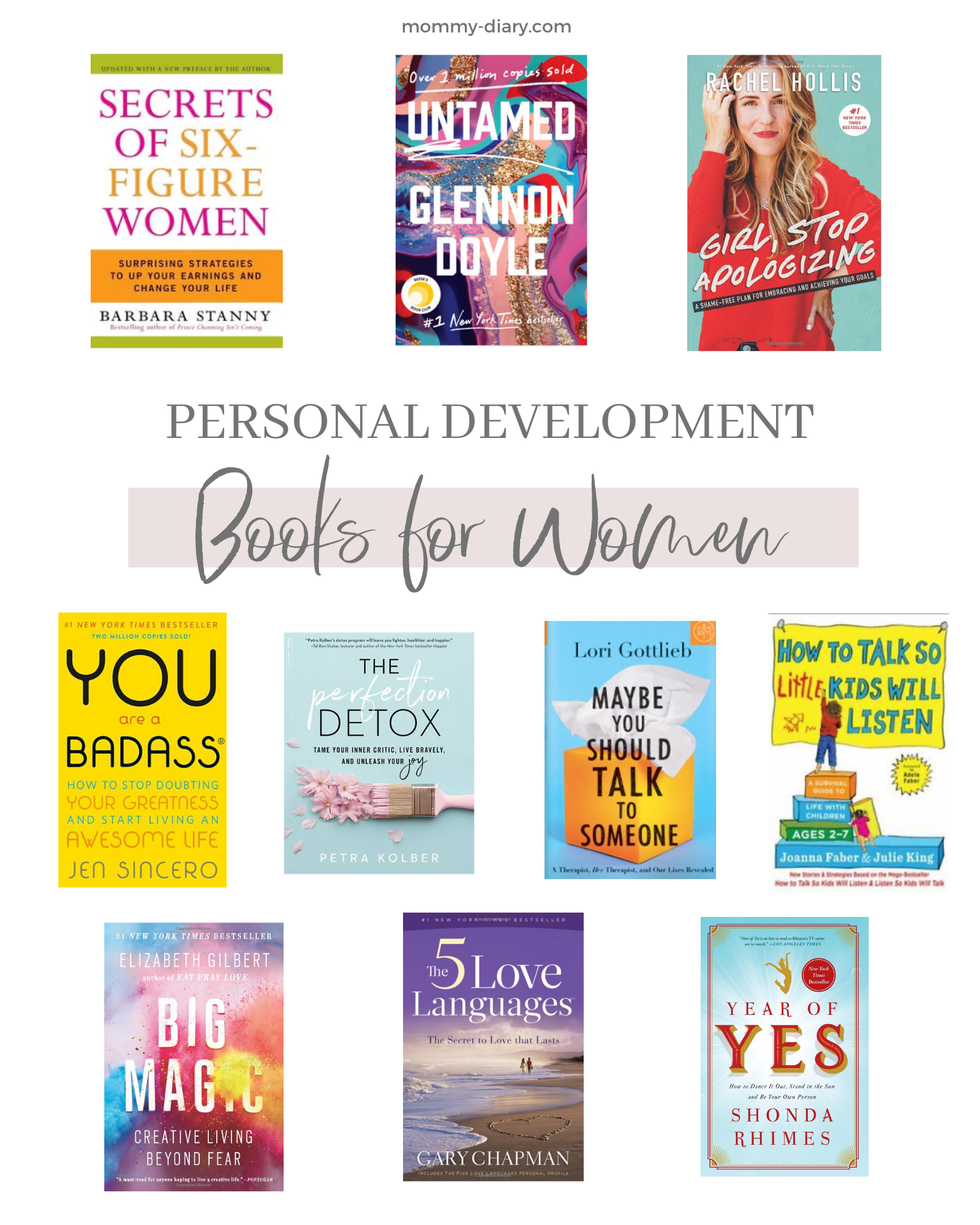 10 Personal Development Books For Women
All of my book recommendations in this list fit in the category of personal development. Whether you're looking for guidance with your career, mental health, or relationships, these books can help with it all. Some may call them "self-help" books, and I'm okay with that! I find great joy in taking the time to better myself, and so should you.
1. Girl, Stop Apologizing, Rachel Hollis
I'm sure you've heard of this one! As women, why are we constantly apologizing? This book is all about putting a stop to that, eliminating excuses, and becoming the person that you've always wanted to be.
2. You are a Badass, Jen Sincero
To stay on theme with women empowerment, this title says it all. The purpose of this read is to help you stop doubting yourself and grow your confidence. It has a lot of humor in it too! Jen Sincero has a series of You are a Badass books to check out.


3. Secrets of 6-Figure Women, Barbara Stanny
If you are an entrepreneur, or thinking about becoming one, this is a good pick for you. In this book, Barbara Stanny shares the 7 key strategies for females earning 6-figures or more.
4. Year of Yes, Shonda Rhimes
Shonda Rhimes is the creator of popular shows such as Grey's Anatomy and Scandal, and many would be surprised to know that she is an introvert. In this book, Shonda documents how she went one year saying "yes" to things that she never would have done before. She shares the major transformation she experienced along the way.
5. Maybe You Should Talk to Someone, Lori Gottlieb
You may know by now that I am a big believer in therapy and doing whatever it takes to better your mental health. Sometimes just talking about what's going on in our lives to someone who is unattached from it can make huge shifts. This book is told from the perspective of a therapist, who also finds herself needing therapy.
6. The 5 Love Languages, Gary Chapman
Do you know your love language? My top two are acts of service and words of affirmation. If you can, try and get your partner to read this book with you. Understanding each other's love language can do wonders in strengthening your relationship by knowing what the other person needs to feel appreciated, safe, and loved.


7. The Perfection Detox, Petra Kolber
After reading the description on reviews on this one, it may be my next read. As women, we often feel like we have to do it all. Mom, wife, chef, cleaner, teacher, chauffeur. Add in exercise and maintaining an unrealistic portrait of health…the list never ends. The Perfection Detox helps you to overcome the unhealthy demands we put on ourselves so we can stop being our own worst critic.
8. Untamed, Glennon Doyle
This is probably one of the most popular books for women in 2020, but don't feel like you're late to the game! Glennon Doyle is absolutely amazing, and this book is her memoir. It's a raw read that covers topics like motherhood, love, setting boundaries, body image, and feeling at peace with who we are.
9. Big Magic, Elizabeth Gilbert
Elizabeth Gilbert is the best-selling author of Eat, Pray, Love, and she's made magic again with this novel. The subtitle of this book is: creative living beyond fear. It's about learning how to step away from your fear, let go of unneeded suffering, and get curious and passionate about life. There's an element of Spirituality in this one, which is what draws me to it.
10. How to Talk so Little Kids Will Listen, Joanna Faber and Julie King
To top off our list, this one is a bit different from the others. This book gives guidance on how to talk to your children, specifically during the ages of 2-7. It goes along with the respectful parenting method that I believe strongly in. You can read more about respectful, or conscious, parenting in this post.
Many young children are high-spirited, stubborn, and so very energetic. If you find yourself angry or frustrated because your children aren't listening to your requests throughout the day, this is a great recommendation for you. It will give you strategies on how to best approach triggering situations so you can find the joy in parenting again.


I hope you find one or more titles that interest you from this list! Which personal development books for women did I miss? Let me know your favorites!
This post contains affiliate links that help to support the blog at no additional cost to you. Thank you for your support that allows me to continue to create valuable content for families all around the world.